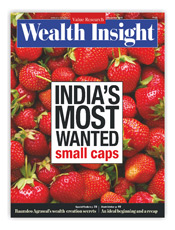 Small cap stocks can be the best in the world, or the worst. Small caps are capable of generating the highest gains, as well as the biggest losses. This makes them attractive, and yet places a premium on high-quality research and diligent monitoring.
The cover story of the December 2018 issue of Wealth Insight is 'India's Most Wanted Small Caps', in which our team analyse the small caps that are being bought by mutual funds and FIIs over the last one year.
Of course, like every issue of Wealth Insight, we have columns, interviews, news to keep you updated, and a set of exclusive Stock Screens to help you find and track the investments that will generate the best returns!
Click here to buy a digital subscription (downloadable PDF + online reader) and start reading instantly. You can also pay extra and receive a printed version.