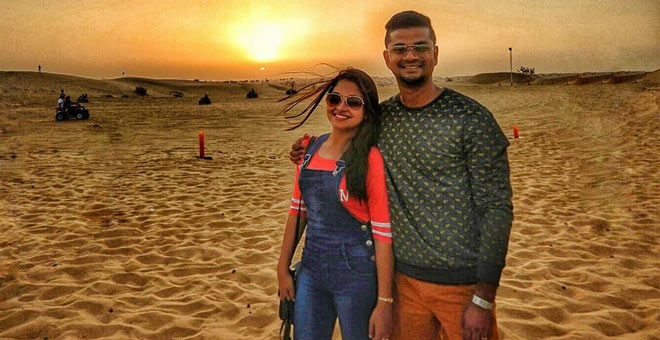 An adventure-sports enthusiast to the core, Arnab has done skydiving, snorkeling, and speedboat cruising. When he is at home, he tries his hand at cooking. At work, he solves tech problems for overseas clients. His affection for the German football team drove him to take up German language classes as well. But Arnab Purakayestha's new passion is mutual funds. It is something that is beginning to grow on him, as he has started taking bigger bites. Along with his SIPs, the 28-year old has also started viewing market corrections as tactical opportunities and is keeping gunpowder ready. Let us find out how this youngster uses Value Research to navigate through his financial life.
Arnab was brought up in a middle-class nuclear family. He was exposed to the ups and downs of life early on. "When I was in class VI, my dad had to take voluntary retirement from his organisation due to his poor health and the company being sold off. My mother, who is a teacher, somehow tried to complete my education with the help of my dad's freelancing jobs. At that time, my graduating and landing a good job were the next big hope in our lives," he recalls. Today, Arnab is married to Kamalika and lives in Bangalore.
Money has a way of imparting the most difficult lessons. Though Arnab likes to spend on food, partying and travel, from an early stage, he has tried experimenting with investments. When somebody wants to invest, can LIC be far behind? "My first long-term investment was LIC Jeevan Anand. It was done out of parental pressure. My first short-term investment was a recurring deposit (RD) in Rose Valley (which later surfaced as a Ponzi scheme) for one year. Yes, I got back my money, along with interest," he recounts.
When somebody starts working, they do not necessarily have an investible corpus. Arnab was cognisant of that fact, but he tried to save. As he changed jobs and secured his current position of business analyst and IT quality consultant, money started flowing in. With overseas assignments in Dubai, he was able to save some more. From his interactions with a few relatives, he learned this simple yet powerful way of investing - mutual funds.
When Arnab realised that mutual funds would allow him to invest at his own pace, he started reading about them. "I started learning about a lot of fund types. Value Research provided exact and to-the-point data and analyses. It was a goldmine of information," says Arnab, who has been tracking VRO for over five years.
As awareness about mutual funds picked up pace, Arnab's current employer also assisted him. "They do help by organising in-house sessions on mutual funds and other investments. This is to encourage employees to invest carefully and with proper knowledge," he says.
As a salaried person, Arnab wanted to save taxes. So, he started with an ELSS. He has stuck to his investments in DSP Tax Saver and DSP Small Cap Fund (erstwhile Micro Cap Fund). He believes his ELSS investments are capable of generating annualised 15-20 per cent returns over the long term. For the small-cap fund, Arnab expects 20-30 per cent, given that the small-cap universe has barely been scratched in India. He has broadened his ELSS portfolio with the addition of Aditya Birla Sun Life Tax Relief 96 Fund and Axis Long Term Equity Fund.
Arnab has the luxury of time on his side. "I realise that if I am able to invest in a disciplined manner in mutual funds, many of my long-term goals, like buying a house and a car, will come to fruition a lot quicker. For short-term goals, RDs did help to accumulate funds for marriage, post-graduation, etc. But with the power of equity compounding, mutual fund investments can deliver double-digit gains sooner," he sounds in an optimistic tone.
Arnab plans to build a solid core portfolio of six to seven funds over time and then have a satellite portfolio of thematic funds. "I am a direct investor. While some of my relatives do help me, I love doing research myself. I never shy away from asking questions or even consulting on small, petty queries. It is a learning curve and so far it hasn't been steep at all. I guess the trick is to keep on doing things regularly and be disciplined," says Arnab.
When markets corrected, Arnab was rock solid. After reading about long-term investing experiences on Value Research, he realised that it is important to spend time in the market than timing the market. "While I do not like volatility, the fact is equity investments will have a tinge of it. With some large-cap funds, I think my goal of having balanced, low-risk investments will be complete. Small and mid-cap fund exposure will be increased but later," he quips.
Over the next few years, Arnab wants 40 per cent of his investment portfolio in ELSS, 20 per cent in small- and mid-cap funds, 20 per cent in balanced funds and 20 per cent in sectoral or thematic funds (e.g. pharma, automobile, etc.) as per the industry condition. As and when his LIC policies mature, Arnab is also toying with the idea of making lump-sum investments in funds if the situation is good at that time.
He has learned to keep out emotions from investing. "Emotions played a major role initially. That was the reason behind the investments in Rose Valley and LIC. But mutual funds are a lot transparent. I do check portfolio companies and sometimes compare two portfolios to understand whether two funds are actually that different or not. Once I select a fund, I stick to it. I believe studying and convincing yourself about a fund is very important," Arnab says, resembling a trained expert.
When he makes any fresh investments, Arnab also looks at peers, category ranking, fund manager and consistency of performance. "A long-term, consistent track record reduces the chance of a fluke to a great extent. When all the factors throw up a clear winner, I usually go with it," he added.
Arnab is planning to save 30-40 per cent of his income. He realises it is a tall order but is confident about achieving it. "With more money at hand, I will be able to invest more. Yes, my hobbies and love for travel will remain but I do realise that if I am able to invest more before 35, I will be in a great position in terms of wealth," he signs off.