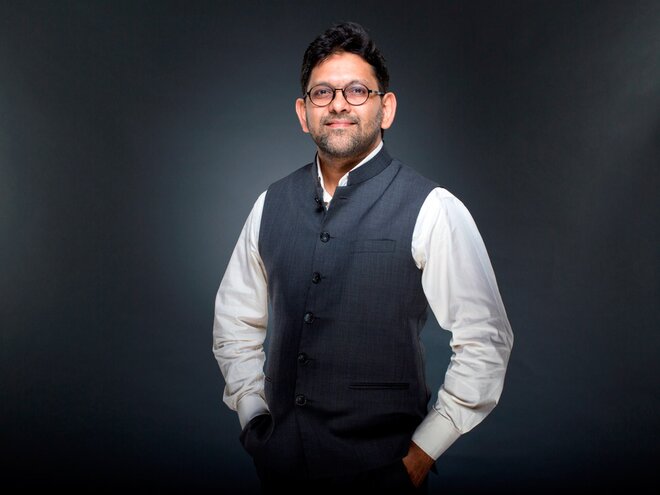 Top bosses in the mutual fund industry usually try to convince you that mutual funds are sahi for all seasons and market conditions. But Kalpen Parekh likes to do the opposite. He warns you of the mistakes to avoid when everyone thinks an asset class is sahi.
Kalpen took over as the president of DSP Blackrock Mutual Fund 17 months ago and there's been a lot of buzz around the AMC. I request a meeting with him during a flying visit to Chennai. It pays off and we chat over some filter coffee.
Why has Kalpen moved on from IDFC Mutual Fund, I ask right away.
Reputation first
Kalpen believes that it was a marriage of like minds. "What attracted me to DSP Blackrock was its long-term orientation, investor-first attitude and responsible communication. Every time I met DSP's chairman at the time of the interview, he repeated that for DSP, reputation comes first, everything else comes second. I found that an inspiring ideology, which I could closely identify with. I derived comfort from DSP's similar ethics to the organisation that I was moving from. Size and scale of the brand also attracted me, along with the fact that DSP in India and BlackRock globally are both focused only on asset management. DSP BlackRock has great depth in its investment team and a unique focus on risk management."
But given that DSP and Blackrock are set to part ways on their mutual fund venture in India, what's the way forward?
Kalpen says that there's not much disruption because the parting is very amicable. "BlackRock globally has operated with a majority stake in its asset-management ventures. In India, they were at a 40 per cent equity stake, while the DSP group held 60 per cent. The DSP group, with its 152-year history, was keen to retain a majority stake, so BlackRock graciously agreed to a buyout of its stake."
There have been a couple of senior investment-side exits in DSP BlackRock after Kalpen's joining - Naganath (Joint President) and Anup Maheshwari (Head of Equities). Has that unsettled the fund house?
He diplomatically denies any 'scientific correlation' and explains, "We take business continuity very seriously and I joined as joint president and worked with Naganath for close to six months so that the transition could be smooth. Anup was leaving to explore a very different career path, so we respected that."
He adds that the DSP brand is extremely strong and is able to attract good talent. This is evident in the many professionals who have applied to work with the organisation. "People like to highlight only exits from fund management teams but not entries. Why? In the last 18 months, seven people have joined our fixed income team, making it one of the largest in the industry."
No me-too
DSP Blackrock's recent NFOs have been 'zara hatke' from the industry. So, what was the logic behind the Nifty50 Equal Weight Fund?
Kalpen says that the idea was born because there are many Nifty 50 ETFs in the market, and DSP BR was keen not to launch a me-too product.
"Globally, equal-weight strategies allow more winners to contribute to the returns and allow new entrants to a benchmark to gain a meaningful weight. In the Nifty 50, for instance, the top two stocks have a 16 per cent weight. This takes away weight from eight stocks at the tail end of the index. We found that in the long term, an equal-weight strategy has delivered 0 to 3 percent excess returns over the market-cap-weighted Nifty 50. Over the last 18 years, the plain-vanilla Nifty 50 has done well in six years, both have delivered equal returns in one year, but in 11 out of 18 years, the equal-weight Nifty has outperformed."
Before I can interject, he says that the fund will underperform in a trending market and admits that this is what has happened in the initial period since launch. He expects a reversion to mean.
What about the closed-end DSP BR ACE Fund? "The ACE Fund replicates our model portfolio. The model portfolio, usually with 55 stocks, captures the best ideas of our analysts. Fund managers used to cherry-pick from it. The unique attribute of ACE Fund is that it doesn't take active sector weights relative to its benchmark; it only takes active calls on stocks. ACE is an attempt to showcase our investment process very transparently."
I ask about why the fund had a put option built in. After all, it reduces participation in a bull market. "When we launched the fund, we felt market valuations were high and the India VIX was at an all-time low. A low VIX allows you to buy protection at very low cost - think of it as a very cheap term cover for your portfolio. We could buy downside protection for the fund at a very low 1.7 per cent annual cost, at a time when there was high probability of volatility ahead. When past volatility is at an all-time low, that's when you should expect it to soar."

Why gate flows?
I have another pet grievance with DSP BlackRock - the fact that its popular flagship Microcap Fund (now Smallcap Fund) is shut to new SIPs for a long time now. Given that there are so few small-cap funds with a long track record, why miss out on the opportunity?
Kalpen is resolute that the decision needed to be taken. "When we took this decision to stop taking lump-sum money in this fund, 67 per cent of our distribution was selling this fund. 63 per cent of our daily flows were from Microcap Fund. We felt there was a very high concentration risk that our investors were taking at that point in time. We essentially decided to take that call and give up market share. I want to highlight that we have stopped flows, but we have not stopped managing the fund."
The distributor community wasn't thrilled with the idea. One distributor told the fund house, "Ghar pe Lakshmi tika lagane aa rahi hai, aur aap dawrazaa band kar rahe hain!"
"These are tough decisions. But these are moments of truth in our business", Kalpen adds.
I argue that I own quite a few small-cap equity funds in my long-term portfolio because history tells us that if you stay invested for 10 years or more, small- and mid-cap funds deliver far better returns than large-cap funds. So why gate DSP BR Smallcap even to SIP flows?
"I would say you are the rare long-term investor who can live through two decades of fluctuations. But remember that the average holding period of an Indian mutual fund investor is only three years. That's half a market cycle."
He also cautions on reading too much into the record of small-cap funds. "In 2013, the 10-year return on the small-cap index was lower than that on the Nifty. Then no one was advocating small-cap funds. So, whenever such hypotheses are made, they are based on past returns. Often the market breaks them. Today, the hypothesis is that mid or small caps are the best. But this too may pass. I would prefer that first-time investors come into large-cap, balanced funds or asset-allocation funds and let investments in small- and mid-cap funds be SIP driven."
His money
So, does Kalpen apply this wisdom to his own investments?
"One lesson I have learnt over my career is that when an asset class becomes over-popular, it is best to stay away from it."
He says that the lesson was learnt the hard way. I began my career in the fund industry in the year 2000 and inevitably started out by selling technology funds. I saw 70- and 80-year olds investing in tech stocks and funds. Those stocks saw an 80-90 per cent correction. Typically, money flows into our industry around narratives more than hard evidence. The narrative then was that one should hunt for growth without bothering about the price. But then markets can't defy gravity. That was a real jolt and I regret that we didn't test the narrative on fundamental principles. The learning from that was that some of those companies did grow their earnings at 25-30 per cent, but their stock prices went nowhere for the next ten years. Their P/Es, in hundreds, got derated to 18 or 20 times. A second round of inflows came into infrastructure funds in 2007-08 at 40-45 P/E. Some of those funds struggle below par even today.
"I have realised that due to such timing calls, the actual return of the equity investor in the fund industry is often below that of the fixed-income investor. The returns of the fund seldom get translated into returns on his account statement. That is the problem we try to solve. That requires focusing on investor behaviour and avoiding big mistakes. Personally, we always try to gauge if we are buying risk or buying returns. When you see very high returns, that's a time when you are actually buying risk. Past high returns manifest as higher risk. That's why my DNA is a bit conservative; it need not be directly applied to the company I work for."
In India, the high debt returns set the bar high for equities. "There are times when elevated valuations make that difficult. Then you need to calibrate your equity exposure. You should remember that in India, unlike overseas markets, fixed income can give you an 8 per cent return. The yield curve in India is mostly flat. This is an inflationary country with perpetually high deficits. Therefore, interest rates seldom see a secular downtrend. Many people think the opportunity cost of not being in equities is zero. It is not; it is your fixed income return. So in my own case, I practise what I preach."
What about his fixed-income investments? A long-term approach is difficult there.
"In fixed income, I believe that if just invest in one-two-year bonds, you get a good-enough return. In India, there are three broad classes of debt funds - liquid and low duration, short and medium term, and actively managed funds. Over the last 19 years, if you look at the returns on these three categories, there's not much difference, they're all at 7.9-8 per cent. But there would be a big difference in the volatility of returns.
I have found that bond yields in India fluctuate roughly between 6 and 9 per cent. At 6 per cent, the narrative is very positive and at 9 per cent, it is very bleak. That's when the margin of safety is high and it's a good time to buy an active long-duration fund with a good manager. So I like to buy bond funds when the past returns are low and the narrative is bad."
As we run out of time, Kalpen talks about the efforts that DSP BR Mutual Fund is making to simplify its marketing communication. He hands me a birthday card which says that an SIP of Rs2,000 from my birth date would have left me with a net worth of Rs3.55 crore today.
"See, in the money-management industry, we are always using narratives to sell products. Even in this market cycle, the money has come in only on narratives of reforms, operating leverage, low interest rates and so on, which are buzz words, but the reality is different. I believe that we should move away from using narratives to evidence-based investing. At DSP Mutual Fund, we now have a two-decade track record, and the NAVs themselves have stories to tell. They show that if you get the cycles and the behaviour right, the outcomes can be great. Yet people put so much effort into only fund selection. Time is the best fund manager."
I ask him about his leisure activities and remark that he's quite active on Twitter.
"What I do on Twitter is part of my work. I express my thoughts on investing and how to be a good long-term investor. I find a huge amount of learning potential on Twitter as you can choose to follow anyone in any part of the world. I also get to connect directly with consumers and advisors and that's a great learning experience, too. Work is my hobby. I like what I do. I feel this industry allows you to make an impact on people's lives."
This interview appeared in the August 2018 issue of Mutual Fund Insight.