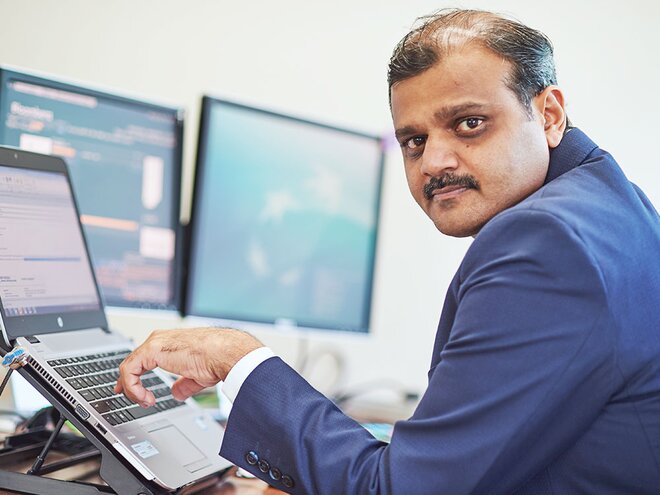 One of the few top investment managers who balances two important roles at work, Anand Shah is one of a kind. The Head - Investments and Deputy CEO at BNP Paribas Mutual Fund likes to play a straight bat. In an interview with Kumar Shankar Roy, Shah pulls no punches as he reveals his two-decade-old perfected secret sauce for identifying winners. He tells us how reading about the macros is as important as figuring out the micros and why he doesn't like real estate and NBFC stocks at the moment. The IIM-Lucknow alumnus also tells readers about how to interpret capital-allocation decisions of company managements.
As Head - Investments, how do you manage the investment team? How do you strike a balance between the role of deputy CEO and your portfolio-management responsibilities?
We have a team of professionals in the investment team, led by Mr Ritesh Jain for onshore mutual fund portfolios and Mr Brijesh Ved for offshore mandates. As Head - Investments my primary responsibility is to provide a broad investment philosophy and strategy to the team and review the funds' performance and risk regularly.
Further, as Deputy CEO, I also lead the team of professionals in our sales team, headed by Mr Prithipal Singh. Here too my key responsibility lies in providing a broad sales philosophy to team, regularly reviewing the team's performance and interacting with our key partners on a regular basis.
What do you make of the marginal correction in Indian equities since the end of January '18? Are we in the last stages of a bull market that has almost run its course?
We believe that in calendar year 2018, the micro variables (read earnings growth) in the economy will improve significantly, albeit at the cost of a marginal deterioration in macro variables (read inflation, fiscal deficit). We expect the economic activity to pick up, with inflation also moving up. In such a scenario, while interest rates might remain elevated, which means fixed-income funds might face some pressure in the first half, the overall environment could be very conducive for Indian Inc to grow profits significantly.
Thus our belief is that equity markets will remain supported due to robust earnings growth and thus the current correction in our markets, which was long awaited, is a good opportunity which can be used by investors to gradually increase exposure to equity.
Having said that, it is worth reminding our readers again and again that the recommended strategy for investment in equities is to have a horizon of at least five-seven years.
The Q3 earnings scorecard did not have the firepower that some on the Street were looking for. Q4 numbers have started to come. Have we been overestimating earnings growth or are we becoming a little impatient?
Our analysis tells us that in the next few quarters, we should see earnings upgrades rather than earnings downgrades from analysts. We expect a significant uptick in economic activity due to heightened government spending, lagged impact of Pay Commission payouts, higher cash flows to farmers due to farm-loan waivers of last couple of years, continuous infrastructure investments by central and state governments and, last but not the least, higher MSPs to farmers for upcoming kharif crops. The earnings should further benefit from rising inflation as we believe that in the first round of inflation, corporates might be able to improve their own margins by exercising pricing power while costs could rise with a lag.
All in all, we believe that earnings growth for India Inc., barring a select few sectors, will continue to improve over the next three-four quarters, well above current analyst estimates.
Do you analyse the macros before looking at individual stocks?
Indeed, macro analysis is important for us. It helps us in identifying sectors where growth in profitability will be significantly higher or lower than the GDP. Armed with that knowledge, our experienced team of sector specialists then analyses micro (company-specific) aspects, with an aim to identify the best-performing companies in each sector.
How do you use stock filters to arrive at an investible universe? Also, how does the investment process remove the cognitive biases that we have?
We follow our time-tested BMV philosophy, wherein we focus first on the 'business' that a company is in. We check whether it has the ability to grow faster than the broader economy, whether it has a sustainable competitive advantage (moat) and whether there is a positive change in sector. Then comes the 'management' - the competency of the leadership, governance. And if a stock clears these filters, comes 'valuation'. Discipline in following this tends to remove the cognitive biases that one might have.
How does reading and analysing the balance sheet help in identifying businesses? Which areas of the balance sheet do you focus more on?
There is a famous saying, "Sales is vanity, profit is sanity but cash is reality." And this makes analysing the balance sheet an absolute necessity.
Annual reports, over a longer time frame, are a wealth of information and help separate the wheat from the chaff. The data available from annual reports and further analysis of the same helps identify, amongst various things, critical inputs such as the strength of a particular business, how it stacks up against competition, where the sustainable moat lies, track record of the company and leadership, the direction of the business, etc.
But the most important information that is derived from the balance sheet is cash flows. As an investor, one must focus on where the cash is being made or burnt.
For large, mid and small companies, how much time do you spend in gathering intelligence from external sources as part of your investment strategy?
Time spent on a company is not linear to its size; some experts actually say it is inverse, i.e., more time is spent on smaller companies as very little ready information is available on them, they do not tend to have a long history, etc. In such cases, one has to depend on a lot more groundwork than usual; experience the product or service; meet customers, suppliers or other participants in the value chain of the business, past as well as present employees and top executives. One has to check the relationship with the banks and lending institutions, etc.
If there are large inconsistencies in the inputs that the external sources provide, then one has to dispassionately review the investment thesis and take corrective actions.
There are some asset managers who assign weights to quality, governance, growth and price of a stock. There are others who believe every stock is a buy at some price. What is your take?
Firstly, as a philosophy, we believe that companies create wealth and not markets and thus the entire team is focused on identifying businesses which can grow earnings at a faster rate for significantly long periods of time. And for doing the same, we have an in-house BMV (Business-Management-Valuation) framework and an elaborate process which helps us in identifying those companies. To us, all three aspects are important and non-negotiable.
For any company to make it to our portfolios, it has to pass through each of the BMV filters. Firstly, the business should have far higher profitability growth structurally and/or cyclically than that of the market. Also, each business we invest in should also have a sustainable competitive advantage, or moat, for it to sustain the superior earnings growth rate. And lastly, we also closely look at sector dynamics. We would like to invest in sectors which are consolidating rather than fragmenting.
Once a company passes through the business filter, we move to management. We look at the competency of the management and corporate governance. Once we are satisfied with them, we move to valuation and look for a margin of safety by buying the company at a discount to its intrinsic value.
Which valuation metric do you respect the most and why? Is the choice dependent on the sector?
For us, the DCF (discounted cash flow) model is the most ideal valuation methodology as it factors in operating cash flows, future growth possibilities, fixed and working-capital investment of business and cost of money, all in one model. Having said that, we also look at P/B and replacement cost of the asset, where DCF valuation cannot be used, for instance banking, or predicting cash flows is significantly difficult, for instance, commodities at the bottom of a market cycle.
Would you describe three of your biggest stock successes?
The common thread across all the three big ideas has been that they were all B to C businesses, selling their goods/services to Indian households. Secondly, while they were emerging businesses and were small compared to the size of the industry or competition, they still had a very strong competitive advantage, which they sustained over longer periods of time and which allowed them to grow earnings at significantly higher rates for very long periods of time. And lastly, these stocks for a long period of time remained or looked quite expensive. So, in the early stages of growth, we bought them despite expensive valuations due to superior and sustainable earnings growth potential and evaluated them regularly on their moats.
The three big contributors to my funds' performance over the last 10 years have been a leading private-sector bank, which enjoyed technology and retail-assets leadership; a leading food-delivery company, which had food-delivery leadership; and a leading paints company with distribution leadership.
Has the market taught you any tough lessons in terms of individual stocks?
Indeed. We have had disappointments in our portfolios in the past when a sudden technology change or disruption takes a heavy toll on the profitability or cash flows of businesses. With the availability of private-equity money, we are seeing more and more disruptions and newer competition.
In the case of a highly successful food-delivery company, the new competing start-ups have provided alternatives to consumers and thus have caused a slowdown in sales growth as well as margin erosion. Similarly, a strong entry by a new telecom player using a next-generation technology has led to large revenue erosion and at the same time significant investments in new technologies. All the three leading incumbent telecom companies suffered due to lower revenues and higher capex.
Real-estate stocks have corrected quite a lot from their peaks. But fund managers still seem uninterested in buying them. Why is that so?
Real estate is a big capital investment for a consumer and by that very nature, a much larger capital investment for a developer. In a country with high capital costs, it is imperative that a developer execute these projects in a very quick manner. Else, the cost of capital tends to eat into the profitability of a developer. Given the longer time cycle for approvals, various state regulations and lack of transparency (until RERA) of cash-flow use between projects, it has been difficult for us to evaluate the business models in this sector.
How do you view PSU banks now? You have been cautious about NBFCs as well. Why is it so?
We have always liked banks/institutions that fit our BMV philosophy. In this case, they happen to be retail-focused businesses which have faced minimal asset-quality issues. Their growth and profitability have been superior. Contrary to that, corporate banks and PSU banks, while optically looking cheap on valuations, are extremely challenged as far as business fundamentals, growth and NPAs are concerned.
The call on NBFCs is based mostly on the interest-rate cycle and in the last six months, as yields have started moving up, we have reduced exposure to this sector. Within NBFCs also, our preference is to own retail-focused NBFCs.
When good-quality businesses trade at a price that can be only justified by having a multi-year or decade view, what do you do?
We tend to evaluate the sustainability of business advantage with respect to peers, sustainability of superior earnings growth with respect to the market and the strength of moat. Further, if the management shares the vision to sustain or improve upon the moat, then it's a huge positive. This is because if the moat is intact, then, in most cases, growth is higher than that of the sector or the broader economy. If this sustained higher number fits well with the DCF value that we arrive at, then we tend to continue owning the stock. However, if the margin of safety reduces significantly, i.e., if the current valuations are factoring far more growth than our most optimistic assumptions, then we do not shy away from selling the stock.
How do you study capital-allocation decisions of the management and what do they tell you about the management?
Capital allocation is the most critical element. The promoters or businesses approach the markets and become publicly listed entities primarily to have access to a larger pool of capital. In that context, it is imperative that they give it utmost respect. Companies or managements that disregard it are bound for challenging times.
We look at capital allocation from two perspectives: growth within the related business and strengthening of the moat. At times, the capital allocation towards acquisition may be for developing newer markets (growth) or newer moats (strengthening the moat). If the capital allocation is neither fetching growth nor strengthening moat, then we would be more vigilant and will critically analyse the same. And lastly, in the long run, newer capital allocation should not be ROE dilutive.
This column appeared in the May 2018 Issue of Wealth Insight.