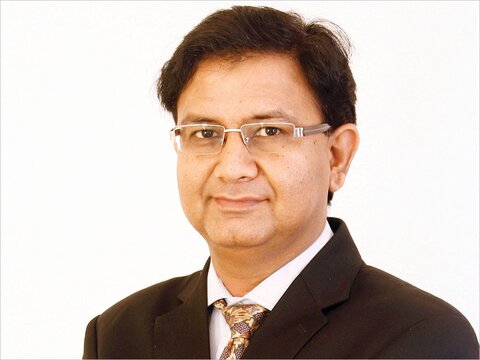 There are some investing behaviours that many of us exhibit. We often take small exposure in unique and fabulous business models. We don't mind earnings growth as long it comes, even if from leverage. Also, notable is our huge interest in company managements that talk very well on TV, write articles in newspapers or impress everybody with their oratory skills. These are exactly the kinds of blunders a good investor needs to avoid, says Sonam Udasi, fund manager at Tata Mutual Fund. Managing Rs 4,900 crore across nine different schemes at the asset-management company, Udasi uses his strong background in equity research to pick stocks. Then, he simply plays the waiting game. In an interview with Kumar Shankar Roy, the fund manager, who learned the investing ropes in Ajit Dayal's Quantum Advisors way back in the mid 90s, tells readers why he loves companies that deliver return ratios of 20 per cent or more, why he hates hanging onto a stock for too long and how the cost of mistakes committed by smaller companies is often much higher than that of a large one.
How was the journey from being a stock picker at brokerages to managing funds at an AMC?
I see myself as a stock picker or a research guy. At Quantum, it was drilled into me that I must figure out the intrinsic value of a business. Once you get the intrinsic value, it becomes very easy. If the price is above that, you sell. If the price is below that and you find out how much below and you buy. Today, I am still doing that as a fund manager. I am essentially picking stocks in industries, depending on where I want to be underweight or overweight. If I do it well enough, over a period of time, the results will be favourable.
Do you prefer top-down analysis?
You are right in the sense that I would choose which sectors I want to be in and where I would want incremental flows to go to. But at the same time, there are certain managements and businesses that you want to own whatever the odds. Such managements, who are very clear on what they want to do and what they want to achieve in three to five years time, will always create value. If you can hold onto them, you can create wealth over the long-term. This wealth creation can happen without you churning your portfolio too much.
Can you share your insights and wisdom on market cycles?
I am still learning. There are moments which tell us that we know so little. This is because the environments are changing.
The world is becoming increasingly interlinked. Be they global or local events, reactions are very fast, and very quickly the gaps get opened up. The reaction times are very different. We are the Google generation. However, the attention spans are getting shorter as well. All said and done, I am lucky enough to be in an emerging economy. Here, you can still find business models that are new and evolving. They keep educating you on what else can happen. I always try to figure out while investing what kind of return on equity and return on capital an industry can generate if it's a new industry. I also look at global comparisons.
If you pick the right stocks and stick to them, especially during some pain in a market cycle, the results can be very satisfying. They come back very, very quickly. That is why it is very important to spend time with the management. At the surface, some decisions may baffle you. But only when you sit with the management do you understand that there is a method in their madness. If you can figure that out, I think half your battle is won from that point onwards.
Are investors drawn towards company managements who are very articulate about their plans?
Let me tell you that when I started out, I was a very bad communicator. Public speaking was not my forte and I used to shiver at the thought of it. So, it needs to be understood that everybody cannot be a good speaker. Just because you are not a good communicator, that does not mean you do not have a good business model. Of course, it matters if a promoter is a good speaker and is able to succinctly put his point across to the markets.
On the other hand, there are promoters and managements who do not talk much. For instance, there is a great tyre company which does not talk to anybody even today. About 15 to 20 years ago, there were a whole host of companies who never talked. What do you do in such a situation? You try to speak to the ecosystem, i.e., the suppliers, competitors, etc. Sometimes you also have to use numbers as a backbone. If revenues are going up, cash flow is growing, debt is not rising and the return on capital profile is improving, one needs to find out what is driving this change. It is also possible that they will not tell you; believe me, it does happen.
Is there a cut-off in terms of financial metrics or indicators that you consider good?
I would love a company that generates a return on equity or on capital of 20 to 24 per cent. I do not have this as a ballpark or something but this number tells me that the company can return back my money in four years' time. When business cycles change and there is runaway inflation, then the benchmark needs to go up. If the interest rate scenario is such that money is easily available as it is today, a company with 18 per cent RoE/RoC is fine. As it gains scale, it will reach the 20 to 24 level.
When a company is doing well, does it mean investors are also enjoying the fruits?
That is a challenge sometimes. The objective of promoters and the management may be very, very long term. From a minority shareholder's perspective, I always see whether directionally I am going right and if I am going right I do not mind driving along with the promoter. On other occasions, I have to be more tactical. This means I am a buyer at a certain price and seller at a certain price.
All the processes and skills finally boil down to delivering results. How do you ensure that?
I am not a rock star in terms of picking stocks. I have made some mistakes. What I try to do is that if I pick 10 stocks in a year, I ensure that at least six are on the extreme right side. That means on a broader basis, the portfolio performance is superior to what is happening at the index level.
Talk us through some of your biggest investment successes. What influenced you to go for them?
As a mutual fund manager, I have not been tested by outflows or cycles and I have only seen the inflows! On the PMS side, I was a fund manager at Tata for over two and a half years, where I had to witness periods of only outflows and little inflows. I hope that experience will prepare me to deal with outflow situation in mutual funds.
In terms of picking winners, I always look at trends around me in terms of what's happening in my household, around me, etc. I started my career as a utility analyst and then graduated to become a consumer and media analyst. If you see the utility business, the RoE/RoC profiles are pathetic. The sector is very capex-oriented; the debt-equity ratio is very high. On the other side, I looked at companies which have negative working capital profiles; RoE/RoC is 100 per cent sometimes. So, it was my sheer luck that at a very early stage I got exposed to two extremes and had the opportunity to understand them.
In the last two years, I looked at a lot of policy developments: insurance, financialisation of savings, people not taking leverage to buy houses, etc. I was able to understand quite quickly that money will flow in a big way in financial assets or instruments. So, I was able to take some exposure to insurance companies and in some NBFCs that had wealth management as a part. I saw some success in those picks. Also, I picked up a few names in the high dividend yield space. The argument was that since interest rates were coming down, value will increase for any company that can grow at 10 to 15 per cent, has a visibility of four to five years and has a high dividend yield of 3 to 5 per cent. Investors would like to have solid companies with a good yield. This thinking also paid off for me.
Is the earnings-recovery theme being talked about for real or are we going to be disappointed?
I am enthused to see some sort of recovery from the earnings point of view. I will give you the example of Tata Equity PE Fund that I run. It is based on a trailing Sensex PE. A month back (i.e., in January), it was 26.5 times and became 25.8 times soon. I am talking about the period before the correction. I checked how the price earnings ratio fell suddenly. I found out that the earnings of some companies have gone up. That is why the PE ratio fell despite markets going up. So from my perspective, there are pockets which are looking okay.
Are there instances where your judgement did not play out as well as you thought it would?
With the same dividend yield logic, I took a bet in a utility. It worked very well for one year. The stock got re-rated. But I learned that sometimes the mistake we make is that we hold on for too long. In the next six months, it did not perform.
Mid-cap and small-cap stocks have done very well of late. How do you approach them?
I agree they have. It is all about picking the right stocks for the returns to be fabulous. But why do we stick to large caps? There is a reason: liquidity. My experience has taught me that smaller companies take a lot of time to come back in the game if they make even one mistake. It sets them back by one year or more. A larger company, because it has liquidity, can quickly make a come back even if it has made some miscalculations.
The cost of a management's mistake can have a telling effect. As a steward of investors' money, we have to be aware of the risks.
Also, I am okay with taking concentrated bets if the company, business model, moat, vision, and opportunity are good. Taking a small exposure in a modest sized opportunity does not really help. It may be a fabulous business but you may be the only one holding it! I remain wary of companies where growth is coming from debt or leverage. As an individual, I carry very little debt and I like to see the same in the companies that I invest in, irrespective of their size. Number of competitors, asset turnover and size of the opportunity are very important to me as well.