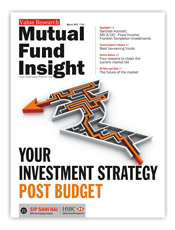 As you are well aware, Budget 2018-19 has restored the capital gains tax on long-term gains from equity funds, which was abolished in 2005.
There are some complexities in understanding the impact of this taxation. On the plus side, there are tax breaks till Rs 1 lakh income as well as an exemption for past income (grandfathering). The drawback of this proposal is a lack of indexation as well as an equivalent levy on mutual fund dividends. Our cover story tackles all aspects of this tax, it's complete implications, as well as the answers to all the questions that investors are asking.
Read all about these changes in 'Your Investment Strategy Post Budget', the cover story of the March 2018 issue of Mutual Fund Insight. We also have a booklet along with this issue, 'The Budget and You'.
I'd also like to assure our readers that in the peak of tax season, Value Research will add some special functions to our free Portfolio Manager tool. For members who track their investments on our website, we will provide a customised capital gains statement and tax-planner, which will incorporate grandfathering, the tax on dividends, as well as all other aspects of the tax.
That's not all--there's a lot more in this issue that will help you choose the best mutual fund investments.
First Page: Dhirendra Kumar reminiscises about the 2008 market crash and asks you not to get bogged down by such events, instead, gives you an interesting perspective to look at it from
Spotlight: In an exclusive interview, Santosh Kamath, MD & CIO - Fixed Income, Franklin Templeton Investments, explains how the AMC bounced back from its crisis
Back to Basics: Charlie Munger rebukes the current financial investment decisions which is akin to gambling and advices that distrust should be your default attitude as a safeguard
Fund Reporter: A digest of fund news of the month
Value Research Online: Learn the fundamentals of investing-- The articles in the 'First things' section on the home page of the Value Research website are a prerequisite to starting your investment journey
Category Watch: In order to choose well, you need to have a thorough understanding of tax planning funds
Fund Analyst Choice: Eight tax-planning funds that our team has chosen for you
Top-Rated Funds: Funds that are rated five star by us
The Plan: 31-year old Dhananjay and his homemaker wife have started investing in good time but need to reorganise their sprawling portfolio. Our analysts give the roadmap
Ask Value Research: Our team answers savings and investment queries from readers
Direct Advice: Aarati Krishnan is happy that the markets have fallen and explains why you should be too
How I did it: Be disciplined and get rich-- Vijay Athlye's story inspires us to get over our setbacks and learn the right lessons from them
Scoreboard: India's most comprehensive mutual fund scorecard. Key performance numbers and investment details for each fund
The issue is now on news stands. You can also subscribe to the printed version, or buy a digital subscription (PDF + online reader) instantly.