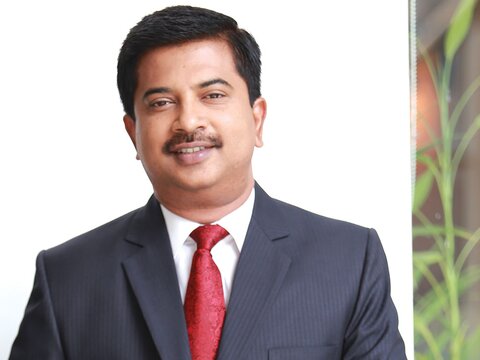 His Twitter handle describes him as a 'sad equity seller'. But with Mirae Asset turning out to be the unexpected dark horse that turns the crowd favourite in the middle of the race, there's little reason for Swarup Anand Mohanty, CEO of Mirae Asset Global Investments (India) to feel so despondent today.
After kicking off its India operations in 2007 right in the middle of the global credit typhoon, the South Korean Mirae has established a solid track record for its two flagship schemes - Mirae Asset India Opportunities and Mirae Asset Emerging Bluechip. Both schemes have held onto their high-return rankings even in the last one year, when many mutual fund biggies have struggled to keep up with the twists and turns of sector rotation.
I find Swarup in a cheerful and loquacious mood when we catch up over the phone one October morning. I ask about Mirae's secret sauce, given that the brand was completely unknown to Indian investors till sometime ago. Also, small AMCs in India often struggle to attract investor interest, ending in the global sponsor giving up.
Performance first
"What has worked for Mirae in India is promoter intent," says Swarup, explaining that Mr Park Hyeon Joo, Chairman of Mirae Global, was a fund manager himself, who pioneered the mutual fund industry in South Korea. "They have demonstrated great patience, which I think is the basic trait required in this industry. Despite slow growth in the initial years, there was never a question raised about the prospects for the Indian business. I was specifically told that in any new country that Mirae went to, the assets usually flowed in the ninth or tenth year. But those flows depended on how we behaved in the first three years. This rational, long-term approach helped us focus entirely on building a performance track record for our schemes."
So given this performance, why has Mirae been content with just two diversified equity schemes and only five funds in all?
"I know the practice in the market is to have multiple schemes in each category so that at any given point in time, one or the other will perform. But we decided to restrict ourselves to just five schemes and one per category so that each of them has to perform and we show our conviction in each of them perpetually," says Swarup.
SEBI has just come up with a new plan for mutual fund classification that allows over 30 scheme types. Will this prompt Mirae to launch more schemes, I provoke.
"We have decided that we may offer far fewer product categories than SEBI allows. We would like to stick to categories that we can do justice to. For instance, we have often received requests to launch a small-cap fund but haven't been able to build internal consensus for it. We are sure if we launch it, we will get a good response but if we are unable to perform, the long-term damage can be significant."
Distribution toehold
Performance is one thing, but how easy was it for a newbie AMC like Mirae without any bank backing to get a toehold in fund distribution?
Swarup admits candidly that it has been very difficult. "In fact we don't have an easy time even today. Today Mirae Emerging Bluechip is the top mid-cap equity fund on a six-year track record and is at Rs 4,800 crore. Mirae Asset India Opportunities has a nine and a half year track record of never falling below the top two quartiles. It is a Rs 5,000 crore fund. These funds should fulfil most selection criteria for investors. But the irony is that even today, we don't get meetings with many large banks and IFAs."
But he is optimistic. "The online mode is becoming the go-to channel for many investors. One big eye opener for me was when our funds received sizeable inflows during the Brexit announcement. When markets fell, we saw a surprising spike in the online applications on our site. Of our 2.65 lakh SIP investors, over 20 per cent come via the online mode. The number of SIP investors is rising every month both through the direct and distributor modes. Large wealth management firms and registered investment advisors have been recommending Mirae funds quite actively. The IFA community has been the backbone since inception, forming 48 per cent of our equity AUM, so there's nothing to complain about," he says.
Does Mirae have plans to roll out more debt funds? Swarup says Mirae debuted with equity funds and added a dynamic bond fund last year because the priority was to focus on long-term products that offered better margins. "If you check our latest balance sheet for December 2016, you will be surprised by our profitability. This makes us a self sufficient entity, which can fund its own needs. We believe that the three-year taxation of debt funds gives us a huge opportunity to build long-term debt products and we will be launching debt funds catering to long-term investors. We also have plans to explore ETFs as our parent has acquired the Horizons ETF in Canada and Australia. It is a very qualified global player in the passive space."
Is the Indian market ready for ETFs, I ask, pointing out that active funds are still ruling the roost. Swarup has a nice comeback to that one. "In any business, you cannot be a helicopter pilot, expecting to land exactly when the market is ready. You have to work on a market for some time and build capabilities before it takes off. If you go back six years, the market was all about debt as everyone was bruised and battered from the 2008 meltdown. But Mirae was bold enough to talk about equities because we thought those valuations meant really good prospects for equity returns. So we need to start building the ETF business before the market wakes up to the potential."
His money
So where does Swarup invest his personal money? Swarup tells me that his family expects him to own gold. "You see, I am from Odisha and in my state people simply love to own and flaunt jewellery." I agree that it is the same in Tamil Nadu! But Swarup says he indulges the family passion only to a small extent and that he invests "either in liquid funds or brashly in mid-cap equity funds."
Does he do that through SIPs? Swarup says he doesn't. "I invest regularly every month but look for a good day to invest. I like to buy when markets are down. My first SIP was in Mirae India Emerging Bluechip because we have stopped lump-sum investments in the fund and it will only accept SIPs. Working for 20-25 years, you already have a reasonable allocation to PF. Your salary takes care of 'working capital' requirements. So if you live within your means, you can invest all your surpluses."
What about his spending? Does he love luxuries apart from gold? "I have only two extravagances: my need to travel and my passion for music. These are the only vices I have. My son has decided to study in India. That has greatly reduced my financial obligations. Both my parents are pensioners and are retired professors. They are not dependent on me. In fact I can depend on them," he jokes. I agree and say that my parents too appear very well-off due to government pensions. We compare notes on how difficult it is to build a reasonable retirement kitty.
Given that he loves mid-caps, has he dabbled directly in stocks in his younger days? Swarup sounds quite horrified at that! "I don't think I am qualified to invest directly in stocks. I don't buy on tips, even from industry experts. I am happy with a 12 to 15 per cent kind of return, phir itna complications kyoon?"
He may, however, make an exception for some IPOs, he says. "Today I'm quite excited that the financial services segment of the market is expanding right before my eyes. I would like to invest in some of the insurance and AMC IPOs. I would like to leave these as a legacy for my grandchildren." Any mistakes he regrets? "I once sold two of my funds to invest in property. That call has been quite bad and I do regret it. I am trying to rectify it. Currently, I have doubled my money in Mirae Asset Great Consumer Fund," he says with a lot of satisfaction.
So coming to his 'vices', travel is one, says Swarup saying that he "does one forest a year. I am fortunate that my wife is my travel guide and mentor. I just came back from a visit to Kanha with my close friends, where we managed two tiger sightings. To be able to track down a tiger in a forest is the most awesome experience. I tell my friends that if you take in the oxygen at these forests for four days, your lifespan would increase by one year," he laughs. "I am not a big fan of glass and concrete and I also love visiting historical places," he says.
Pure music
Music is his other passion and Swarup needs very little prompting on raving about it. "I am a third-generation music lover in my family after my father and grandfather. We all only listen to vinyl (LP) records. I have inherited a great collection from them. I listen to everything from tabla to rock and pop".
Why the old-tech vinyl and not MP3 or digital mediums, I ask, naively. Swarup launches into a detailed and technical explanation. "Music is analogue when it is performed. Vinyl is the analog form of recording and gets you closest to a live performance. A well-recorded vinyl is the purest form of music you can have. When you convert it to digital, a lot of science is thrown at it to reduce the 'noise' and it is 'cleaned up'. But this also removes the authenticity. In my view, CD is a poor recording format and MP3 is even worse because you lose all the nuances of music".
So is buying a vinyl as difficult as finding a value stock in a bull market? "There's a great revival of vinyl in India. Whenever I travel abroad, I spend at least one day buying music. A lot of my money goes into that. My retirement dream is to run a music shop with a jukebox, where I will play vinyl music."
I tell Swarup that I do like classical music and he urges me to try out vinyls. "You are in Chennai. Please visit Moore Market. That's where you get the best vinyl records. I often send my friends and colleagues to far corners of India to pick up my vinyls. Most of my Saturdays go in cleaning them. My wife is happy with this hobby as it keeps me at home," he quips.
The chat with Swarup tells me why Mirae Asset remains such a down to earth fund in a euphoric market - it mirrors its CEO!