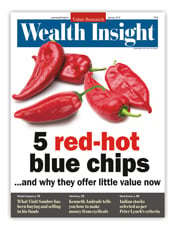 Identifying Blue Chips, buying their stock, and holding them is always a great investing strategy. However, there are times when Blue Chips should be ignored. Is this such a time?
First Page: Dhirendra Kumar discusses about cocaine money and bitcoins-- their bubble and bust
Interview: Kenneth Andrade, Founder and CIO, Old Brweidge Capital tells you the secrets of "Spinning Money from Cyclicals"
Interview: Seasoned investor, Manish Sonthalia, Head -- Equities, PMS, Motilal Oswal AMC says, real investing is really a very boring thing
Market Compass: Track the stock investments made by DSP BlackRock's Fund Manager Vinit Sambre
Vis-a-vis: Who is doing better among the two leading home loan companies?
Straight Talk: Anand Tandon tells us that 2017 witnessed a lot of changes
Sanjeev Pandiya shows how Understanding psychological principles of personality helps you better coordinate with your mind and hence achieve better outcomes
Analyst's Diary:

Making sense of general insurers: Key analytical metrics of the general-insurance sector
Keeping the CFO happy: Companies that have generated a higher ROCE on a higher capital base
The better indicator: Why ROE trumps ROCE as an analytical tool
Your money, my gains: Companies that use their suppliers' money for their own benefit

Companies with moats: Are companies who enjoy near monopoly status always good buy options?
Stock Screen: Read about these investment ideas that you can use now:

Peter Lynch stocks
Quality stocks available cheap
Attractive blue chips
High dividend-yield stocks
Discount to book value
Reasonably priced growth stocks

Stock Analyst's Choice: Our regular scorecard of the stocks we've recommended since 2011 and their performance
Click here to subscribe to the printed version, or buy a digital subscription (PDF+online reader) instantly. You can also buy a digital copy of this issue without subscribing.