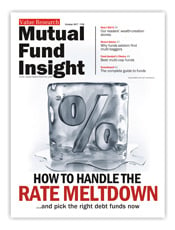 Interest rates are crashing, and won't come back up for a long time. Investors need to understand how to pick their debt fund investments in this new scenario.
Read the October 2017 Issue of Mutual Fund Insight, 'How to handle the rate meltdown' and learn about the new world of fixed-income investing.
Of course, there's a lot more in this issue that will help you choose the best mutual fund investments.
First Page: The quality and honesty of investment advice being forwarded around social media is a problem
Investors' Hangout: In a special Investors' Hangout session from Bhubaneswar, Dhirendra Kumar speaks to A Balasubramanian, CEO, Aditya Birla Sun Life Mutual Fund, about the evolution of mutual funds in India
Getting personal: Anuradha Rao, MD & CEO, SBI Funds Management
Category Watch: Multi-cap funds combine the best of all worlds and are suitable for most investors. Read all about them.
Fund Analyst Choice: Eight multi-cap funds that our analysts have picked for you
Top-Rated Funds: Funds that are rated five star by us
The Plan: 47-year old Vedant has adequate investments to meet his goals but they are spread across too many funds and he's not organised as per his goals. Our analysts plan what he should do.
Ask Value Research: Our team answers savings and investment queries from readers
Fund Reporter: Our digest of the month's most useful mutual fund news
Direct Advice: Aarati Krishnan explains why mutual funds seldom find multi-baggers
Of this and that: Sanjeev Pandiya explains the fascinating link between psychology and economics
Value Research Online: Understand fund performance on our website
Scoreboard: India's most comprehensive mutual fund scorecard. Key performance numbers and investment details for each fund

The issue is now on news stands. You can also subscribe to the printed version, or buy a digital subscription (PDF + online reader) instantly. You can also buy a digital copy of this issue without subscribing.