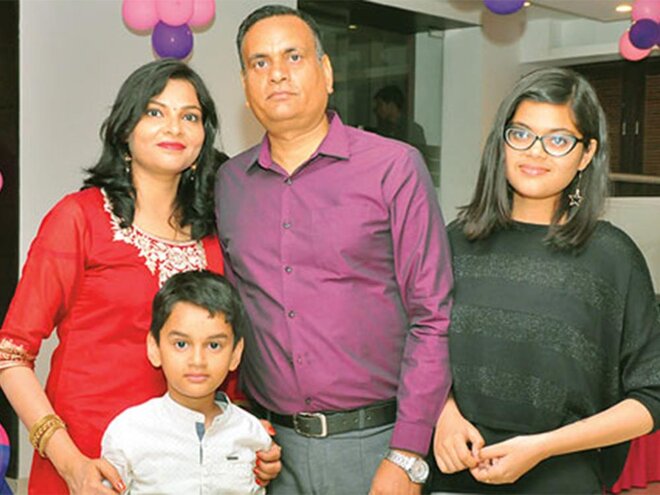 Family man Rajesh Tiwari could be a good brand ambassador for mutual funds. The 42-year-old always wanted to be independent with money. Shouldering economic responsibilities at a young age after his father's unfortunate death, Lucknow-based Rajesh has used mutual funds to achieve his financial goals. "There is nothing like trying times once you know what you are doing and why you are doing it. Correction or bull market, I stick to my SIPs," says the avid reader of Value Research. Read on to know how Rajesh stepped into the mutual fund world and why he loves this 'magical' product.
Combating tough times
As a child, Rajesh was into books. Today, in his off time, he likes to reads about the political and financial situation of the country. He knows the value of good as well as bad times, having seen the bad ones closely after his father's demise. "He passed away in a tragic road accident, when I was 19. My father was a gentleman and a leader in various ways. I learned so many things from him. Things changed rapidly after his sudden demise," he recounts.
Rajesh's burning desire to be independent with money acted as his prime driver. After his father was no more, he had the responsibility to build a house for the family with the money he had left behind. "I did that and at the same time I gave tuitions and saved money in a recurring deposit (RD). That taught me a lot of restraint and self-discipline. Though the amount was not much but it started the ball rolling," Rajesh quips.
Rajesh began working at 24 years and rose to senior positions with the organisation. "I travelled a lot and met many people in the course of my job. I realised that different people think differently when it comes to investment and most of them don't even understand the basics of investments," Rajesh says.
Currently posted as regional manager with Archies Ltd, Rajesh's immediate family comprises his wife and two children.
Coming across mutual funds
It was about seven years ago when Rajesh started investing in mutual funds. A fan of Dhirendra Kumar, Rajesh admires straight forward and clear views. "I never found him (Dhirendra Kumar) trying to sell something," he notes. Once into the mutual fund field, Rajesh understood how mutual funds work and started realising their benefits. And then there was no stopping the mutual fund enthusiast! "Mutual funds are such a wonderful thing, but most people don't understand the power of this tool. I still invest in three-four funds of the time when I started investing, and the returns are good (14-17 per cent annually)," says Rajesh.
As mutual funds started working their magic, Rajesh started achieving all his financial goals. "Its a magical tool which needs proper understanding and awareness. Whenever markets crash, I see a sharp fall in value but instead of getting panicky, one needs to overlook this aspect and continue investing. Mutual funds are for long periods. Never try to time the market. SIP is the way to go," he suggests.
Rajesh gives credit of his investing success to a disciplined approach and vision. In that sense, he is a stickler for rules. "Bad experiences happen when we deviate from the time-tested principles of investing and speculate or try to time the market. I like to read stuff on mutual funds and about successful investors," Rajesh notes.
Rajesh's financial journey has had its ups and downs, too. "Investment in property is one of my bad experiences which taught me lot. I still have some old investments in property but for the past few years, I have dropped the idea of property as an investment," he confesses.
Gold and bank FDs too are off his investment list. It's mutual funds all the way. "I invest only in the growth options of equity funds because my horizon is for at least 15-20 years. My average monthly SIP is Rs 46,000," Rajesh says. His biggest allocations are in Franklin India Prime Plus (Now Franklin India Flexi Cap Fund) and Franklin India High Growth Companies Fund (Now Franklin India Focused Equity Fund).
Besides mutual funds, Rajesh invests directly in some stocks that he feels confident about. For life insurance, he prefers term plans. "Take ample term insurance and medical insurance for the sake of your family and health. Health is everything. Never play with it or ignore it," Rajesh advises.
Rajesh's advice
Rajesh never wastes money on unnecessary things. That is something he likes to preach to everybody. "Teach your kids about the value of money. Be a role model to them. Ask them to read good books about life and finances. It will help them to grow in all aspects," Rajesh signs off.
This story first appeared in August 2017.
Do you have an interesting story about how your investment journey unfolded? Share with us on [email protected]