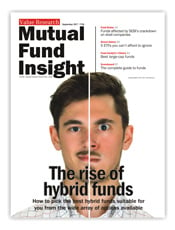 Hybrid funds are the most suitable type for almost every fund investor. However, there's a wide range available and we must choose with care.
Read the September 2017 Issue of Mutual Fund Insight, 'The Rise of Hybrid Funds' and understand which ones to choose and which ones to avoid.
That's not all: here are some of the highlights of what else there is in this issue.
First Page: Dhirendra Kumar writes about how the folly of market timing damages investors' mutual fund returns.
Getting personal: R Janakiraman, VP, Franklin Templeton Investments
Category Watch: Large-cap funds remain the favourite of conservative equity investors. Read our analysts' survey of the category.
Fund Analyst Choice: Eight large-cap funds that our analysts have picked for you
Top-Rated Funds: Funds that are rated five star by us
The Plan: A 38-year old plans his and his family's future in detail. Read our team's detailed working out of his investment portfolio.
Ask Value Research: Our team answers savings and investment queries from readers
Fund Radar: Will SEBI's shell company crackdown affect your fund investments? Read this and other news and notes about happenings in the world of mutual funds
Fund Reporter: Our digest of the month's most useful mutual fund news
And the point is..: Vivek Kaul comments on the bandwagon effect--when people don't have their own opinions and just follow others
Direct Advice: Indian investors haven't looked at ETFs seriously. Aarati Krishnan discusses five ETFs that you should not ignore.
Value Research Online: Stay updated with the 'Latest Offers' section on our website
Scoreboard: India's most comprehensive mutual fund scorecard. Key performance numbers and investment details for each fund
The issue is now on news stands. You can also subscribe to the printed version, or buy a digital subscription (PDF + online reader) instantly. You can also buy a digital copy of this issue without subscribing.