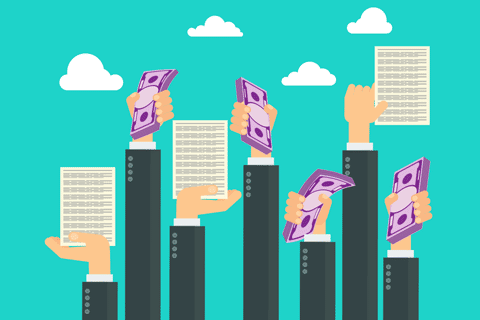 Buybacks are seeing a lot of traction. Companies like Infosys and Wipro are expected to initiate buybacks this year, while firms like Just Dial and Nucleus Software are almost here with their offers. This year, we have already seen buyback offers from Engineers India, TTk Prestige, HCL Technologies, SKF India, TCS, Mphasis, Jagran Prakashan and Welspun Enterprises to name a few. But how do mutual fund managers view buybacks and how do they decide on whether to tender shares, or not? Value Research spoke to some fund houses to understand the nitty-gritties of the process.
Buyback process
Buyback is a corporate action in which a company buys back its shares from the existing shareholders usually at a price higher than market price. When it buys back, the number of shares outstanding in the market reduces.
For cash-rich companies, a buyback allows companies to invest in themselves. By reducing the number of shares outstanding on the market, buybacks increase the proportion of shares a company owns.
Buybacks can be carried out in two ways. One, shareholders may be presented with a tender offer whereby they have the option to submit (or tender) a portion or all of their shares within a certain time frame and at a premium to the current market price. This premium compensates investors for tendering their shares rather than holding on to them. Two, companies buy back shares on the open market over an extended period of time.
By reducing the number of outstanding shares, the company opting for a buyback can improve earnings per share, provide an additional exit route to shareholders when shares are under valued or are thinly traded, prevent unwelcome takeover bids, and support share price during periods of sluggish market condition, amongst other things.
The advantages of a buyback are that it is an alternative mode of reducing capital without requiring approval of the Court/CLB(NCLT).
Managers try to understand why buyback
According to Principal PNB Asset Management Company, the main factors that they look at while evaluating whether to participate in a buyback offer would be the buyback price, the probability of acceptance in the offer and our fundamental call on the stock.
Gautam Sinha Roy, Senior Vice President - fund manager, Motilal Oswal Asset Management Company says: "Buyback for me is an opportunity to tender large quantities of shares at an agreeable price without impact cost, only if I want to sell the shares in the first place."
Whether a fund-house wants to sell the shares is an independent decision based on understanding of the fundamental prospects of the business and its current valuation.
Roy feels that a buyback does have signalling value for shareholders. In some cases, it can be construed as management's bullishness about future business prospects and the relative undervaluation of the stock from a long term perspective.
"Typically, these are cases in which promoters (and continuing shareholders) are increasing their holding in a company by buying shares from outgoing shareholders. In certain other cases, buyback can also be due to the lack of need of "growth capital" in the business either due to lack of growth opportunities or lack of need of capital to pursue the same. In these cases, buyback is a tax-efficient way of returning capital to shareholders," he added.
As shareholders, at any buyback event, Roy says that he ascertains which of the above scenarios is applicable in that case and use that as a decision metric.
Breaking down buybacks
All buyback results into reduction in outstanding shares, leading to earnings per share going up. Importantly, it is a capital allocation decision for the company.
Sachin Relekar, fund manager - equity, LIC Mutual Fund says that a company has to choose between buying its own shares versus capital investment leading to shareholder value creation or debt repayment, if any.
Relekar has some preferences. "We would like companies with high return on capital employed to plough back the capital into the company. This is likely to create shareholder value. However, sometimes, management / promoters can signal confidence in the company's prospect by buying the shares, if the market price is not reflecting the same," he said,
Other aspect is when company does not have reinvestment opportunities or generating sufficient cash to take care of investment requirements. Company can choose to return the capital to shareholders.
Tax efficiency is also a major point. Currently, there are two types of buyback happening.
1. Where all shareholders, including promoters, are participating in the buyback of the shares. This is more of return of capital to all shareholders. "It is similar to dividend payout, albeit more tax-efficient. At the same time, it is a slightly more complex process compared to dividends. We generally participate in these types of buybacks as it is unlikely to affect overall shareholding pattern," the LIC MF official said.
2. Where promoters are not participating in the buyback. In this case, share count reduction has different meaning. Promoters are actually enhancing ownership in the company. While selling shares can have multiple reasons, enhancement of shareholding in the company has only one: better investment. "However, this should not come at the cost of diversion of resource from the high NPV (net present value) investment. If the conclusion is long term value of the company is much higher, we don't participate in the buyback and vice versa," Relekar said.