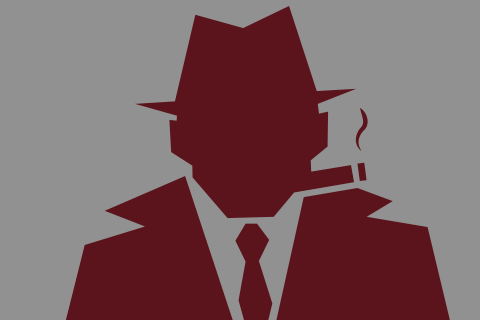 In developed countries, while most businesses are run by professionals, in India, most listed businesses are managed by promoters themselves. At times, there are situations where the business is doing well and the products are good but the promoters' greed proves to be the Achilles' heel. The promoter may try to extract as much as possible from the company by hook or by crook.
On the brighter side, the interest of the business is aligned with the interest of promoters when the promoters are at helm.
A management with poor skills or mala fide intentions can bring the complete business down to zero in a matter of days whatever the prospects of the industry. On the contrary, a good management can build a strong business, even in adverse times. For example, in the airlines industry, while Kingfisher completely vanished due to an incompetent management, Indigo prospered.
Following are some companies which destroyed shareholder wealth due to promoters' and managements' incompetence and greed.
Bilcare
Bilcare is one of the largest blister-packaging companies in India. Its problems started when it acquired the plastic-film unit of the Swiss-based Ineos for Rs 607 crore in 2010, which was a much bigger firm than itself at that time. The acquisition turned sour and took the consolidated margins down. In FY13 and FY14, the management was quizzed for dubious accounting practices as well. Its working capital requirement kept growing swiftly. In FY14, the company was declared a wilful defaulter.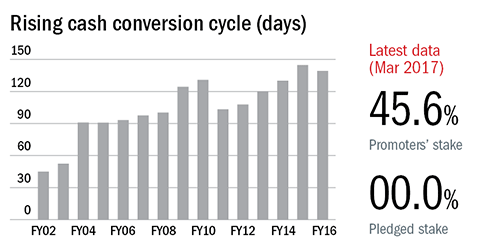 Birla Power Solution
A part of Yashovardhan Birla group, Birla Power manufactured generators. The company defaulted on the its debt. It also had significant financial transactions with group companies despite having unrelated businesses. The debt taken for a power project was used to provide money to the group companies for different reasons. Apart from this, huge investments were made in foreign assets with little operations. The promoter of the company, Yash Birla, is famous for his flamboyant lifestyle and partying.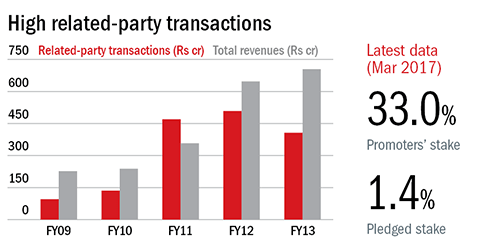 Educomp
Educomp markets equipment for educational training. In its greed for high growth, the company changed its business model from an asset-light one to a leveraged one. In this attempt the company took huge loans and started struggling. The management and promoter were questioned for corporate governance when the CFO's resignation was followed by the company secretary's and compliance officer's resignations in 2012. The very same year, a related company Edusmart witnessed four consecutive resignations.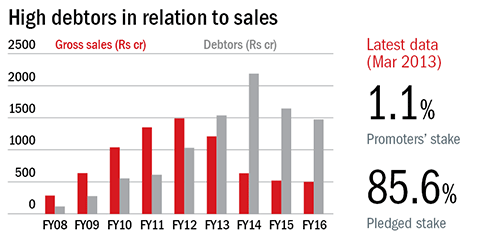 FTIL
Financial Technologies, now called 63 Moons Technologies, was embroiled in a Rs 5,600 crore scandal. Its subsidiary, National Spot Exchange, a commodity exchange, was involved in a Ponzi scheme, along with its founder Jignesh Shah. The company offered paired contracts which were floated without the permission from the commodities regulator. The company also issued fake warehouse receipts to show the underlying commodities. The company also didn't publish its consolidated results on a quarterly basis.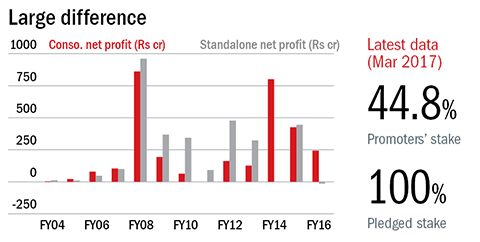 Satyam
Satyam's promoter and CEO, B Ramalinga Raju, was convicted for an accounting fraud. Under him, the company inflated its revenues and profits through fake invoices. It also faked its cash reserves by inflating them by around Rs 5,000 crore.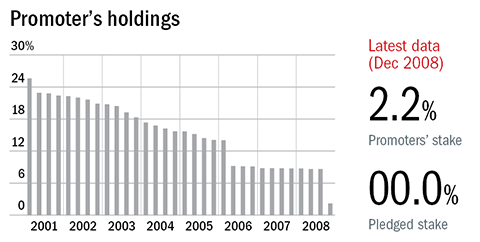 The news of the scam broke in January 2009. One forewarning was that Raju had been constantly selling his stake in the company. He held 22 per cent stake in Satyam in 2002. He brought this down to just 2 per cent in December 2008.
Unitech
Unitech, a realty company, struggled due to its overambitious plans during the real-estate boom of 2008. It delayed the delivery of its projects for several years and used home buyers' funds to buy more land elsewhere.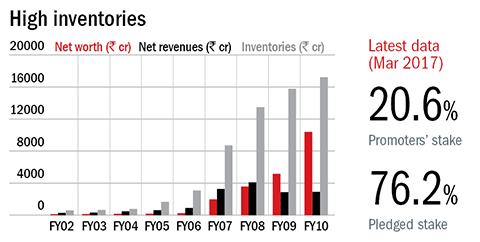 Sanjay Chandra, the then MD of the company, was also jailed for his involvement in the 2G scam. The company's work in progress (projects under construction) grew to the tune of `15,739 crore in FY09. The promoters had also pledged 77 per cent of their holding in the company in 2009.
While it's difficult to find accounting irregularities due to unscrupulous promoter behaviour at an early stage, there are a few factors which send signals that something wrong is going on in the company.
Related-party transactions: For a promoter, extracting money from a listed company is not easy. Hence, promoters often create multiple companies with their stakes in them. These related parties transact with the main company to take out the money in the form of supplier payments, donations, loans and investments. To avoid such a situation, do go through the annual report and the mandatory reporting on related-party transactions. Check the nature of transactions and relationship with the promoters or the management.
Lack of consolidated numbers: Another situation which calls for doubt is when the company does not report consolidated financials despite having meaningful subsidiaries, or delays publishing its results quite often. Sometimes companies also create a special purpose vehicle but drops its details while filing their financial reports.
Accounting policies: Check if the management is changing accounting policies too often, such as depreciation method, inventory-valuation method, etc., to fit its cause.
Loans to service existing debt: Taking loans for a strategic expansion is okay but a loan taken to service an existing debt raises suspicion. One should stay away from such companies.
Share pledging: A very high level of share pledging also warrants a deeper look. Pledging means promoter borrowing money against shares as collateral. Defaults on such loans can lead to a vicious circle, where the stock price tumbles because the lender sells pledged shares to recover its dues.
Qualitative aspects: Along with numbers, one should also look at the qualitative aspects of a company. For example, serial resignation by several key personnel in a short span signals trouble brewing up.
Promoter's lifestyle: Another very important aspect is the lifestyle of the promoter. In order to maintain his lavish lifestyle, the promoter may take decisions which are not in the interest of the business.