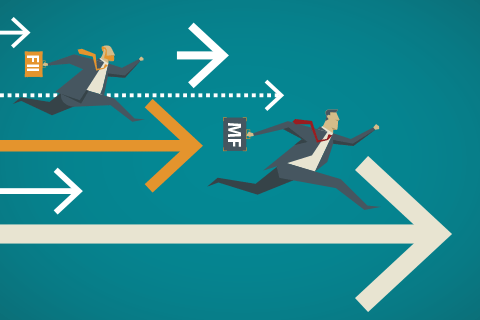 With benchmark indices like the Sensex and the Nifty hitting new highs, some investors are worried that a correction may be just around the corner. Of course, a correction can always be lurking somewhere but investors must also understand the fundamental change driving the domestic market. No longer are domestic equities powered by foreign money that evaporates at the mere whiff of trouble. Instead, Indian stock markets today are supported by long-term domestic money, most of which is coming from mutual funds. This single factor lends a lot of credibility and support to domestic markets, which are unlikely to crumble under pressure if foreigners start to sell.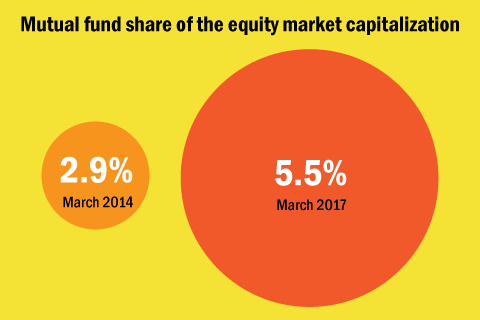 According to a CRISIL-AMFI report, mutual funds' emergence as a stabilizing factor is reflected in the fact that their share of the equity market capitalization (i.e. total value of listed companies) has nearly doubled from just 2.9% at the end of March 2014 to 5.5% as of March 2017. The rising share of MFs is supporting markets in a big way.
Aashish P. Somaiyaa, CEO, Motilal Oswal AMC says that in the last ten years FIIs (foreign institutional investors) have sold heavily in India four times - 2008, 2013 (the taper tantrum), 2015 end (Chinese devaluation and commodity collapse) and 2016 end (Trump election and demonetization). "The first 3 times when FIIs sold we saw Indian markets collapse by 20-25-50% in a short frame of time. This time if there are foreigners observing Indian market behaviour their experience would be different. Market did fall by about 10% odd and FIIs continued to sell even in first week January but once the domestic buying started FIIs had to chase rising prices," says Somaiyaa. Ramnath Venkateswaran, fund manager - equity, LIC MF, believes mutual funds today are comparable in size to foreign institutions. "Domestic mutual funds have made net purchase of about US$7 billion in CY16 and for the current calendar CY17 have already made purchases of about US$6.3 billion, which makes them comparable to FIIs in terms of size and influence in the Indian financial markets."
The strong influx of sticky, long-term money in equity mutual funds from systematic investments by retail investors has emerged as a huge stabilising factor. For instance, when FIIs sold Rs 146 billion worth of equities in FY16, mutual funds bought Rs 661 billion.
Motilal Oswal AMC's Somaiyaa says that the rising clout of MFs clearly shows that when domestic behaviour changes, foreigners' will respond to those dynamics, "as a result how they expect us to behave will change and also influence their outlook towards our market".
Venkateswaran of LIC MF says mutual funds gaining muscle is a major long term positive for the markets for two main reasons. Firstly, it allows Indian households to participate in the wealth creation process as the economy gains size. Two, this will reduce the volatility in markets as FII behavior is also influenced by developments in their home countries (which might have no material relevance for Indian companies).
Mutual funds witnessed strong inflows in the last three years leading to strong growth in overall assets managed by mutual funds. Total assets managed by mutual funds touched a record high of Rs 19.26 lakh crore in April 2017, with the corpus for June 2017 coming in at Rs 18.97 lakh crore, maginally down from Rs 19.05 lakh crore in May 2017. This represented an approximately 37% increase year-on-year and an ~8.1% increase from March 2017.
According to industry data, inflows through systematic investment plans (SIPs) for June were about Rs 4750 crore, up from approximately Rs 4600 crore in the previous month. SIP inflows averaged ~ Rs 3600 crore/month in FY17. In the trailing 12 months, the mutual fund industry saw a net inflow of Rs 3.45 lakh crore. Out of the total net inflow, Rs 89,220 crore came into equity and ELSS funds, about 26%. "Despite volatility in equity markets, inflows in equity mutual funds have remained steady. This trend reflects the increasing participation of investors in mutual funds and using correction as an opportunity to deploy capital," said MF analyst Sachin Jain of ICICI Securities.