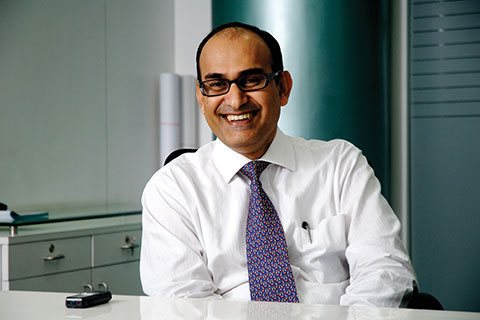 Soumendranath Lahiri, fund manager, L&T Midcap Fund gives his views on the fund.
What is your investment universe?
As per mandate of the fund, L&T Midcap Fund can invest primarily in midcap companies, whose market capitalization falls between the highest and the lowest constituent of the Nifty Free Float Midcap 100 Index, at the time of making initial investment.
What attributes should a stock have for it to become a part of your portfolio?
We have a 70:30 strategy for L&T Midcap Fund wherein 70% of the fund is invested in scalable moats at a reasonable price. 30% of the assets are invested in deep value stocks. The key stock selection criteria for 70% of the fund includes (1) Deep moats - Look for durable competitive advantage in a business, for e.g. low cost advantage, distribution network, brands, patents, etc, (2) Scalability - Focus on owning businesses that are likely to generate significantly higher amount of cash flow in the next 3-5 years and (3) Valuations - prevailing valuations should be reasonable after factoring in the future growth prospects. Apart from this, 30% of the fund is invested in deep value stocks with likely catalysts. In this strategy, we identify businesses which are completely out of favour and are trading at substantial discount to fair value. We also look out for likely catalysts which can help bridge this gap between price and fair value.
What kind of stocks never enter your portfolio?
We are sceptical about businesses which do not have inherent competitive advantages. Unless such businesses are available at a substantial discount to what we believe is fair value, we will not invest in them. Businesses with blatant corporate governance issues or where we have doubts on cash flows will also not find a place in the portfolio.
What will you attribute the relatively superior performance of your fund to in recent years?
Performance is an outcome which we have little control on. We try to focus on the process of identifying quality businesses at a reasonable price. If we look back over the last three years, what has worked for the fund is its focus on quality. We believe businesses which are able to compound capital at high rates over the long term will outperform. Over time, the compounding potential of the business and the stock converges. So a business which can deploy capital at 25% compounding will over the long term generate about 25% CAGR for its equity holders, unless starting valuations are outrageously high. Similarly, it is futile to expect a business with compounding potential of 5% to generate significantly different returns to shareholders over time. We also invest 30% of the portfolio in stocks where margin of safety is very high and valuation arbitrage is substantial. Such stocks are typically held with a medium term horizon and we book profits when the valuation arbitrage is bridged. In the last twelve months this part of the strategy has worked since markets have rewarded deep value more than quality.
Is there any tactical miss you regret (for instance, not owning a stock or not owning enough of it)?
There are two kinds of mistakes that a fund manager typically falls prey to: mistakes of commission (buying stocks which underperform) and mistakes of omission (not buying stocks which outperform). Most of our time is spent on avoiding mistakes of commission i.e. avoiding stocks which can result in a permanent loss of capital. Looking back, counter intuitively, mistakes of omission have been costlier than mistakes of commission for us. This could be due to the fund's preference for quality which automatically reduces mistakes of commission. There have been several multi baggers in this portfolio in the last 3 years. In hindsight we would have loved to own much more of those. However, as they say, hindsight is indeed 20/20.