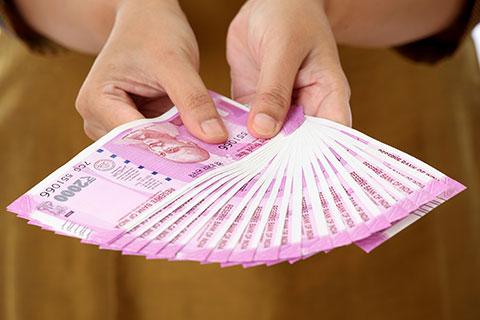 With equities testing new highs, many investors want to remain in stocks but are looking for options that can contain the downside in volatile markets. One such category is dividend-yield funds. While many readers may have thought that these funds pay good dividends, let us be clear, that's not what these funds stand for. These are funds that invest a substantial portion of their assets in the shares of those companies that pay an above-average dividend regularly.
Dividend-yield funds are not some new fad as the earliest such fund was launched in 2003. Today there are eight domestically focused schemes that fall under this theme, and there is one product with international focus. Together, they manage about Rs 5,000 crore in assets.
A good question to ask is how fund managers of these niche funds select dividend-paying companies. Different asset managers have different ways of looking at this. For instance, BNP Paribas Dividend Yield Fund considers stocks that have a dividend yield in excess of 0.5 per cent at the time of investment. ICICI Prudential Dividend Yield Equity Fund invests at least 80 per cent of assets in companies that have a dividend yield greater than the dividend yield of the Nifty 50 Index at the time of investment.
Performance
Companies with high dividend yields tend to have stable cash flows and that makes them, at least theoretically, less volatile compared to their growth-oriented peers. Theories can be what they are, but some dividend-yield funds haven't done badly at all if you study their medium and long-term performance (see the table).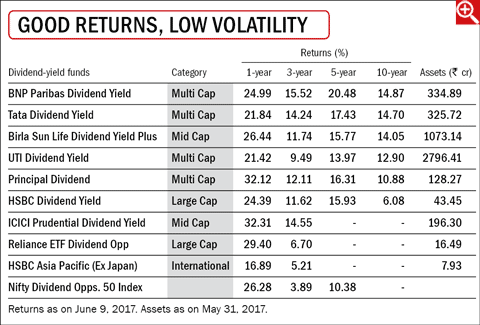 During a downturn, dividend yield can act as a good wealth protector. For growth funds, investors are unsure at what point the valuations will settle in such a turbulent environment. But the dividend yield acts as a barrier that prevents dividend-yield funds from declining beyond a point, say experts. For instance in 2008 and 2011, there was extreme turbulence in Indian stock markets. Birla Sun Life Dividend Yield Plus Fund fell 44.4 per cent that year compared to 57 per cent for Nifty 500 and mid-cap equity-fund category average. However, there are exceptions as well. Principal Dividend Yield Fund underperformed markets in 2011 by a big margin.
One must remember that one main drawback of dividend yield funds is that they tend to underperform growth funds in rising markets. Aggressive investors looking for higher returns and having the commensurate risk appetite may avoid dividend-yield funds, but those looking for a safety net can consider them.