 Earlier, opening an NPS account and making your yearly contribution required tons of paperwork. But eNPS, the new online platform from the NPS Trust, has made both account opening and your annual contributions much easier. You can now open an NPS account entirely online, using net banking, by using your Aadhar ID. Alternatively, you can use your PAN card and bank KYC and upload your photo and signature digitally. The eNPS, after authenticating your details using either the Aadhar or PAN database, will allot a unique PRAN (Permanent Retirement Account Number). This enables you to make your subsequent contributions online. But note that India's two large banks, ICICI Bank and Axis Bank, currently don't provide the NPS facility.
The NPS has relaxed its minimum contribution limits, too. Earlier, it mandated a minimum investment of Rs 6,000 per financial year, either in installments or in a lump sum to keep your account active. If you failed to meet this contribution before March 31 of the financial year, the account was frozen.
But in August 2016, the minimum contribution has been slashed to just Rs 1,000 a year. The above rule relaxations are for the Tier I account, which earns you tax concessions. Minimum investments have been fully waived for the voluntary Tier 2 account.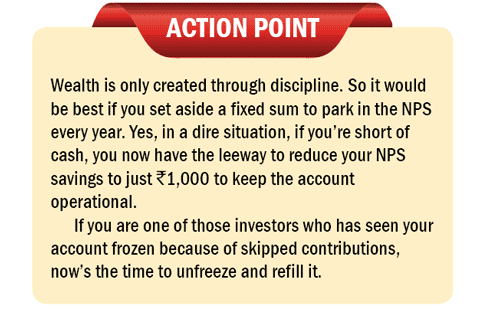 This article is part of a series of articles titled How the NPS has changed.