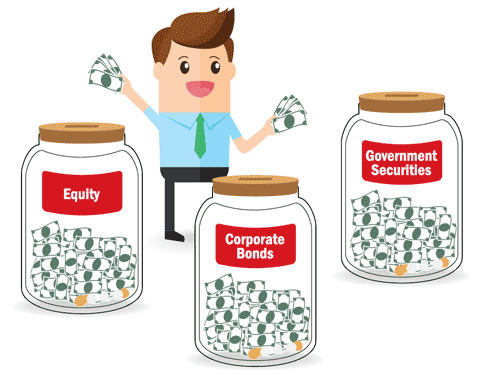 Depending on whether you're a street-savvy investor or a newbie, the multiple options on the NPS menu may have excited or confused you in the past.
Well, more excitement (or confusion) is on the way, as the menu has recently expanded.
Until recently, investors logging on to the NPS for the first time were confronted with the following choices. First, you had the option of opening only a Tier 1 account or going with both Tier 1 and Tier 2 accounts.
Two, you had to choose which of the seven approved pension funds would manage your money. This list included specialised pension funds from LIC, SBI, UTI, ICICI Prudential, Kotak Mahindra, Reliance Capital and HDFC.
Three, you had to opt between the Active choice, where you decide on the allocation between equities, corporate bonds and government securities, and the Auto choice, where a 'Life Cycle' fund would automatically do the asset allocation for you.
If you picked Active choice, you would have to decide on your preferred weights between E (equity), C (corporate bonds) and G (government bonds).
If you ticked Auto choice, the fund would by default put 50 per cent of your money in E, 30 per cent in C and 20 per cent in G. From the age of 36, this automatic Life Cycle fund was designed to reduce the weights in riskier assets - E and C - and increase the weights in G.
But in the last six months, there have been two big tweaks to the above features.
More Life Cycle funds: With effect from October 2016, even subscribers who opt for the Auto choice will not have one but three different Life Cycle funds to choose from.
There is the aggressive LC 75, which will start you off with a 75 per cent allocation to equity (up to age 35), 10 per cent to corporate bonds and 15 per cent to government bonds. The equity allocation would then be trimmed by 4 per cent each year (this will be redistributed as 3 per cent more in G and 1 per cent more in C) until E falls to 15 per cent when you reach 55 years of age.
Then, there is the conservative LC 25, which will start you off at a modest equity exposure of 25 per cent (up to age 35), with 45 per cent in C and 30 per cent in G. Thereafter, E will be cut by 1 per cent each year and C cut by 2 per cent to leave you at a 5 per cent allocation to both E and C at 55, with 90 per cent of the money in safe government bonds.
In addition to these two, the current moderate Life Cycle fund, with a 50 per cent starting allocation to E, will continue to operate.
A new asset: There's been a change in the asset classes on offer, too. From October 2016, the NPS has quietly slipped in an entirely new asset class - A (alternative investments) in addition to the E, C and G on offer to private-sector investors.
This new asset is available only to Active choice subscribers, with a 5 per cent cap on your allocation.
'A' includes sophisticated instruments like alternative-investment funds registered with the SEBI (essentially venture capital and hedge funds), mortgage-based securities, real-estate investment trusts and infrastructure investment trusts.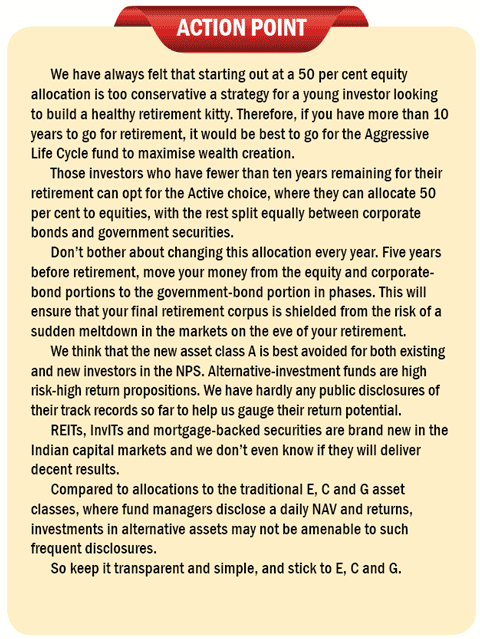 This article is part of a series of articles titled How the NPS has changed.