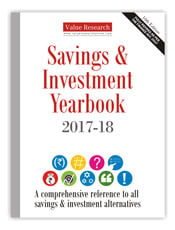 Even though most Value Research Online readers are focussed on mutual funds, a good saver should be knowledgable about all the options that are available.
From a simple post office savings account to researching and trading stocks yourself-there are a lot of ways to save, invest and grow your money. Unfortunately, it's hard to get all the basic facts about them in one place-unless you have the smartest and most comprehensive guide to investments that is available in India. Buy the 2017-18 update to most thorough guide to savings and investments and get the the latest information on every method of savings that is available to you.
The Value Research Savings & Investment Yearbook 2017-18 gives you everything the information, about all the savings and investment avenues available to you. Here's what is covered in this 180-page volume:
BANKING
Savings Bank Account
Bank Fixed Deposits
Bank Recurring Deposits
POST-OFFICE SCHEMES
Post-Office Recurring Deposit
Post-Office Time Deposit
Post-Office Monthly Income Scheme
SMALL SAVINGS SCHEMES
Public Provident Fund (PPF)
Sukanya Samriddhi Yojana
Senior Citizens Savings Scheme
National Savings Certificate (NSC)
Kisan Vikas Patra (KVP)
INSURANCE
Health and Other Related Insurance
Life Insurance
PENSION
Pension and Annuity
NPS & Atal Pension Yojana
OTHER INVESTMENT AVENUES
Stocks and Equity
Mutual Funds
Company Deposits
Capital Gains Tax Exemption Bonds or 54 EC Bonds
Sovereign Gold Schemes
NON-RESIDENT INDIANS
INCOME TAX
Income-Tax Planning
Tax-Saving Strategies
Click here to subscribe to the printed version, or buy a digital subscription (PDF+online reader) instantly. You can also buy a digital copy of this issue without subscribing.