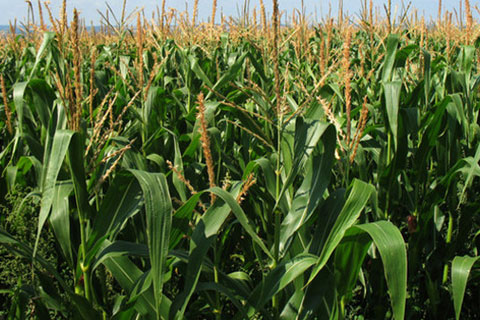 The Met department, in its latest assessment, has forecast rains in the range of 96-104 per cent. Above-normal rains in the sowing period saw area coverage of 87 per cent this year. The area under Kharif crops (sown in monsoon), led by pulses, maize and cereals is up six per cent (YoY). That is good news for agri-inputs, seeds, fertilizers and chemicals industries. They have more ground to cover. Increased rain in the July-August period will leave more moisture in the soil to carry the benefits of a good monsoon to the sowing in the Rabi season (winter). The table below highlights the higher acreage for crops this year.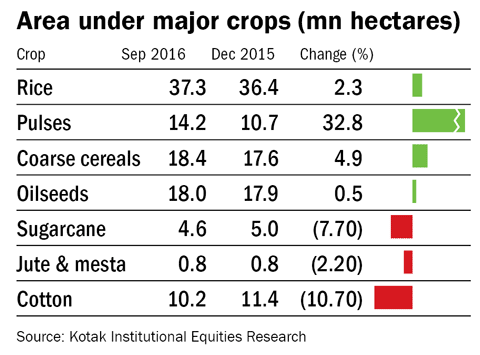 We look at two companies that are both asset-light and do not fit into the traditional model of agri-chem companies laden with debt and inefficiencies.
PI Industries
Rather than focusing decades and resources on creating and bringing to market its own molecules, a model followed by traditional agri-chemical manufacturers, PI Industries (PI) ties up with global agri-chemical majors to sell their blockbusters in India under a license agreement. This business brings in 41 per cent of PI's revenues. The remaining topline is generated from custom synthesis for the global majors.
PI's management has guided revenue growth of 18-20 per cent and a margin expansion of 100-150 basis points for FY17. This upbeat guidance is on the back of a number of factors - good monsoon this year, two new launches in FY17, full year contribution of two new plants of the custom synthesis business, as well as new molecule launches this financial.
Such a business model frees up precious resources - an option not available to competitors. As a result, PI has an industry leading return on equity of 30.54 per cent and an equally envious operating margin of 20.64 per cent. Valuations for such numbers have been high for some time now. The PI stock is up 22.77 per cent in the last one year and trades at 31.92 times earnings.
Dhanuka Agritech
Another asset-light business, Dhanuka Agritech focuses on selling herbicides, fungicides and insecticides and others. It has a dealership network of over 75,000 retailers that help Dhanuka reach more than 10 million farmers. This kind of reach makes the company highly accessible to farmers.
Dhanuka has tied up with global agri-chemical majors in the US and Japan and it has made its fortunes by virtue of these tie-ups, regular launches of new products and a pan-India distribution network. How strong is this business model? Dhanuka was able to report a net-cash balance sheet in the last two years, a period that was marred by poor monsoons.
Operating in a sector that is laden with debt, Dhanuka is a debt-free company that has reported a ROE of 23 per cent (FY16). The company has guided a revenue target of 20 per cent and 50 basis points margin improvement in FY17. Two new launches in the herbicide and fungicide segments are slated for this year. Better-than-industry financials mean Dhanuka is able to command a premium valuation - the stock trades at 30.60 times earnings and is up 40.17 per cent in the last one year.