Here's what Jayesh Gandhi, fund manager of Birla Sun Life Small and Midcap Fund, has to say about the fund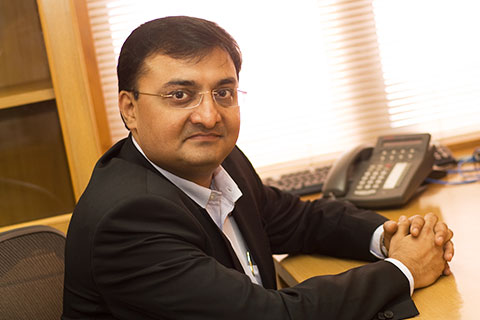 Birla Sun Life Small & Midcap Fund is among the top performers in its category over one year. What has caused this outperformance?
The fund remains true to its name and predominantly invests in companies in the small and midcap segment (based on the weighted average market capitalization) that have a potential to appreciate in the long run. Bottom-up stock picking of growth business is the key strategy here. Allocation to sectors such as Services, Consumer Goods, Pharma, IT, Cement & Cement Products, Automobile, Financial Services, Industrial Manufacturing, etc. lead to active base return of 12.54%. We were able to identify stocks based on their individual merits which helped us deliver 17.63% compared to 6.18% of Nifty Free Float Midcap 100, resulting in an alpha generation of 11.02% in the last 1 year (as on 30th June 2016).
How do you pick stocks for this fund?
BSL Small & Midcap Fund follows a bottom-up stock picking approach to investing. Factors such as quality of business, balance sheet financial strength, management vision, passion and commitment to corporate governance and wealth creation, etc. are the key aspects evaluated by the investment team on a regular basis in order to make an investment decision. Apart from these hinge factors, the manager also focuses on growth and lays emphasis on medium term earnings growth potential. The objective is invest into quality companies and business which can grow earnings at the rate faster than their sector or market and ready to pay a market valuation for the same. As part of the investment strategy, the fund will book profits regularly to take advantage of the volatility in the market.
When do you decide to sell a stock?
As the saying goes "The time to sell a good business is Never". Having said that, the strategy of the portfolio is to have a focused holding of around 40 and make sizable bets in each name. So when the price of a stock exceeds high valuation estimate for medium term, selling could be consider to book profits. It is important to book profits as the volatility in small cap names is very high and at times could be used to our advantage. Another reason for the possible portfolio churn may be changes in the underlying fundamentals of the company or sector which may necessitate change in our view on the medium term outlook for the stock.
How do you manage volatility in this fund?
Our investment philosophy of buying high quality business, with strong financial standing itself helps to reduce volatility in the fund performance. We select stocks with superior ROE, strong cash flows, stable and compounding earnings growth over the medium to long term. Our endeavour is to build quality portfolio with diverse mix of businesses. Allocation to defensive sectors such as Pharma and Consumers constitute approximately one-third of the portfolio. This strategy has been tried and tested over the years and has helped us generate higher returns, with risk/volatility levels less than the benchmark, in-spite of the fact that the number of holdings are limited.
How are mid and small caps placed in comparison to large caps?
In the last 16 years, the value of small and mid cap stocks in the total market capitalization of the country has more than doubled from 13.2% to 27.59% of the total market capitalization of stocks listed on BSE. Historically, the growth rate of small and mid cap companies have been higher as compared to large cap companies and hence the returns generated by small & mid cap stocks as compared to large cap stocks are higher. Also there is a myth that small and mid cap stocks trade at higher valuations, however when we compare the valuations sector by sector, the small and midcap stocks trade at a discount to their large-cap peers in majority of cases; examples are sectors such as software services, pharmaceuticals cement, private banks, etc. We believe that the small and mid-cap stocks are currently trading at fair valuations and considering the superior growth rates and could deliver better returns relative to risk than the large-caps, over the medium to long term.
What do you do to contain downside in the fund?
Portfolio's diversified allocation to defensive sectors help in containing any downside to the performance of the fund. Fund's investment philosophy of bottom-up stock picking helps in identifying valuable businesses which are stable in nature and have the potential to deliver in the long run.
What can investors expect from your fund in the future?
We expect the earnings growth to be in mid-teens in the medium term and equity markets are also expected to deliver similar returns. Small and mid caps have given higher returns than large caps over a longer period and we expect that to continue in the future as well.