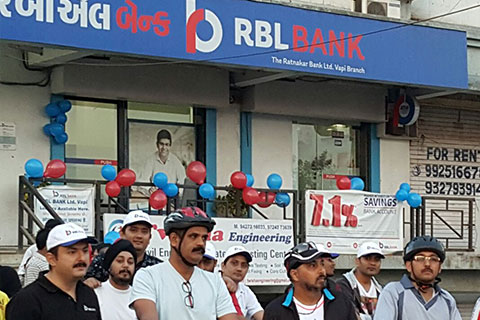 Winston Churchill once said of his nemesis Clement Attlee - 'A modest man with much to be modest about.' The same can be said about Ratnakar Bank (RBL). It is a prudent lender with comfortingly low levels of bad loans but disappointing margins. It gets too much of its capital from expensive sources - from the stock market, from the bond market and from high interest carrying fixed deposits; rather than low cost current and savings accounts also known as CASA. The bank passed just 10 of the 21 tests we had set. That,coupled with expensive valuations, takes the sheen off the IPO. Nonetheless diamonds can sometimes be found in the dark and we have shed some light on RBL to help you decide if they exist here. Read on.
RBL (erstwhile Ratnakar Bank) started its journey as a regional bank in Maharashtra in 1943. Following the 2008 recession, the bank embarked on an aggressive growth strategy, growing its capital 10 times over to 2016 and increasing its loan book 19 times. Currently, the bank has 197 branches, 362 ATMs across 16 states, as well as 32,000 transaction points where it offers branchless banking solutions to its rural customers. For comparison, Yes Bank has 900 branches and 1680 ATMs across 29 states. The growth comes at a cost: the bank's capital adequacy ratio, a measure of the bank's ability to absorb losses, has fallen from 42% to 13% (though it is similar to SBI's 13.12%). RBL's growth was also funded by issuing increasing numbers of shares, diluting the ownership of existing shareholders. Thus, the 63% annualized five year growth rate in the loan book translated into a mere 30% annualized growth rate in per share earnings.
Three keys to understanding RBL:
CASA Ratio (Current and Savings Accounts Ratio): The CASA Ratio tells you what proportion of the bank's deposits are comprised of low cost current and savings accounts. Other forms of deposits such as fixed deposits require a bank to pay higher interest rates. Ratnakar Bank has one of the lowest CASA ratios in India - a bad sign. Among 41 listed Indian banks (both public and private banks) only 2 banks (IDFC and Lakshmi Vilas) reported a CASA ratio lower than RBL. A high CASA ratio reduces the overall cost of borrowing as it involves deposits in current and savings accounts which have low interest costs associated with them. RBL relies on fixed deposits and market borrowing instead - funding 25% of its loans by borrowing from the market.


NIM (Net Interest Margin): Net Interest Margin is the difference between the rate at which a bank borrows money (from depositors, or the bond market) and the rate at which it lends money. RBL again ranks poorly when it comes to net interest margins. As many as 34 out of 41 banks do better than RBL on this count. RBL has NIMs of only 2.15% which is among the lowest in Indian Banking industry.


Non Performing Assets (NPAs): This dreaded term simply refers to the loans of a bank that have turned 'bad'. In other words, these are loans where principal or interest that was due has remained unpaid for more than 90 days.On this measure, RBL is among the best performers in India. Its Gross NPA Ratio, which measures these NPAs against the bank's total advances, is a mere 0.98% - meaning that less than 1% of the money it has lent out has turned bad. This is the 4th lowest in the industry.
Our Checks
(With inputs from Kashyap Sriram and Neil Borate)