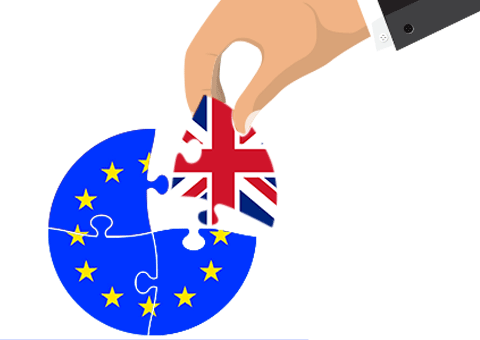 Its official. Britain has voted to leave European Union in a historic divorce that has spooked global financial markets. In a knee-jerk reaction, the BSE Sensex is trading 930 points down. The US dollar is trading at 68.08 against the Indian rupee, up 1.23%. Safe-haven asset gold jumped as much as 8% as the precious metal topped $1350 levels. We spoke to a slew of market and investment experts to gauge what should be investors' reaction. The consensus advice is: Investors shouldn't hurriedly react. They should wait for the hullabaloo to subside.
Harsha Upadhyaya, Chief Investment Officer - Equity, Kotak AMC feels the Brexit reaction across markets is a "short term reaction" which will continue for a couple of trading sessions.
"Because whenever there is a global negative event or sentiment, India is not completely insulated. To some extent, there will be some impact on earnings because there are some firms with Britain or EU exposure. Those earnings will go up or down depending on the final details because there are lot of factors at play including multi currency movements. If you look at our macro fundamentals, those are very intact. This leads me to believe that when the dust settles, our markets will continue to do well. This is why its probably an attractive time for long term investors to use this volatility and build up their positions," said Upadhyaya, who has nearly two decades of rich experience spread over Equity Research and Fund Management.
Nimesh Shah, MD & CEO, ICICI Prudential MF is of the view that Brexit or any global related market correction is a buying opportunity in the long term for domestic investors. He feels that monsoon is more important Brexit. "At this juncture, the monsoon turning adverse will concern us much more than Brexit. We believe a normal monsoon is one of the most important factors for the markets. We believe Indian equities could do well compared to other emerging markets owing to favourable domestic macroeconomic factors, low crude oil prices and corporate earnings growth," said Shah.
The Indian economy is in a comfortable position based on the steep fall in crude oil prices over the last year and ICICI Pru MF's expects a normal monsoon this year. "India's current account is also now almost neutral. The domestic economy is on its way towards a cyclical recovery and this could lead to a revival in the earnings cycle," said Shah.
Rajeev Thakkar, CIO, PPFAS Mutual Fund feels that Brexit will dominate the headlines for a few days till the attention of the world is diverted to some new event. Britain was never a part of the single currency and the impact on business fundamentals is expected to be at the margins. "The knee-jerk reaction seems to be on account of the fact that most people expected a verdict of remain in the EU and the vote has turned out to be exit. Selective buy opportunities may emerge in the turmoil," he said.
Indian investors must stock up on shares is another piece of advice coming across. Aashish P Somaiyaa, CEO of Motilal Oswal Asset Management Company said: "I firmly believe that when FII sell for reasons that are not triggered in India, Indians must buy. When the dust settles they will come back, we shouldn't be left out for reacting to their selling!"
Peerless MF MD & CEO Rajiv Shastri is saying that every fall is an opportunity. "We feel the current reaction of the stock markets is an exaggerated one which will reverse in coming days," he commented.
Ajay Bodke, CEO & Chief Portfolio Manager - PMS, Prabhudas Lilladher, does see chances of more 'exits'. However, Bodke is positive on India. "Once some semblance of sanity returns investors will realize that nearly 65-70% of Indian GDP is domestic consumption. We are primarily a domestic-focused & domestic demand-led economy. Fall in commodity prices like crude would lead to large savings in import bill (every $1 drop in crude prices leads to roughly $ 1 billion savings in India's oil import bill). This would reduce India's trade & current account deficit (CAD) and counter any negative impact due to foreign capital outflow that may happen as part of movement towards safe haven assets," he said.
Experts are also asking investors to take a measured approach and not get carried away by doomsday scenario in so far impact on Indian economy & markets are concerned.
Ritesh Jain, Chief Investment Officer, Tata Asset Management said that HSBC has projected the pound at 1.20 to the dollar while all of Asia is down and the German 10 year Bund is at record low levels. "Europe has a busy election season in the next 12-36 months and BREXIT will only aggravate the separatists elsewhere in the Eurozone. Italy already has pro separatist mayors getting elected in Rome & Turin. Spain goes into elections on Sunday. As mentioned previously, volatility will abound as positions get un-wound and markets speculate on the future of Europe. The biggest beneficiary will be the safe havens: dollar denominated assets (especially short term US treasury) and gold as already highlighted in my earlier mails. As we speak, the 10 year US Treasury yields is already down 30bps, the most since 2009," Jain added.
Jimeet Modi, CEO, SAMCO Securities feels that IT & other companies which have significant revenues from Europe and UK will be affected and may be avoided as the extent to which the Pound will be impacted will be unknown. 'Focusing on Indian consumer goods like ITC, HUL and Asian Paints, BFSI stocks like HDFC Bank, Kotak Bank and Bajaj Finserv can lead to good returns for investors," he remarked.