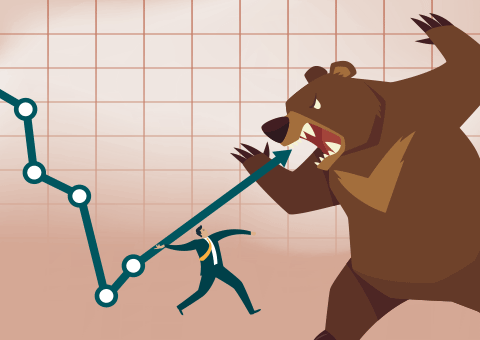 After selling stocks worth ₹50,000 crore from May 2015 to February 2016, March 2016 saw overseas investors pumping in over ₹23,000 crore into Indian equities. This helped the Sensex gain 6 per cent. So should you jump in to invest?
Well, such attempts at timing don't help. Historical evidence suggests a single big month of buying by overseas investors doesn't always signal the beginning of a new bull run.
Any month where Foreign Portfolio Investments are above ₹20,000 crore has usually proved to be a month of big gains for the Indian stock market. Besides March 2016, the market has seen such 'big months' in March 2014 (Sensex gain - 5.99 per cent), May 2013 (1.31 per cent), September 2012 (6.96 per cent), February 2012 (3.25 per cent), October 2010 (an exception - down 0.18 per cent) and September 2010 (11.30 per cent). In all these months, Indian stocks saw monthly inflows of between ₹20,000-30,000 crore from FIIs.
While equities do gain in these big investment months, this effect mostly fades away in the subsequent month, shows a data analysis. But unaware of this many investors, after reading up news about big investments by foreign investors, take long positions hoping to make a quick buck. A closer look shows that strong FPI inflows in a month are often followed by a sideways consolidation or even a decline.
Take for instance May 2013, overseas investors put in ₹21,268 crore in Indian stocks and that led to a nice 1 per cent gain in the Sensex and the Nifty. However, in the following month i.e. June 2013 both the indices fell by almost 2 per cent.
Or March 2014 when foreign investors invested ₹22,352 crore in a single month. While the Sensex and the Nifty went up 6-7 per cent in March, April 2014 saw indices remaining flat. The Sensex rose by a mere 0.14 per cent while the Nifty dipped by 0.12 per cent.
The trend held true in big months of February 2012 and September 2012 too. Again, foreign investors bought shares worth nearly ₹25,000 crore in October 2010. But this did little to help the stock market sentiment thereafter. The Sensex/Nifty tanked by 2.5 per cent in the subsequent month i.e. November 2010, even though October 2010 saw huge FPI investments in shares.
Of course, there have been periods where FIIs have kept up a sustained pace of buying, investing over ₹20,000 crore in more than two straight months. In the period between December 2012 and February 2013, FIIs consistently bought over ₹20,000 crore worth of shares every month and that helped the markets rally.
These numbers make a very simple point. Following FII cues in a single month can backfire unless there is a sustained trend.