One thing that surprises me every time I meet Anup Maheshwari of DSP BlackRock Mutual Fund is how little he has changed over the years. I'm not referring to his physical appearance here (he is boyish as ever!) but to his demeanour. I still remember my first meeting with him in the nineties, when he was a fund manager and I was a newbie journalist tracking the markets.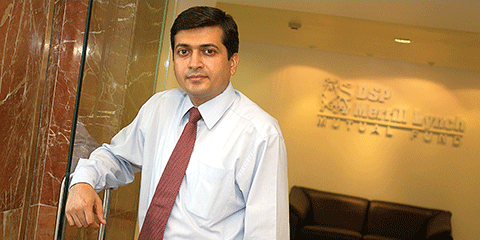 I was stumped when Anup, after wrapping up the interview, suddenly turned the tables on me and asked me about my opinion on sugar stocks (I tracked the sector then). He remains equally grounded today as Executive Vice President and Head of Equities and Strategy at DSP BlackRock.
Rewind to 2002
I caught up with Anup over phone for a breakfast chat at 8 am. After chatting about the Chennai floods and how they left me unscathed, I popped the question that had been bothering me. With the Modi rally petering out and the markets directionless once again, should one believe in secular bull markets at all? Is this cycle any different from the three previous ones he has seen as a money manager?
The current market phase reminds him a lot of the period from 1995 to 1998, says Anup. "From the 1995 to 98, you had cyclical sectors suffering quite a lot and defensive sectors doing really well due to poor economic conditions, just like today. Then the tech boom arrived and extended that cycle." But the Indian economy began to take wing from 2002-03 and sent cyclical stocks soaring. That laid the ground for the next big bull market from 2003 to 2008.
But the real problem with such about-turns in cycles is that no one expects them, says Anup. "In 2007, I don't think anybody imagined the world economy would fall as much as it did. It looked like it was going to last for a long time. Similarly today, nobody can even imagine the world economy coming back on track. But these are natural cycles that do change and surprise you!"
Such trend reversals can cause a lot of churn in markets because, in the short run, everybody has been chasing momentum, observes Anup. "So, you will always have an exaggeration of the trend. In a poor economic cycle, cyclical stocks get so heavily discounted that it requires a very small change in the economy to bring a big change in stock prices."
Wait for the cycle
Indian fund managers today are in warring camps. Some swear by value and are betting their shirts on cyclical stocks. Others love 'growth' and are betting on defensive stocks. The market is pretty sharply divided between expensive defensives and cheap cyclicals. So, where does he place his bets?
Investors globally are hungry for every bit of growth they can find, says Anup. "Because we're in a low-growth environment globally, you have a lot of liquidity sitting idle. Wherever growth opportunities are spotted, there's a lot of money that goes out and immediately pays a steep price for that growth. This is why mid caps and micro caps are still getting an above-average valuation. People are desperate for any pockets of growth."
So, does this mean he will avoid the really dirt-cheap segments of the market, like commodity stocks? Not at all, explains Anup. "This quarter, we are looking at the cumulative profits of commodity stocks at ₹700 crore versus ₹7,000 crore in the same quarter last year. But at the same time, I can't ignore a company trading at one-third its book value. Our job is to seek mis-pricing in the market and to try and capture that. That includes considering every sector and segment of the market."
Repositioning funds
This value orientation seems to be why DSP BlackRock's old-time favourites DSPBR Equity and Top 100 have been lagging in the return charts. So what are the house's plans for them?
"All our other funds are doing quite well. But yes, these two were the challenge. We have been repositioning in some of the names where growth was not coming through. We have been focusing more on companies where we see earnings coming back in the next 12 months. We have reduced mid caps and gone to 70-30 allocation towards large caps and mid caps."
Contrarian?
Given that cycles can suddenly turn and catch investors unawares, should investors consciously own funds which follow contrarian and value strategies?
"Yes, it does make sense," says Anup. "In fact we are going out and telling people, 'Don't be momentum chasers because right now you're paying a very high price for momentum. Maintain some balance. Look also for funds that have underperformed or which have a value orientation'."
Caution on micro caps
DSPBR Micro Cap Fund has been a rock star in the last five years. But micro caps always do well in bull markets. So, is this a function of market conditions? I prod.
"The problem is that there's been a massive valuation change in micro caps. From the depths of September 2013, when they were trading at all-time low valuations, they've now moved to all-time high valuations. The ROE hasn't changed a lot but the valuation of the portfolio has changed a lot. That's why we shut the Micro Cap Fund last year, with the view that stock prices are not really moving in line with earnings. Today, people are quite happy paying a large-cap-oriented valuation for micro caps, but we are cognizant that that can change. We can't count on re-rating. However, there are always some companies which are in a unique phase in their business cycles. You still find ideas. But obviously, there are fewer ideas now than before and you definitely can't count on the re-rating when you're buying these ideas."
You could do lazy investing with micro caps two years ago and they would have doubled. But now you could get your fingers burnt. This is the sub-text of Anup's reply.
Personal choices
Where does he park his money? Ex-property (property is nearly 30 per cent of his net worth) Anup's broad allocation has 80 per cent equity and 20 per cent debt. "I'm an equity believer. I don't believe in debt because I'm happy to take a long-term view. I can handle all the ups and downs. But I have kept that 20 per cent in debt as a prudent asset allocation," he adds.
Given all the market tracking that he does, does he do tactical shifts between funds or assets? "I'm a very passive investor," admits Anup. "Most of the investing happens in an SIP format and whatever shares I own personally are all very passively held. I don't trade and there are too many restrictions around it anyway."
So, does he swear by DSP BlackRock Funds? Fund managers usually do claim they stick to their own houses, I ask pointedly.
"It would be silly for me to go around marketing our funds and not hold them," he laughs. He owns almost the entire gamut of DSP funds, most of them bought during their NFOs and later through regular SIPs.
Many fund bosses say they hate property investments, so does he belong to that school? No, says Anup. "I bought my place at Khar in 2010, where I stay currently."
But what about the calculations that show that renting makes far more financial sense than buying? "Theoretically, yes. Practically, I wouldn't agree because the property I bought in 2010 has appreciated well. The problem with rent is that you may have to move every three years. You don't want to keep dislocating your life. A whole ecosystem gets created around where you live," he says.
Super compliant
So, is his dislike of dislocation also the reason why he's stayed put with DSP for the last 20 years? Anup says he saw no reason to keep shifting jobs. "One of the reasons why most people stay here for a long period of time is the working environment, the culture, the whole value system of the organisation and the flexibility you get in doing your job. We have a good set of shareholders. We are investor focused, so the priority is very clear; it is not to chase AUM. Everything is by the book, super compliant," says Anup. "In our industry, people love to crib about compensation, but there's no reason to. The work environment we have access to is fantastic."
Doesn't tracking stocks and markets get boring and burn you out? Anup disagrees and says that he finds his job really very varied. "You're talking to people through the day. And you're not in the office a lot of the time. You're going out, meeting managements, visiting plants. Every day is a new day in that sense. It's far from monotonous." Anup loves travelling, even on work and is on the road for at least a week to ten days a month.
So what does he do to unwind? "Obviously, family time is the best way to unwind."
Though he doesn't like a high-flying social life, he loves the other kind of flying - aviation. "I'm a big aviation fan. My father was a pilot. I read a lot and love to watch videos about the technical aspects of aircraft and flying," he adds.
So, are his kids keen to be professional money managers, I joke. Anup has two boys, aged 14 and 11. "My elder son loves history and the younger one likes science. But I'm sure that will keep changing," he says philosophically.
He is quite keen though that they learn about financial markets because he thinks it's a great skill to have. How will he do it? He recounts an experiment with his two nieces. "We gave them both a certain amount of money every month. They had to invest one-third of that in a stock, donate one-third to a charity and keep one-third for themselves for spending. And they had to write a quick email on why they bought the stock and what charity they gave the money to. If they did that, then they got the next month's payment. We did this for two years. It was a good experiment on learning how to invest and how to give," he says.
I make a mental note to try this out with my son. Maybe then he'll be able to answer questions about sugar stocks when he is 21.
This interview appeared in the March 2016 Issue of Mutual Fund Insight.