SBI Small & Midcap Fund, which has been suspended for sales due to capacity constraint, is the category topper over one year and three years. We speak to the fund manager, R Srinivasan.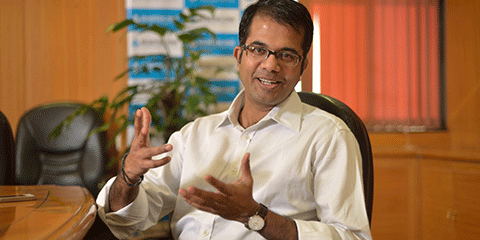 Reasons for outperformance of SBI Small & Midcap Fund
For one, the whole category has done well; there has been some polarisation across the market in favour of small and mid caps and this trend helped us as well. Two, the fund started with a small corpus which enabled it to go lower down the capitalisation curve where some excellent research-arbitrage opportunities existed. Third and equally important was our willingness, as a house, to spend time and effort on this sparsely covered space in search of excess returns. Specifically, top return attributors over the last one year, in that order, were Relaxo Footwears, Ramkrishna Forgings, Techno Electric, D-Link India and Alembic Pharmaceuticals.
Stock-selection criteria
We have an in-house five-factor model that we use to pick stocks. It includes competitive advantage, return on capital, growth, management and valuations. You would ideally want all factors to be favourable, but they are typically not. Stock selection is a function of the relative strength of these factors, some of them involving a trade-off against the other.
Additional safeguards for small caps
Safeguards are built into the research process and the numbers in the form of a margin of safety. There are no additional buffers. On the contrary, we prefer a concentrated portfolio where we own much more (relative to peers) of what we like and the portfolio is, in a way, benchmark and sector agnostic.
Selling a stock
Three occasions. One, when there is a better opportunity (since we do not take cash calls). Two, when our investment thesis goes for a tossl; and three, when the stock seems overpriced.
Stocks with high P/Es in your portfolio
Valuations are a lot more complicated and involve growth expectations, cash generation and return on capital (among others) that in turn decide what the P/E number should be. Then there is the qualitative assessment of how sustainable a business model is. In other words, while, like anyone else, we prefer low P/Es, what we own is for various other reasons too.
Strategy changes after the crash of August 24
We do not let short-term volatility affect our long-term decision making. Rather, we see opportunity in volatility.
Managing volatility
We do not manage it.
The biggest challenge while managing a portfolio of small- and mid-cap stocks
The biggest challenge is the probability of going wrong. A lot of these business models are yet to be tested - not to mention the fact that the managements are on a learning curve. They also need numerous channel checks and take up a lot of time due to an inability to outsource work. And, after a hard day's (read month's) night, most get rejected.
Outlook for small and mid caps in the year ahead
From a theoretical perspective, in the short to medium term, on account of a higher beta, small and mid caps will do well if the market does well and vice versa. From a longer term perspective, they are the place to be, always, for two reasons. One, there's a lot to choose from; while large caps are the top 70 or top 100 (in our case), everything else is small and mid. And, two, not many are following the space due to its illiquidity and that gives you an opportunity to do better than the average without being smarter than them.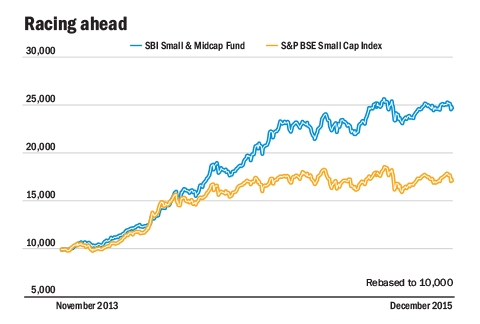 Sectors liked/disliked
The fund is sector-agnostic. And, even otherwise, stocks in the small-cap space have little homogeneity with the broad sector.
Narrowing valuation differential between large and mid caps
Broader valuation numbers on the indices are misleading because of the dispersion in the small- and mid-cap space and the non-availability of expectations. We are stock-specific.
What investors can expect from the fund going ahead
We will strive to generate a return of 20 per cent over the long term.
Advice to those who are anxious about investing in mid- and small-cap funds
Anxiousness to invest is a reflection of the risk the investor perceives. Small- and mid-cap funds are indeed riskier from a short- to medium-term perspective and the investor should avoid them if he doesn't have the appetite for that kind of risk. In the long term, volatility reduces meaningfully.
This interview appeared in the December 2015 Issue of Mutual Fund Insight.