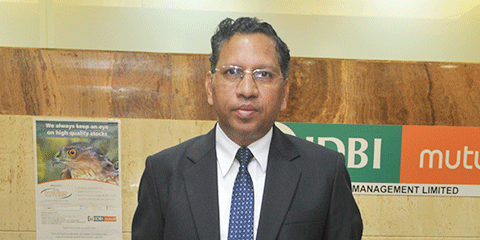 IDBI Asset Management Limited draws its parentage from IDBI Bank, one of India's largest commercial banks and counted among the top 50 valuable Indian brands. The immense credibility that IDBI Bank has with its customers is our biggest strength. We draw considerable business leverage therefrom while maintaining the product performance and customer-service expectations.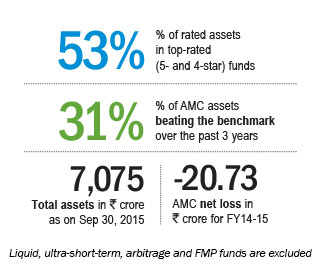 On the flip side, despite wide geographical spread of IDBI Bank, the AMC's direct presence needs to be expanded to many more potential centres. As part of our business strategy, we are already working to increase our presence gradually across top investment centres in the country in active coordination and support from our parent.
Challenges ahead
There are challenges like unequal distribution of assets among our country's cities; for example, 74 per cent of AUM come from just five large cities. We also think that there is a need for more concerted effort at reaching out to investors with simpler products and simpler investment processes.
From a perspective of investments, year 2015 continues to witness volatility driven by the Chinese crisis, the Greek crisis and the American interest rate scenario and so on. Domestically, we expect inflation will continue to be benign on the backdrop of lower crude oil prices. Further, monetary policy rate cuts, policy reforms and governmental steps like 'Make in India' will provide the impetus for acceleration in economic growth. So, we remain positive for the long term. The mutual fund industry has been a net buyer of Indian equities for the past 16 months.
Competition
It has been estimated that by 2020, the total AUM of the Indian mutual fund industry can even grow to as high as Rs 40 lakh crore. A recent McKinsey study indicates that distribution of assets is staggered and not equal among Indian cities; the share of B15 cities is much less than their potential. I believe the 40+ AMCs operating in the country face the challenge of reaching out to these customers, which requires more innovative solutions. We must explore new investment techniques and deploy scalable options to reach out to investors spread across a huge and diverse geography. On a macro view, what seems critically needed is reach and business scalability of the existing players for a sustainable business model instead of more number of players to be added.
Retail reach
We have been continually expanding our retail investor base. However, we are yet to fully harness our brand advantage in B15 towns. We are focusing on such towns where our partnering banks and distributors already have a strong base. We intend to significantly enhance our distribution network and presence in tier 2 and tier 3 locations.