Searching for commercial services has come a long way. In the olden days, we used to refer to the Yellow Pages. You needed to wait for the commercial directory to arrive by turn and could not have more than one. The younger generation today may not have seen Yellow Pages; they just search for things on their mobiles.
Just Dial started operations as a fixed-line voice search provider. Today users can access its services on their PCs, on mobiles, through live operator-assisted calls and by text messaging. Just Dial's popular too. It ranks 31st in an all-India ranking of Alexa's top-visited sites.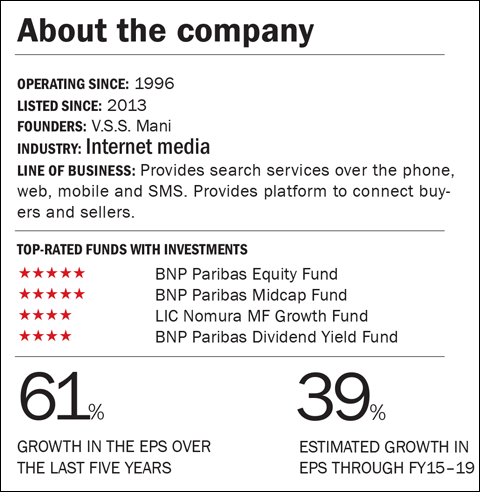 Strengths
There are a number of online search service providers like AskMe, AskLaila and Zomato, but none have the close to 15 million listings that Just Dial boasts of. None have a database of more than 2,000 cities like Just Dial. None have the 21.92 million searches per month on the mobile platform or the 59 million web searches on the PC.
Today there are a number of technology-based companies operating in the country. On the top is the cream - companies like Flipkart and Snapdeal that get hundreds of crores of funding from private equity investors. Then there are startups launching themselves every day. Unlike Just Dial, however, most of them have not seen any profits so far.
Rocketing into the big league: What propelled Just Dial into a different league was the company's decision to offer internet-based services, seven years ago. The results speak for themselves. The company saw 80 million searches in FY09, of which 35 per cent were internet search. By FY14, it saw 1,126 million searches, of which 63 per cent were online.
With the proliferation of new townships and apartment complexes and with the greater availability of budget smartphones, the natural thing to do is to look up the internet for all kinds of services. More and more users now find it convenient to fish out mobiles and search for whatever service they need. Mobile internet is shaping up to be a big opportunity. Just Dial, for instance, has seen mobile searches jump from 4.7 million in FY10 to 263 million in FY14.
Scale of opportunity: Internet access in India is restricted to 16 per cent of the population. India is among the fastest growing population in the world. The 190 million internet user population in the country (as of 2014) will cross 500 million by 2018, says a report by BCG and IAMAI. This gives companies like Just Dial a huge scale of opportunities they never had before.
A profitable internet company: Just Dial is one of the rare technology companies that generate cash from operations. It has been profitable both at operational and net level in all of the last eight years for which data are available. Similarly, cash flow from operations has been positive in each of these eight years.
The primary source of Just Dial's revenues is its fees for premium listings. It charges, on average, close to ₹17,600 annually for a paid listing that goes higher for a priority listing, being featured ahead of others. Just Dial runs campaigns for such priority listings. As of December 2014, it had over three lakh such campaigns.
Strong back-end support: One of the key factors behind Just Dial's success is its 9,200 strong workforce that engages either in telesales, prodding listed advertisers to buy paid packages. It undertakes cold calling and carries out extensive verification to maintain an updated database that is ready for its 14.5 million customers.
Growth drivers
Just Dial has been continuously evolving. From voice search to internet to mobile, it has created value by innovating. In the next growth iteration, it now wants to enable transactions. You can buy a car, for instance, or shop for deals, book a cab or buy groceries. Just Dial is filling in the place of an intermediary or an enabler between the customer and the services he or she desires. As of Q3, it has 23 such products or services under the category called Search Plus.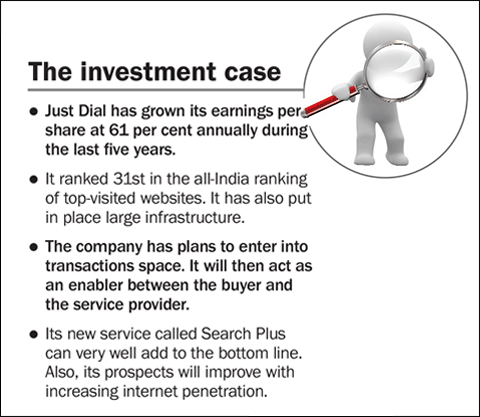 Concerns
The biggest risk to Just Dial is from the big daddy of internet searches: Google. If Google digs in deeper into local search services, it has the resources to displace any competitor. However, that has not been Google's strategy yet. In addition, if it does decide to get into Just Dial's business, it will have to make deep local-level penetration, even across smaller towns, to compete with Just Dial's offerings.
The second threat comes from specialised websites cropping up by the day. Many surfers now use BookMyShow.com to book movie tickets or browse through Zomato to search for restaurants nearby. To compete with such entrants, Just Dial will have to be on its toes to offer the same level of services they provide.
Financials
Just Dial's revenues and EBITDA have grown at 40 per cent and 66 per cent CAGR, respectively, in the last five years. Earnings per share have grown at 61 per cent annually during the same period.
Because it receives money upfront, Just Dial operates with a negative working capital cycle. ROCE averaged at 50 per cent in the last five years. EBITDA margins stood at 29 per cent for the nine months ended December 2014. The company is debt free.
Outlook and valuations
Just Dial is a company that has shown that it can innovate with great results. Markets are not yet factoring in any revenue growth from its latest offering of Search Plus. However, going by the track record that the company has demonstrated over the years, it can very well pull off its latest growth driver.
Excluding any contribution from the Search Plus service, Just Dial's revenues and earnings per share are estimated to grow by 31 per cent and 39 per cent annually between FY15-19, according to Nomura Research.
Though the stock trading at a TTM P/E of 72 appears expensive, when compared with its five-year annual EPS growth of 61 per cent, Just Dial trades at 1.18 times its five-year PEG ratio - a valuation that does not appear over-the-top.
This is a stock for risk-taking investors. That said, the company has proven its mettle over the years and does generate positive free cash flow. To remain ahead in the game, Just Dial will have to continue to deliver on its innovation-led growth strategies. By all counts, it appears to be doing so.