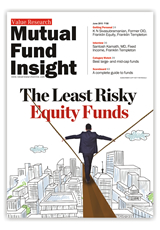 Whether it's cars or cricket or equity investing, it's always assumed that out of speed or safety, we must choose only one. To get high returns, we must take more risk. And yet, that's not always true for equity mutual funds. There are equity funds that have generated as good returns as any while taking less risk. The cover story of the June 2015 issue of Mutual Fund Insight, The Least Risky Equity Funds, shows you how to select the best returns with the least real risk.
Large and mid-cap funds have often demonstrated the agility to do well in a broad range of market conditions and are a good choice for investors who want stability along with good returns. Read our Category Watch for this month for to understand these funds and how they work. In the accompanying Fund Analysts' Choice, read detailed analyses of eight such funds chosen by our research team.
In our interview of the month, Santosh Kamath, MD - Local Asset Management, Fixed Income, Franklin Templeton Investment, speaks to Vibhu Vats about the outlook for debt market in India and the determining factors
In our 'Getting Personal' feature, we have KN Sivasubramanian, the legendary former CIO and fund manager from Franklin Templeton. Now retired from professional asset management, Siva talks to us about investing past and present, where markets have been, where they are and where they are going.
Like every month, in The Plan, our experts have analysed an actual investor's portfolio in detail and suggested a complete restructuring plan. In this edition, we have a couple who are starting a family and want to start saving. However, like so many young couples today, they have a lot of loans. In Buy Sell Hold, our experts answer investment queries from our readers.
In our new feature, Portfolio Moves, we analyse a fund's portfolio (this time, Tata Midcap Growth) to see what the fund manager did, what worked and what didn't.
And of course, there are regular features like Fund Radar, Fund Diary, regular columns from Aarati Krishnan and Vivek Kaul, as well as our comprehensive Scorecard of Mutual Fund data.
The issue is now on news stands. You can also subscribe to the printed version, or buy a digital subscription (PDF + online reader) instantly. You can also buy a digital copy of this issue without subscribing.