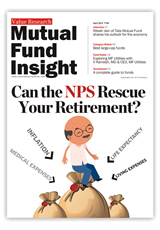 It has been a journey of more than ten years, but the National Pension System (NPS) is finally ready for prime time. With the tax-saving boost it has received in Budget 2015, there is now little reason for investors to continue ignoring the NPS. However, the NPS is somewhat complex, with a number of different choices and options that have to be understood. The cover story of the April 2015 issue of Mutual Fund Insight: Can the NPS rescue your retirement? shows you how to go about making the right choices.
Our interview of the month is with Ritesh Jain, Chief Investment Officer at Tata Mutual Fund, where he talks about the implications of the latest Union Budget, his investment approach and the future prospects of the Indian economy.
As always, in The Plan, our experts have analysed an actual investor's portfolio in detail and suggested a complete restructuring plan. In this edition, we encounter a reader with a problem that is far too common--of saving enough but wasting the savings on the wrong kind of investments. In Buy Sell Hold, our experts answer investment queries from our readers.
In this month's Category Watch, our analysts explain everything about choosing Large-Cap funds. In the accompanying Fund Analyst's Choice, we examine six selected large-cap funds in detail.
And of course, there are regular features like Fund Radar, Fund Diary, regular columns from Aarati Krishnan and Vivek Kaul, as well as our comprehensive Scorecard of Mutual Fund data.
The issue is now on news stands. You can also subscribe to the printed version, or buy a digital subscription (PDF + online reader) instantly. You can also buy a digital copy of this issue without subscribing.