It is extremely difficult to do an Arnab Goswami-style interview with Anoop Bhaskar, Head of Equities at UTI Mutual Fund. Despite being one of the most successful portfolio managers in the country, Anoop is so modest that he loves to talk about his mistakes and tries to brush off his successes as luck.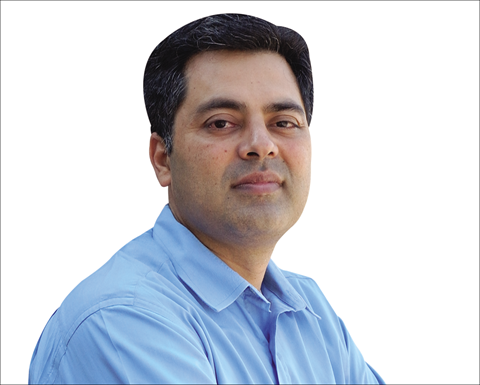 Then there's his sense of humour. As an interviewer, you spend more time laughing than actually thinking up 'tough' questions. There's also no reason for you to demand any answers on behalf of 'the nation', because he's so open and perfectly willing to answer any question you throw at him.
So when I called up Anoop for an 'Interview', we ended up chatting like long-lost cousins, the conversation jumping from his haat style of investing to his son's fascination with Lego blocks.
I started off with: "How do you think this bull market is different from earlier ones?"
"It's like being a diabetic in a sweet shop. Everything looks tempting, but you can't buy anything. This is a weird bull market," he says.
He's referring to the kind of stocks that have turned multi-baggers in the last one year. Returns on the well-known names from the Sensex or Nifty have been dwarfed by the gains in illiquid, unknown stocks. Anoop reels out some statistics: If there's one 100 per cent gainer in the Nifty, there are 23 mid-cap stocks that have made a 100 per cent gain and 46 small caps which have doubled or more.
Skimming the malai
Anoop says that it's not institutions but individual high net worth investors (HNIs) who have minted money in this trend, cornering 5 or 6 per cent in some of these companies. "In the US, venture capital guys have taken most of the malai out of new issues. In India, HNIs have skimmed the gains in the small- and mid-cap space," he says.
But despite all the action in this space, why hasn't UTI Mutual Fund launched any small- or mid-cap NFOs? In fact, even UTI's older equity funds lean towards large caps. "I find that the valuations on the small-cap side are priced to perfection. If there is earnings disappointment, these stocks will get a nasty treatment. Today to source even half-decent small caps, you need to buy from individuals. They will sell you the stock at some price. But it's not a price at which I can make money," he says tongue in cheek.
He points out that the HNIs who have made a killing on such stocks have nurtured them for several years without much return, specifically from 2005 to 2011. Mutual funds are seldom able to do this, he regrets, because of short-term performance pressures.
Low beta
To get him out of this self-critical mood, I remind him that UTI's equity funds have been really good at delivering good returns with low volatility. They haven't suffered huge losses during market falls. Is this because of this play-it-safe attitude?
Anoop explains, "We (UTI) consciously focus on running a low-beta portfolio. Our belief is that if you make less losses in a bear market and take on lower risk in a bull market, you can deliver good long-term returns." For instance, the fund has been consistently overweight on pharma and autos and it hasn't gone overboard on financials like many of its peers.
So don't Indian investors like low volatility? They do, but not all the time, he says. "When the last twelve-month return is oversized, the five-year or seven-year track record is forgotten very quickly," he says with a laugh.
No concentration
The other thing that stands out about his equity funds is that they all own a very large number of stocks in their portfolio. Why is this? After all, legendary investors like Warren Buffet believe in concentration.
"You can do it if you're Warren Buffet and investing your own money," he says. In an earlier chat, he had explained that his philosophy was to go for the haat style of investing. In a haat, you find one shop selling jeans, another selling chappals, another bags and so on. If one thing doesn't sell, another will get picked up.
"I feel mutual fund investors are not aiming for the single highest return. If they were, they would look for one stock and put all their savings in it. But who has the skill, time or ability to do so?"
The problem with concentration is risk and it requires an enormous amount of conviction, he explains. "Take the case of Bharat Forge. I started buying it at ₹230. If I kept buying it with all my inflows to maintain its weight in my portfolio, I would have had to buy it until it hit ₹2,000. Can I really justify that?"
What Anoop does instead is that he decides on the sectors or sub-sectors to own first. "The way to look at concentration is to look at the number of sectors in the portfolio, rather than the number of stocks. Now, if I decide to own tyre companies, I may prefer to own three-four tyre stocks at 2-2.5 per cent each instead of one stock at 9 per cent. That controls liquidity risk," he explains, making a valid point.
Ultra cautious
So, when he invests his personal money, does he do a Warren Buffet? No, he's ultra-cautious, admits Anoop. While his own portfolio is 65:35 in favour of equities, the equity portion is mostly in UTI's diversified funds. He hasn't directly bought a stock in eight years. "For my children I am doing SIP in the more aggressive funds which I manage. Maybe I don't love them so much!" he jokes.
What about his debt investments? "My timing tends to be brilliant. So a year ago, I put all my surpluses into tax-free bonds," he says. In hindsight, taking big bets on gilt and income funds at that time may have earned him much better returns. Though Anoop has bought into UTI's income and gilt funds since, he says that he plays fixed income for 'surety and visibility'.
Talking of nerves, Anoop is the rare top honcho who hates travelling. But he admits that he travels quite a bit. "It's a necessary evil of this job. My peers such as Prashant (Jain), Sankaran (Naren) and Mahesh (Patil) are such keen travellers. Wherever I go, they have already reached there before me! I try to pack a lot of travelling in two months and then chill for a month," he says.
So having lived and worked in Delhi, Chennai and Mumbai (his previous stints were with Sundaram Mutual and Franklin Templeton), has he bought a lot of property?
He says he's quite happy hopping rented homes in Mumbai. "I now stay in Juhu. The Juhu flat, at today's market price, would cost ₹5 crore. The rental yield based on market value would be 1.5 per cent. That makes it a better economic decision to rent," he says, a true portfolio-manager style. He adds that he's 'insecure' about taking a ₹4 crore loan to buy such a property as this would be a huge liability.
Anoop feels bad that children nowadays don't get the same quality of life that he had, with access to playgrounds and open spaces. "Everywhere kids are on the Internet or iPads. They don't miss it, but I feel they are missing out on something," he says, and I heartily agree.
He rues the fact that any form of sporting exposure for a child today is through 'regimented' coaching classes. His nine-year old son is taking football classes; his daughter has flat refused to do so!
What does his son want to do? "He's unlikely to become a Messi or a Maradona. But you know what, he's very good at Lego. He has the concentration to read a whole instruction booklet and build a whole toy, which I could never do," he laughs.
Doesn't that show engineering skills? "Yes. But I just hope he hasn't inherited my maths skills because then he is destined to do commerce," chips in Anoop, again taking a dig at himself.
The seasoned portfolio manager loves basketball and is a fan of the maverick San Antonio Spurs. So what is his own fitness regime? "I don't have one," he says, quite truthfully. "I don't run marathons. I don't buy ₹50,000 cycles and get tourist cars to come after me. I like to walk in the morning. It gets interrupted whenever there's a Spurs match. I believe that being emotionally happy is very important to your overall health. I think people tend to focus too much on the physical side."
Well, he has sure made investors in UTI funds happy since taking over in 2007. And with his frankness, he's certainly a journalist's dream come true. This was an interesting interview. For me, this was one two-hour interview which seemed to fly by in a minute!