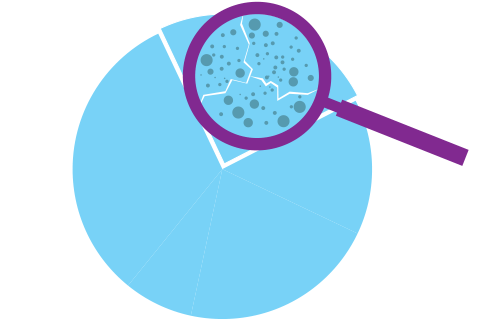 The first quarter results of financial year 2017 have started to pour in, marking a busy schedule for analysts and the pink papers. Almost all the newspapers carry articles on the aggregate number for company earnings, with details on either a declining or a rising trend. Observe the numbers closely and you will find significant differences.
At Value Research we love to play with numbers and until a few years ago we used to do the same exercise, but dropped this practice of aggregate analysis on a quarterly basis for good reasons.
For instance, we analysed the quarterly profitability of BSE-500 companies in the first quarter of the financial year 2016-17 with the profitability in same quarter of the previous year. In all, 56 companies have declared results and on an aggregate basis they have delivered 6.11 per cent growth. Now, on a random basis, we removed 15 companies and the profitability growth of remaining 41 companies comes out to be 12 per cent. That's a twofold increase but hold on. We followed that with removing 23 more companies, once again randomly. Now the quarterly earnings growth of the remaining 18 comes down to 3.80 per cent. Imagine, how different reporting would be in the three different scenarios -anything from good growth to a collapse.
| | |
| --- | --- |
| No. of companies | Y-o-Y change in earnings (%) |
| 56 | 6.11 |
| 41 | 12 |
| 18 | -3.8 |
In 2014, we did a similar exercise on BSE-500 index companies as well. The analysis shows that the numbers on an aggregate basis give a highly distorted and misleading picture due to the presence of companies with different scales. For example, in Q4 of FY14, the top 15 companies contributed to more than 50 per cent of the total earnings of the 415 companies of the BSE-500 index (excluding 85 financial companies). Hence, any major change in these 15 companies will move the aggregate numbers significantly. The total aggregate earnings in Q4FY14 stood at Rs 1,18,703 crore, which grew 24 per cent year on year, but this hides the fact that 209 companies witnessed a fall in their earnings.
The quarterly numbers are reported gradually over a month or two, hence the aggregate reports are based on the available results and it changes the picture as new results come in. The analysis done two years ago based on Q4FY14 earnings revealed the same thing. In the table below, we removed companies randomly and generated a series of year on year changes. You will find how drastically the numbers vary with different sets of companies. This is why every newspaper report will be different in the current earning season, defying any logic. Few conclusions are warranted from them.
No. of companies
Y-o-Y change in earnings (%)
415
24.22
412
40.95
390
38.47
371
52.54
367
27.19
298
24.46
247
7.41
202
2.32
This story originally appeared in July 2014 and data updated on 27th July 2016.