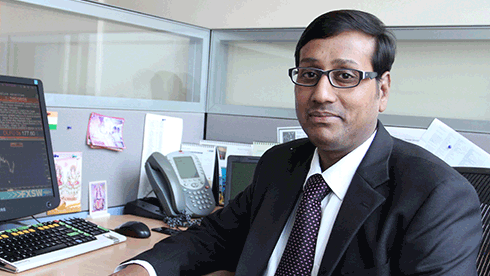 Market and economic indicators exude confidence for Gopal Agrawal, Chief Investment Officer (CIO) at Mirae Asset Global Investments (India) who tells Chirag Madia in this interview why he is bullish on the prospects of the funds he manages and India as a market.
Why has the market turned around to scale a new high?
I would say that the Indian markets touched a new high because the markets always like stability. Once the market saw that the government was trying its best to bring down fiscal deficit and current account deficit (CAD) it started responding positively. Then CAD came to a manageable level and is no longer an issue, which is a credible job that the UPA government did at the end of its tenure. The worst on inflation both in terms of consumer price index (CPI) and wholesale price index (WPI) are also behind us. So on one side we saw stability on macro environment and on the other side the currency also started strengthening, which boosted the inflows and normalised stocks.
All these factors have helped the market to touch new high. But if we look at price to earnings (PE) multiples, we are still trading at 15 times for FY15 and that's not too high. In the last bull market we had seen the PE touch the high of 22 times, but today with new high level of the markets, we are still at 15 times.
What I am trying to say is that even after market touching new high everyday, they are still reasonable valued. If we see credit cycles revival and pick up in investment cycles then we might see the PE multiples expand. There are many sectors in the market that are trading at low valuations, such as PSU banks, which have not participated in the rally, also telecom has underperformed massively.
When the investment cycle picks up, stocks from sectors such as metal and mining and power and infrastructure will also move up. So these are sectors that will move up from here and so will the markets move up. So I would say that the markets touched new high on grounds of stable macro environment and expectations of stable government in the elections drove the markets.
What is your outlook on the Indian equity markets?
From the global perspective at this point in time, India looks extremely attractive in the emerging market space. Apart from India, Indonesia is one country that has attracted foreign investment in the past few months. We have also seen some huge foreign flows coming in our markets in the past few months.
Now when we have a stable government at the centre, we should be able to attract more flows from foreign players. Also, once the currency stabilises, we will see lot of inflows coming into both equity and debt markets. In fixed income our view on interest rates is that we might not see immediate rate cuts. So interest rates differential between the western world and India would be high and if currency stabilises a lot of inflow will come into the debt market. This move will improve the credit cycle and a wide spread rally will start.
Currently there is a normalisation happening in the market, as currency has stabilised. To give an example, despite crude oil trading below $110 per barrel, our oil marketing companies were bleeding because the rupee was depreciating. But now we are in a phase where the subsidy burden is reducing and the currency is strengthening and that has led to normalisation in that sector.
At the same time, the long-term market performance will depend on few things which the new government should do correctly. The most important aspect is of revenue generation; this year we have maintained fiscal deficit by cutting the expenditure. But that can't be done all the time, we have to increase our tax breaks, increase revenues and then only the investment cycle will pick up.
Looking seriously and addressing the issues at manufacturing sector can do lot of wonders for our country. I think that we might not see acceleration in oil prices going forward and there might be pick in global economy in the next two-three years which might also help India. All this will fall in place if we do our internal homework very well.
The Government should boost the tax base, improve the manufacturing sector and revive the investment cycle. One of the easy ways is to bring in the goods and service tax (GST) which might help gross domestic product (GDP) by over a percent and it will also help in expanding the tax base. Second, slowly and steadily reduce exposure on subsidy and we should do more with direct transfer of benefits to plug leakages in the system. These are not difficult measures and a strong government can fix this problem. If our existing stalled project gets the necessary green signal, then also it can help the GDP by over a percent.
What is your investment strategy?
It's a simple investment ideology of investing in good quality companies with strong management and cash flows. We are text book fund managers and always look at returns on investment (ROIs) because that directly indicates the capability of the management. Many a times such a strategy may face the test of times, but for the longer duration this strategy might give shining returns. We have been following this strategy religiously and that remains our core philosophy. Secondly, we don't shy away in admitting our mistakes and cut losses in case we find no further opportunity.
We are value investors, but that doesn't mean buying cheap stocks. We buy quality at reasonable valuations and are ready to pay premium for better return ratios and management integrity. This strategy has been followed by us in the past and we will also continue to follow it in the future. When the investment cycle picks up, we will also look at replacement asset valuations, which will also help to generate better returns. Lastly, we work as a close team of three fundamental research analysts led by Neelesh Surana, our head of equity who is an excellent stock picker and consistent performer.
Mirae Asset India Opportunities and Mirae Asset Bluechip have performed better than the category. What stocks or strategy would you attribute to their good performance? We believe in value investing philosophy. So like others we also look at growth in the business, good cash flows and strong return on equity (ROEs), return on capital employed (ROCE) and return on investment (ROIs). This strategy helped us a lot in our performance. Value strategies look very simple but they are very difficulty to execute in the current market conditions.
To give an example; we had invested in Bajaj Auto when its market capitalisation was ₹8,000 crore now, now it is ₹48,000 crore and we were one of the few to spot that opportunity. Likewise, in case of Tech Mahindra, the market capitalisation was ₹9,000 crore when we had invested but over the time it has grown phenomenally. We look at size of the business, opportunity and the valuations before we invest in a company.
So we always try to invest in larger opportunities and stay away from investing in smaller opportunities. For us larger opportunity not only means to invest in big sized company; Amara Raja Batteries gave us some brilliant returns over the past few years as we had invested in that company when its market capitalisation was just ₹600 crore. We knew it is a well managed company and we were optimistic on auto sales and their replacement demand. Today looking back we know that our forecasting in that stock has paid us well. We were also quite confident on healthcare and pharma, where our investments were more than twice the benchmark. Our thought process in building portfolio was that generic opportunity in the US was very big and secondly in the US they had to cut the cost to meet the fiscal target and had to increase their outsourcing. The depreciation of the rupee also helped and all these three factors played out perfectly. We were also bullish on Auto Ancillaries which included tyres, batteries which has also worked for our portfolio. Even investments in media sector and IT, financials boosted our returns.
Are you making any changes to the portfolio of these two funds as we witness a rising market?
We had done an analysis which indicates that both these funds did well when the markets rise. Whenever the bull markets starts, we witness stability on the macro environment and fall in interest rates. Today we are in a situation where there is macro stability, but we are yet to see growth revival and political stability. So, once we enter such a zone, stocks related with the domestic economy will outperform the exporters. In that scenario we will also change the portfolio of these two funds according to be in line with the market cycle. We might not go underweight on IT sector because if growth comes back in the US and the European markets, they are the ones to benefit. We might even buy more of beaten down sectors like oil and gas, power and infrastructure as these will be the sectors that might perform when the gross domestic product (GDP) starts improving. We must also add that we are already creating the base for such a scenario and have already started investing in such companies and once things start improving we will accelerate investment in such sectors.
You also manage India China Consumption fund, but given the slowdown in emerging markets, do you think the consumption story has lost the plot in India and China? We have a completely different view on consumption as a theme. For me, it doesn't only mean consumer staple but also includes other discretionary sectors like footwear, cosmetics, autos, wellness and tourism. If we talk of China; there is immense demand for brands and luxury goods. Even in India we have seen increase in the standard of living and there is clear signs of shift in quality of life for the better. I assume that luxury investment in China for the next 10 years will not be a problem and in India one has to look at consumption related stocks. As I said there is huge opportunity in tourism, wellness and autos which have huge pricing power. I don't think that consumption story has lost its pace. For me consumption as a theme is a perpetual thing; it can never go out of flavour.
When can we see a turnaround in the commodity sector?
In today's world economy, one thing is certain that China is rebalancing its economy. They are now moving from infrastructure and capex led growth to consumption led growth cycle. Though it's slow in process; the journey has started. This move will result in commodity prices being at realistic level. We have seen prices of most commodities (other than iron ore and crude oil) bottoming out and from here we might see that it moves up gradually. If the investment cycle picks up in India, valuations of metals and even oil and gas companies will also go up.
How long is your mid-cap and small-cap watch list which are not part of your portfolio? How do they enter into your portfolio?
There are around 300 stocks from the mid-cap and small-cap indices which we track. Such stocks are filtered based on various criteria which include market capitalisation, historical performance and change in the business dynamics. If we apply these filters then there are around 250 stocks which are active on our radar at all points of time. Before stocks enter our portfolio we look at their past price movements and glance how they have performed during various market cycles. We also look at the management integrity, size of opportunity and profitability of the business. Lastly, we meet the management and arrive at our own price value. If there is a price value gap in that particular stock we like to invest in such companies.
What kind of stocks never enters your portfolio?
We are a global fund house and we believe that there should be certain scale in the business that we invest into. So we usually don't invest in companies which has operating cash flows less than ₹100 crore. Likewise we avoid businesses where capital productivity is less and return ratios (ROIs, ROEs and ROCE) are very poor. We also believe that if a management goes on a diversification drive and invests in various businesses by borrowing money they don't create wealth for shareholders; we avoid such companies.