Swaraj Engines (SEL) manufactures diesel engines that are mainly used by the Swaraj brand of tractors from the Mahindra & Mahindra (M&M) stable. SEL was promoted jointly by Punjab Tractors (PTL) and Kirloskar Industries in 1989 but PTL was acquired by M&M in 2007, which it merged with itself. The Swaraj brand of tractors is owned by M&M. And, M&M has a 33 per cent stake in SEL and Kirloskar retains its 17.4 per cent stake in the company.
SEL manufactures tractor engines of 20HP to 50HP and also supplies engines for the commercial vehicles of Swaraj Motors Isuzu, earlier known as Swaraj Mazda. SEL's major customer is Swaraj Tractors. From losing market share; the company has turned around and has the third highest market share of 14 per cent after the M&M acquisition.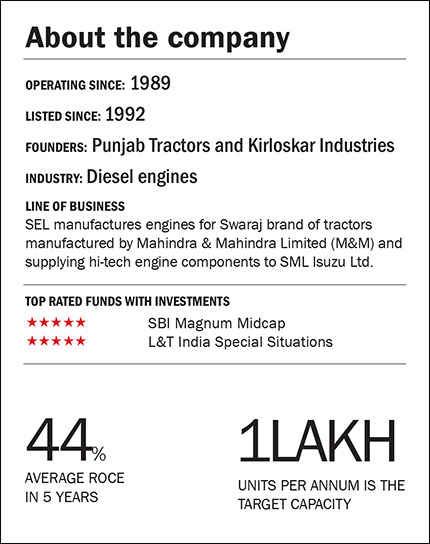 Strengths
SEL meets 80 per cent of the Swaraj brand of tractor's engine requirement. This provides SEL with steady work orders bringing in stability in its operations. This high dependence makes the company's operations linked to the fortunes of Swaraj tractors, which works well for both the companies. Swaraj tractors is well known and is popular in the domestic market and has a 14 per cent market share. The increase in market share is significant from the 9 per cent it witnessed in FY-07, which was before M&M acquired Swaraj tractors. Prior to the M&M acquisition in 2007, Swaraj suffered on count of high working capital, which was because of high inventory and debts. Inventory and debtors as in end FY-07 accounted for more than 30 per cent of the annual revenues in that year. Ever since the acquisition, M&M has brought down the working capital significantly and brought down the receivable days from 94 days in FY-07 to 7 days in FY-13. This was possible by providing payment flexibility to dealers and by bringing down the inventory level with an aggressive marketing stand.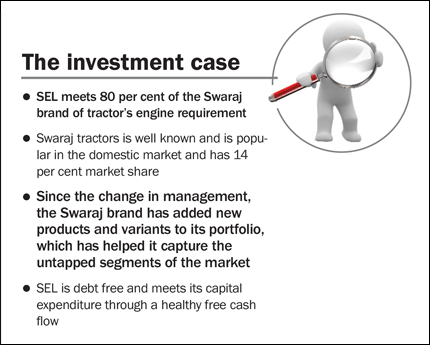 Since the change in management, the Swaraj brand has added new products and variants to its portfolio, which has helped it capture the untapped segments of the market. M&M has also contributed towards technology up-gradation by investing `800 crore in association with AVL Austria, which has enabled SEL to improve the fuel efficiency of its engines.
With these improvements in place, Swaraj tractors is doing well and there has been a steady demand for Swaraj engines. Growth is evident from the annualised 30 per cent strong revenue growth and 28 per cent volume growth posted by SEL. The company is debt free and meets its capital expenditure through a healthy free cash flow. It also has a high return on net worth of 30 per cent averaging over the past 5 years.
Growth drivers
The tractor penetration level is very low in India which translates into scope for further volume growth. With rise in rural income and growing demand for automated devices for agriculture the demand for tractors is likely to only go up. Moreover, the replacement cycle period for tractors has come down due to extensive usage is a factor which will further contribute towards growth.
SEL has expanded its manufacturing capacity from 42,000 units in FY-11 to 75,000 units in FY-13 and has achieved an average capacity utilisation of 94 per cent with rising demand. There is room for further capacity expansion once this threshold crosses and the company may expand its capacity to 1 lakh units in the future, which would come at no extra cost as SEL has enough cash reserves to fund this capital expenditure.
Tractor usage for the non-farming purposes has surged over the years and will only grow further with the rising demand for infrastructure in rural areas. Other primary usage of tractors are carrying construction materials and moving large stationary equipment. Such kind of usage will only gain with rural schemes and roads being developed in remote areas. Another important factor for growth is the availability of credit to farmers. Farmers who earlier depended on government agencies for borrowing are now opting for private credit players servicing in the rural areas. Sensing the opportunity, the government banks have relaxed their norm of providing loans only to farmer with more than 5 acres land.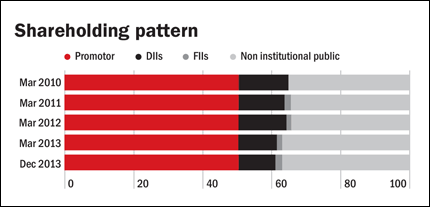 Concerns
One of the major concern also derives from its strength i.e. complete dependence on the single client Swaraj tractors. Swaraj brand tractors and SML Isuzu account for more than 90 per cent of SEL's revenues. Any adverse affect on these two customers can impact SEL's business drastically. Moreover, the tractor market's fate is dependent on agriculture outcome; a good monsoon may see rise in volume growth, while a drought may impact the company's volume growth.
Another area of concern is the fact that the company has not scaled its engine component business in the past few years, which accounts for a miniscule portion of its revenues. The revenue from component sales has fallen from `25 crore in FY12 to `17 crore in FY-13. If the company focuses on this segment, it can tap more customers and diversify its client portfolio. The company also faces rising cost of raw material which is unavoidable and was 68 per cent of the revenues in FY-13 compared to 59 per cent in FY-08. Yet, SEL has maintained its net margin by managing other operating costs.
Financials
Both the top-line and bottom-line have grown at an annualised rate of 30 per cent. The company generated an average profit yielding 44 per cent on total investments (RoI) over the past 5 years. Free cash flow has been positive and healthy in the past 4 years. And, as per the company's interim balance sheet of end Sep-13; cash and equivalent stood at `145 crore, which is almost 20 per cent of the market cap. But, working capital, ignoring current investments and surplus cash, has been negative over the past 3 years.
Valuations
The stock recently touched it's all time high of `672 and is now quoting at `624. This is marginally higher than its long term median PE of 12.1. Considering the growth prospects and valuations one should invest for the long term and keep accumulating this stock as and when it is available at lower levels.