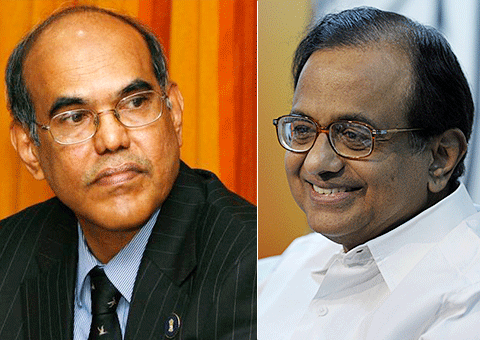 It's lonely at the top. Especially when those who once lionised you have turned into your bitter critics. That indeed is the tragedy of P Chidambaram, the Harvard-educated Finance Minister of India. No one has ever doubted the fact that he is extremely intelligent. But how does your intellect matter when your one-time friends have deserted you. It was not very long ago that he could do nothing wrong. Today he is being accused of being unable to do anything right.
In August 2013, when the Cabinet met to approve the food security law - said to be the world's biggest welfare scheme - only one minister dissented. It was Chidambaram. Quoting unnamed official sources, Sanjeev Miglani of Reuters wrote: "... already struggling to convince doubters that he will keep the country's hefty fiscal deficit under control, (he) made a last-minute attempt to trim the huge cost of the plan...Chidambaram's ultimate failure to win colleagues around - despite his famed eloquence - is emblematic of the predicament he faces: he must stop investors heading for the hills as economic growth skids to its slowest pace in a decade, but he is surrounded by politicians who haven't grasped that there is a crisis at hand and want to spend their way to the ballot box."
The job of the Finance Minister is hardly one that is guaranteed to win a popularity contest, even if he is paid by the ordinary taxpayer to be perpetually optimistic. But the way in which he rubbed some of his one-time confidantes the wrong way is perhaps unprecedented in contemporary Indian history. Relations between the boss of North Block and the head of the country's central bank and apex monetary authority have not always been smooth. But rarely have their differences of opinion been so out in the open. D Subbarao was literally hand-picked for the post of Finance Secretary by Chidambaram. But the two stopped seeing eye-to-eye after the former became Governor of the RBI.
Chidambaram was visibly upset over the RBI's decision to keep the interest rates high despite the Ministry of Finance putting out a fiscal consolidation road-map. In October 2012, the FM publicly remarked that if the government had to meet the challenges of growth, "we will walk alone". Subbarao waited for his last public lecture as RBI Governor to hit back at his former mentor: "I do hope Finance Minister Chidambaram will one day say, 'I am often frustrated by the Reserve Bank, so frustrated that I want to go for a walk, even if I have to walk alone. But thank God, the Reserve Bank exists'."
Chidambaram urged the people of India to stop buying gold for a year and rather belatedly, he increased the customs duties on imports of the yellow metal and imposed curbs on gold purchases. It was a classic case of 'too little, too late'. Soon thereafter, the rupee crashed and the economy went into a tailspin. The same foreign investors who he had assiduously wooed left him high and dry. The same Indian capitalists who had gone overboard praising his 'dream budget' of 1997 for cutting taxes, have run away from their own country.
Will history judge Chidambaram as one who undermined institutions in the world's largest democracy? He is unhappy that the Supreme Court's decisions have contributed to a sharp fall in exports of iron ore and that India is currently importing a substantial proportion of its requirements of coal despite possessing large reserves. What did the FM and his colleagues do when iron ore was illegally mined and exported for years on end in Karnataka and Andhra Pradesh? Did he have to wait for the damning reports of the Comptroller and Auditor General of India to learn that telecommunications spectrum was under-priced and mis-allocated on a first-come- first-served basis or that coal blocks were handed out in an opaque manner to cronies of those in positions of power?
This column first appeared in September 2013.