I am 32 year old. My wife and I, together, earn Rs 1.56 lakh every month. We have about Rs 18 lakh saved in the bank, NSC, liquid funds, recurring deposits, PPF and bonds. I have been investing in many funds via SIPs since 2012 and 2010. We need Rs 30,000 each month for the household expenses. Our financial goals include buying a car, a house, arranging funds for children's higher education and marriage and accumulating our retirement corpus. Also, we wish to retire at around 47 years of age. Is my present allocation sufficient to achieve these goals?
-Naresh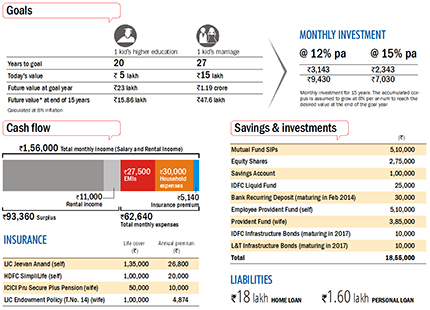 Overview Wish we could all retire early! Sadly, ground realities don't function on our whims. In today's time when it is not uncommon to see people live till their 80th birthday or more, retiring at the age of 47 will cause a great deal of distress during old age. You are not a parent as yet and it's still a long way ahead before your children finish their education and start earning.
To give you an example, Going by your current monthly expenses, you would need Rs 95,000 on a monthly basis to maintain the same standard of living after 15 years. Apart from your existing savings and investments, if you invest your monthly surplus of Rs 62,000 every month, after deducting car EMI and investment towards other goals, it will accumulate to approx Rs 3.10 crore at 12 per cent return after 15 years. Sounds huge but get ready for the shock of your life: This sum would last only till you reach 61 (assuming inflation rate to be 8 per cent), and that too without factoring in the medical costs which shoot up in old age. Delay your retirement to accumulate for your survival till 75 or 80 years of age.
Do's
* You may redeem your investments in DSPBR Top 100 Equity, DSPBR Small & Midcap, IDFC Liquid Fund, Reliance Small Cap fund. Total amount would accumulate to approx Rs 1.81 lakh which can be utilised to pre-pay your personal loan completely as it carries higher interest rate
* You have an insufficient insurance cover. Going by your goals and liabilities, you need a life insurance cover of at least Rs 1.25 crore
* Endowment policies neither offer an adequate insurance cover nor generate good returns. For your existing policies, check the surrender values and discontinue the policies either if you are able to recover your principal amount or when the surrender charges become nil
* Apart from Term Life insurance, buy a Family Floater Health Insurance covering you and your wife under a single policy. Buy a cover of minimum Rs 3 lakh, which can later be increased
* Buying a Rs 10 lakh car needs down payment of at least Rs 2.68 lakh and EMIs of Rs 18,000 for 60 months. Some part of the down payment can be funded from mutual funds savings while your monthly surplus will take care of your installments
Don'ts
* Your current portfolio comprises 60 per cent mid and small cap funds which is risky. Your investments need to be managed safely. Depending on your risk appetite, we recommend a portfolio with 50 per cent large caps and 50 per cent mid and small cap investment
* Also, avoid unrated funds
* Buying a new house worth Rs 50 lakh would require at least Rs 10 lakh as down payment. You need to delay buying a second house as it would otherwise hamper other non-negotiable goals such as your child's education