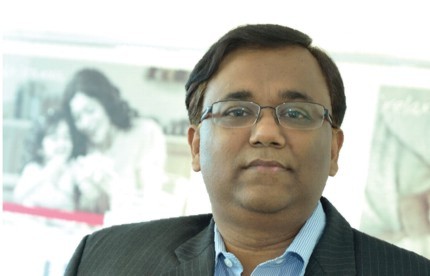 Chandresh Nigam, Managing Director and CEO, Axis Mutual Fund, is not perturbed by the short-term volatility of the market
After a strong 2012, the market seems to be losing steam. What has gone wrong and what is the way out?
If we look specifically at the markets we are not going to get any positive news which can drive them. Measures taken by government on current account deficit (CAD) and kick-starting investment theme will take some more time to play out. Having said that, currently, valuations are reasonable which can be a huge positive for the market. Good companies continue to perform well and in the near term interest rates and inflation might come down and all these factors make a compelling case for a strong market going ahead. There is also uncertainty related to general elections next year, which might result in corporates not taking large investment calls. But over the next 3 years we are confident that there should be pick up in investment cycle and GDP growth should have bottomed out by then which can be positive for equity markets and has a good chance of giving decent returns.
Talking about foreign institutional investors (FIIs), they are a major force as they have direct bearing on the shorter term market movements. Since September last year up to May 2013, FIIs pumped in over $30 billion and since June we have seen some outflows. We believe that such kind of large inflows are quite possible and will happen. Yes, right now there might be some concerns regarding the currency volatility but with global growth slowing down and investment opportunities in other emerging markets (EMs) coming off, it is good environment for Indian companies to attract foreign money.
Other positive news is that domestic institutional investors (DIIs) who, till now, were on selling side have started being positive about Indian markets. So, the combination of GDP bottoming out and FIIs and DIIs looking to enter markets might turn out well for Indian equity markets. If I need to take a call for next 2-3 years, I think there is a huge possibility of big moves because of the all the above factors.
What triggers can change the complexion of the current equity market scenario?
First let us try and understand why there has been volatility in the Indian markets. The uncertainty has been triggered by the move essentially in the US bond market. In the past few years there has been huge liquidity creation by central banks and asset markets (the bond market) yields have been very poor which resulted in global money flowing into EMs. People have been buying emerging markets bonds and equity to essentially hunt for yield.
The announcement of quantitative easing (QE3) withdrawals led to the US bond yields shooting up to 2.5 per cent from 1.5 per cent and that has created current volatility in all emerging markets. In many markets FIIs pulled out money from debt and the currency got badly hit which started the vicious cycle. So dollar returns in many bonds which were made over the period of 15-18 months have been wiped out in 15 days.
Ironically for India, FII participation was not much but our currency was hit due to high CAD. So once the currency starts to get hit because of bonds flows then you have problem on the equity side because returns in terms of dollar value will go down. On the positives I would say in for our bond market FIIs are not bigger players so one can say that significant money has already gone and there is not much to go. In such case we should not feel much pressure and hopefully rupee should stabilise. So once the rupee stabilises, it can be a major trigger for the equity markets.
I think in the short run, it is the FII who are calling the shots as they are the biggest participants in the market. Whether they buy or sell, it still drives the market. They went out because of unstable currency but when it stabilises more money can come in our markets. Those who are putting money in India know all our problems and have seen the Indian markets in last 10-15 years. So for shorter term, we need to look at rupee stabilising and inflation coming down. Crude has been very resilient and if crude prices crack by $10 there might be a very big move in both currency markets and equity markets.
How do you approach mid cap universe for your Axis Midcap fund?
The basis remains the same for all funds, buy high quality businesses. We believe that not buying well-established or highly-competitive strength business is in itself the biggest risk anybody can run whether it is large cap or mid cap. So take for example, if you just slice the Midcap index in terms of market capitalisation, companies having larger market-cap have done slightly better with lower risk compared to companies with lower market-cap. We are in mid cap space because we think there can be more opportunity as they have the flexibility to grow faster compared to large cap companies. Though management bandwidth might not be strong and there might be some concerns on balance sheet, we try to balance it out.
What are the dos and don'ts while managing all your equity funds?
We are very clear in our approach that we don't want to do anything which can upset the trust of our investors and business partners. Our objective when we set up our whole process of risk management was to ultimately win the trust of our investors. So our approach while managing equity funds is simple that we want to get into the business that has a long term record and proven quality. There might be a situation when poor companies may be going strongly but inside we know for sure that over the longer period we have an opportunity to outperform the market by huge margin. Despite having few equity schemes in our portfolio, the products have been clearly identified and what kind of risk level they can run. We are not trying to maximise returns for next 6 months to garner more money as we believe those who have done it have collapsed and that will be not our strategy.
Other important thing is, we want to build long term performance and see to it that we don't have any major accidents. So we might not take any short term and momentum calls because once you go wrong coming out becomes much more difficult. We want to be more of market-agnostic and focus more on our strategies to build a quality portfolio. As a fund house we also think investors need the best. So best according to us is having good quality business which over the long period time will generate huge returns. Lastly, I believe 'when in doubt, don't take undue risk'. Keep the money safe and that's what it is. We want investors to sleep easy as volatility can spook investors but we want to make their waking up smoother and comfortable.
Besides the lock-in for investors, how is Axis Long Term Equity different from Axis Equity?
As the money is being locked in for 3 years, we can hold some illiquid stocks in our portfolio. Investors come for 3 years in Axis Long Term Equity, so we want them to have superior experience and get positive returns over that period which remains our main objective. Though in equity markets nothing is guaranteed but we are only buying those businesses that are bluechip and not worrying about their short term implications. We are even ready to pay extra premium in Axis Long Term Equity to buy quality companies. Also, since we have money locked in, we allow up to 50 per cent of investments into mid caps, which is not the case with Axis Equity which has approximately 25-30 per cent exposure in mid caps. For us, liquidity is more important in open-ended schemes. Axis Long Term Equity is true to its label as we adopt long term wealth building strategy in the scheme. But with Axis Equity we can take 20 per cent of tactical position and can get into the stocks that are large cap in nature but cheap in valuations with 12-18 months perspective. But with Axis Long Term Equity its only 'long term'.
What is the thinking and driving force behind Axis Focused 25?
It has now completed a year and the thinking behind the launch was to have an open-ended structure with focused strategy. There were many investors looking at long term wealth building and willing to commit their money but they needed an open-ended structure for their flexibility. So we wanted to do something similar like Axis Long Term Equity but with a structure of an open-ended scheme. That's how we came out with this scheme. In order to have a portfolio that is liquid in nature, 90 per cent of the money will be invested in top-200 companies of the economy. So the reason to come out with that product was because we wanted to offer investors who were looking for some kind of certainty over the longer period of time with some reasonable capital appreciation in an open-ended format.
What kind of stocks you stay away from?
Basically, there are around 1,100 companies listed in the market and our universe is about 300-odd companies and the rest of them we don't even touch as we don't know much about them. Our criteria is very simple: we look at companies that will grow at 12-15 per cent in next 5 years in top line and more importantly in bottom line they should have a pricing power. I say pricing power because it can only come because of other things such as strong brand, high market share and competitive strengths. I firmly believe that companies having high return on capital (ROC) and return on equity (ROE) and reasonably high cash generation will ultimately be rewarded by the business and those are the companies where we are invested in.
What's the rationale behind 10 per cent cash in Axis Equity and Axis Mid-cap?
Here also we have completely different view on cash call. So for our Axis Mid cap fund we have kept it little higher because of redemption pressure. Though 10 per cent is large, we keep it somewhere around 5-7 per cent. For Axis Equity we don't like to take cash calls as we are happy to be fully invested, but our definition of fully invested is slightly different. We say, as risk manager, we should know what is our portfolios exposure to the market. So for us equity investment multiplied by the Beta of the portfolio is relevant and not the equity investment. Our approach is to have exposure to the market between 1-1.10 per cent of Beta. There will be times when the Beta will be lower as a result of selling a particular stock and we won't immediately deploy that cash. So high cash position might be the result of fund activity as we ensure that we have exposure of market in between 1-1.10 per cent of Beta. As fund managers we should also know what risk level we are operating in our portfolio.
How involved will you be in managing money now that are also designated as the CEO?
I will continue to oversee the investment function and will continue to ensure that process and investment strategies are being executed diligently. Though now, I will give up managing the fund and one of my colleagues will take charge of managing the funds.
What are your product plans?
We have quite a few plans lined up. Recently we filed an offer document with market regulator Sebi for a small cap fund. As we are in joint venture with Schroders (they have 25 per cent stake in Axis MF), we are looking at meaningful diversification and opportunity for Indian investors to invest in some of their funds. Individuals today are citizens of world and why should they have all their money in a particular country? It makes sense for global diversification and we are identifying few of their products as they have large number of good performers of the scheme.