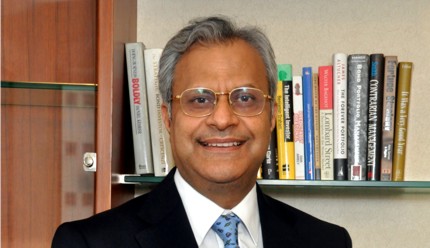 Arvind Sethi recently took over as the Managing Director and CEO of Tata AMC.
After taking over as CEO, what is your assessment of strengths and weaknesses of the AMC?
As for the strengths, I would say the name of 'Tata' itself is very acceptable and everybody recognises it. Also, we have a deep pool of talent not only on the fund management and research side but also on the support side. Coming to weaknesses, I would say that it is more on the marketing side. Marketing means not just sales, but it's also about envisioning what are the different funds, how they are positioned and how they should be sold.
For example, we have a P/E fund which had its day in the sun when it was doing well. The fund has a very specific value proposition and it has 70 per cent of the total assets in stocks having a P/E ratio less than that of the BSE Sensex. But in the last year or so, stocks with higher P/E have turned higher and vice-versa and it has hit the fund's performance. Investors thought it was a value fund, as it would have been communicated in that manner, but it was not a value fund.
So we want to align it completely from product: from its positioning to its communication and finally, how it is sold. Another criticism which we face is that we have too many funds. To address the issue, we have merged many schemes and now we have fewer set of funds.
Have you reviewed or developed a strategic plan to address the issue?
First, we want to have complete focus on our fund performance as we are the manufacturer of funds. Good performance doesn't mean some 'shoot the light out' of performance, but decent and consistent return. With very deliberate look at the portfolio, beat the benchmark and get the alpha.
Second, we have to be very mindful of the investors as this is a 'B to C' business. We reach our investors through intermediaries and will continue to do so. We have to remember that investors need to be communicated appropriately by distributors and intermediaries. So, we have brought in two senior members on the fund management side and sales side to address this.
How do you plan to leverage the 'Tata' brand in the asset management space?
I have noticed while meeting Independent Financial Advisors (IFAs) that there is a huge desire from people that we should do better. There are many good things taking place in our fund house, but investors are not aware about it due to lack of proper communication. If we can back our brand name with good performance and after-sales service then there is no reason why investors will not look at us.
What will be your strategic initiative in the area investment management?
First, we want to be much more aware what benchmark is and what we are doing relative to the benchmark. Because at the end of the day our job is to give superior relative performance adjusted for risk. So more mindfulness in the way we manage our funds relative to the benchmark. Second, we have sometimes been too passive in our approach while managing the funds which reflects in our low turnover ratio. So here we want to be little proactive while managing the equity portion.
How do you plan to change your business model after all the regulatory changes in recent years?
I don't think we might see any drastic change in the business model. We have seen some regulatory changes; many are good while others are bad and hopefully we are near the end of that cycle. For example, direct plans may be a place where investors could come in directly and invest, but we also believe distribution network does it more efficiently. However, if there are some people in the market who wish to access product directly so we should facilitate them the service. But the cost of going out and getting in far is too high; so it's better to deal with distribution network. Investing remains a complex business as investors have their own risk profile, financial goals that only advisors can understand.
What are your product plans and where do you see growth coming in?
I think we have got a bouquet of products in both equity and debt, so we don't need to really add any products. What we want to do is be ready with the funds or products that are attracting money and investors.