The first tranche of much-awaited Inflation Indexed Bonds (IIBs), announced in Budget 2013, is out. Named as New Inflation Indexed Government Stock 2023, they were launched by the RBI on June 4, 2013 with a maturity of 10 years and 1.44 per cent as real rate of coupon per year.
The primary motive behind the move is to provide people an alternative to gold as a safe haven against inflation.
The principal will be adjusted with the Wholesale Price Index (WPI) and paid at the end of 10 years. The calculation for interest to be paid and adjusted principal will be done after every 6 months. The WPI will be used with a lag of 4 months; for example, January 2013 WPI will be taken as reference WPI for June 1, 2013. Meanwhile, the coupon will be paid on the re-adjusted principal every 6 months.
But the biggest dampener for these bonds is taking the WPI as a reference and not the Consumer Price Index (CPI) which is the clearer reflector of inflation at the ground level.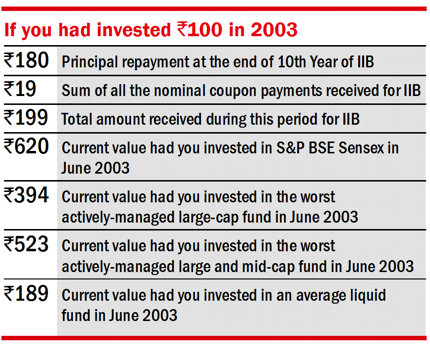 Too little too late?
Generally, high growth periods are accompanied by higher inflation. Over the last 10 years, India's GDP growth rate averaged nearly 8 per cent and even the WPI has averaged nearly 6 per cent. But of late, the growth rate has slowed down and so has the inflation; albeit somewhat. With WPI expected to ease further, the return from IIBs might not be significant.
Had these bonds been around over the last 10 years, our study has found out that even the worst performing actively-managed large-cap or large- and mid-cap fund has returned more than twice than this. Also, the return of an average liquid fund is just a tad lower.
Significantly, these do not offer any additional tax concessions to the investor either. Investors need to pay tax depending upon the tax brackets their incomes fall in. On maturity, however, the investor can avail the indexation benefits, which is 10 per cent without indexation or 20 per cent with indexation, whichever is lower.