You have the advantage of starting early. At 30, it's commendable that you have achieved one of the biggest goals of buying a house and also repaid a large chunk of the home loan.
It is also good to see that you have chosen a clear investment path and are working towards it.
But, buying a second property just to save tax defies logic. The money that could well have gone into equity will go as an EMI for the house which will compromise your portfolio diversification. You may not be able to sell your property on any day of your choosing. You should definitely drop this idea.
Basics
You have an endowment moneyback policy from LIC. It will give you 20 per cent of the sum assured after every five year as survival benefit and 40 per cent at the end of the tenure. It also gives out bonus annually. The maximum annual bonus declared under this policy was 4.6 per cent in 2003-04. This is as good as keeping your money in a savings bank account. In fact, you can earn more than that if you keep that money in a savings bank account these days. You also have a Ulip from SBI which is the costliest type of insurance.
* The total sum assured of these two insurance policies is Rs 5 lakh -- way too less considering your income. Your life should be covered for at least Rs 1.5 crore. Exit these policies when surrender charges become nil or insignificant
* We have always advised our readers not to mix insurance with investments. A term plan provides highest cover at a cheaper cost. Buy one for you wife too. Also, you should have a health insurance of your own to meet the unexpected medical expenditure if a situation arises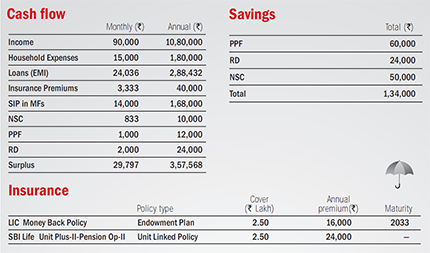 Portfolio
Your portfolio has five mid- and small-cap funds and a sectoral fund- ICICI Prudential Banking and Financial Services. The only diversified equity fund in your portfolio is Canara Robeco Equity Tax Saver.
It clearly emerges that you have thrown caution to the wind. 66 per cent of your investments are in mid- and small-caps. While there is no doubt that this category gives superior returns when markets are rising but that cannot happen every day or with any regularity.
As can be seen, each of the mid- and small-cap fund in your portfolio lost at least half of its value in 2008. However, these funds also recovered remarkably in 2009. You would do well to keep this aspect in mind while putting aside money for investment.
On the other hand, exit ICICI Prudential Banking and Financial Services fund to begin with. Though it is a 5-star fund, we have always maintained that investors are better-off without being part of sectoral funds. You can also consider the direct plans of mutual funds to save cost.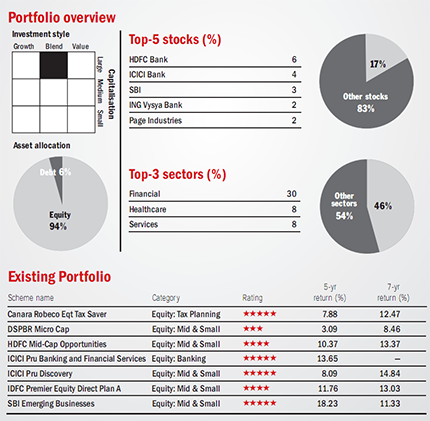 Goals
You haven't clearly specified your retirement plans. But going by the current monthly expenses, you would be requiring at least Rs 81,250 monthly 30 years hence.
Also, your decision to invest in NSC and PPF appears conservative, considering how venturesome you have been with your mutual funds portfolio. Both these instruments invest in debt. You have time on your hands and there are no big obligations in near future which means you can take some risk. Therefore, the best way to save tax will be to invest in equity linked tax saving schemes (ELSS). The ELSS category on an average has delivered an annualised return of 19 per cent over the past 15 years.