My wife and I are aged 32 and have a child who's three years old. I earn Rs 60,000 a month while my wife Rs 32,000, and we live in my parents' house. We have savings of Rs 10 lakh in fixed deposits, equity mutual funds worth Rs 5.2 lakh and also contribute to the PF. We have an outstanding home loan of Rs 26 lakh and Rs 1.2 lakh on a car loan. The combined EMI for both is Rs 33,500 a month. The house is on rent and fetches us Rs 12,000 each month. We are investing Rs 11,500 through SIPs in 7 funds. We have recurring deposits of Rs 8,000 which is used to pay the annual insurance premium and our son's school fees. We plan to increase the SIP by Rs 3,000 every year. Our goal is to accumulate Rs 50 lakh for our son's education in 15 years, Rs 3 crore for our retirement, buy another property in 10 years for Rs 40 lakh, buy a Honda City car next year (on EMI of Rs 10,000) and also have vacations once in 2 years costing Rs 1 lakh. Our current household expenses are Rs 25,000. Please advise if we can achieve our goals.
- Saumil Betai
You Have age on your side and most of your goals are still some years away, which leaves you in a comfortable position to work towards the goals that you have listed and also achieve them. In fact, barring a vacation every 2 years and a car that you plan to buy a year from now, there are no other pressing financial goals that you need to meet for at least another 10 years. With so much time on hand, it is a pity that you are not investing enough in equity, which works best in the long run. Having investments in fixed return instruments, though safe, does not build wealth in the long run.
Basics
Your cash flows leave you with a monthly surplus of Rs 29,667 and your current liabilities account for 36 per cent of your monthly income, which leaves you in a comfortable position. Although you have not earmarked funds to meet any emergencies, there is a large sum resting in the fixed deposit, which you should consider utilising in a better fashion. Further, you both are contributing towards pension, which, over time will benefit from the power of compounding and time value of money. However, an area of concern is having unproductive assets in bank fixed deposits, which over time will only erode, and not build wealth, especially with inflation eating into it.
Insurance
You have a mix of insurance plan, but you are under-insured for your age and income. While the presence of a term plan is good, you should consider adding more such policies. While you have a health insurance from your employer for Rs 4 lakh and your wife for Rs 1 lakh, you should consider a policy of your own. Likewise, you should keep insurance and investments at arm's length and not go for combination products like LIC Market Plus. Take for instance, the Rs 10,000 that you are contributing in this plan for the past 10 years is now worth much less than the capital. In comparison, had you invested the same sum in Franklin India Bluechip from over the past 9 years, your investment of Rs 90,000 would have been worth Rs 1.57 lakh today. So, keep insurance and investments separate.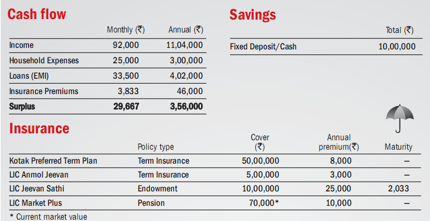 Portfolio
You have invested in good quality funds which provide you with diversification with large-cap growth orientation. Collectively, your allocation has investments across 162 stocks, and spread across sectors. The ELSS investments help you reduce your tax liability, and also work towards wealth creation. We recommend you to continue investing in these funds regularly and review your investments once a year to rebalance, if necessary. The discipline to invest regularly is complemented by once-a-year review, when you can evaluate the performance of your investments. This way, you can check the progress made by your investments and make any adjustments if need be.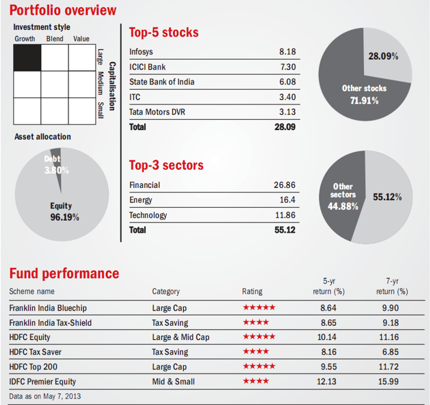 Goals
All your goals can be achieved other than the second home one that you have planned 10 years from now. It is perplexing why you need to go for a second home. You may still be able to achieve this goal, provided you increase your monthly investments or start putting your existing bank FDs into better use. The bank FD would pay a fixed return, which is not inflation beating or tax efficient. Having witnessed the benefits of investing in mutual funds, you should consider routing your bank FD to equity mutual funds and increase your allocation to the existing funds. The upside of this approach will ensure your investments beat inflation, you achieve some of your goals earlier than anticipated and build wealth.