Are returns from balanced funds better than large-cap funds? Which is better between ICICI Prudential Equity Volatility Advantage fund and ICICI Prudential Balanced fund?
-Anish
Balanced funds suit investment needs of slightly conservative investors who are apprehensive of equity markets and want to invest for long-term. These funds invest a large part of their assets in equity (60-80 per cent) and rest in debt. The debt portion helps in limiting the volatility in returns compared to a pure equity fund. Therefore, these funds provide better downside protection, compared to an equity fund, during market downturn. At the same time, investors in balanced funds have to compromise with lesser returns during the market rallies.
Equity funds, on the other hand, are for relatively bold investors willing to take some risk. Even though large-cap equity funds invest in big, stable companies, balanced funds score better in tough times.
Following graph gives a comparative analysis of the category of balanced and equity funds. Balanced fund were less hit during the market downturn of 2008 and 2011; but also returned less in the subsequent rallies.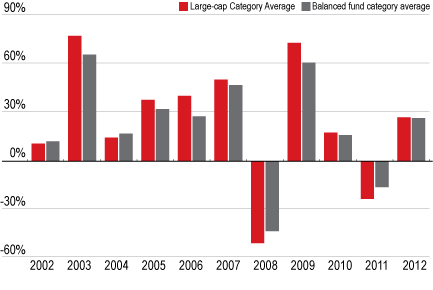 Answering your next concern, ICICI Prudential Equity Volatility Advantage is an equity fund that behaves like a balanced fund in terms of protecting capital. It uses equity derivatives and debt instruments to hedge downside risk of the portfolio.
The fund's equity exposure (including equity derivatives) has ranged between 60-90 per cent of its portfolio. When required, it hedges its equity portfolio completely as it did in May 2009. Its exposure to equity derivatives has gone to as much as 50 per cent. Now it uses debt and cash as a hedge. Barring 2009, the fund has delivered above average performance.
Compared to its older peer ICICI Prudential Balanced, the fund has done a better job. Equity Volatility Advantage fund has shown better downside protection and delivered returns quite close to the Balanced fund.