The markets have been volatile so far this year, but there is a lot of positive to benefit from, says Sivasubramanian KN, Chief Investment Officer, Franklin Equity - India, Franklin Templeton Investments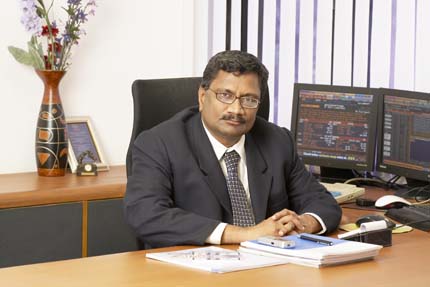 What's your near-term (6-months to 1-year) outlook for the market?
Markets tend to be unpredictable over the short-term and a variety of factors – domestic, political and economic news flow, policy action and global trends – will shape the market's direction. We believe that the slowdown in economic or earnings growth is bottoming out and we should see a gradual economic recovery. The pace may be bolstered by expediting pending investment project approvals and implementation of various other policy measures.
Over the past three years, earnings growth has lagged top-line growth and with cost pressures starting to abate, there is a scope for margin expansion. In that sense, prospects for earnings growth are better and valuations also remain below long-term averages.
Given your outlook, how have you positioned your portfolios? Your preference of theme and sectors and what are you keeping away from?
In terms of investment strategy, we are bottom-up investors who search for opportunities that can deliver healthy returns over the medium- to long-term, irrespective of the sectors or market caps they belong to. At a broad level, we are positive on the domestic consumption and investment themes.
While we are positive on the housing and construction segments, we continue to stay away from pure real estate plays and instead play the opportunity through ancillaries such as paints and cement.
Generally when the market falls, mid- and small-cap stocks are the ones that get hit the most. Like what happened in the beginning of the year. Given such as scenario, how do you sustain your conviction on the stocks or the sectors you hold?
Stock movements in the mid- or small-cap space are often more pronounced compared to large-caps, as these are typically more geared and sensitive to economic growth momentum. Knowing this and the fact that investments in such companies usually take time to bear fruit (returns may accrue after the companies manage to substantially scale up business), we tend to maintain a set of core portfolio holdings that we retain for relatively long periods. We stay with the stocks that we have selected as long as the basic reasons underpinning the stock choice, in terms of fundamentals and valuations, hold good. Identifying companies with distinct competitive advantage and adequate portfolio diversification also helps counter volatility.
Given the risky profile of the small-cap stocks, what are the red signs which keep you stay away from a small-cap company?
The key risk inherent in small- or mid-cap companies, apart from corporate governance, is liquidity risk, which we mitigate through adequate diversification. We tend to take larger exposure to more liquid stocks and invest lower proportion of assets in less liquid ones. In case of Franklin India Prima fund, we identify a few larger companies in the mid-cap space which have better liquidity, and where we are relatively more comfortable about their long-term prospects. We consciously take a larger exposure to such stocks, and the balance assets are spread across 30 to 35 smaller companies.
How do you select a stock that fits into the bracket of high growth companies?
In the Franklin High Growth Companies fund, the portfolio managers combine top-down industry themes with bottom-up stock selection to identify stocks or sectors exhibiting above-average growth or high potential. Blend of top-down (macro analysis to identify sectors) and bottom-up approach (micro analysis to pick stocks within these sectors). Primary focus is to identify 'high growth' companies, especially in sectors witnessing above-average growth.
Shifts between companies and sectors is identified based on relative valuations, liquidity and growth potential. A combination of quantitative as well as qualitative aspects such as management quality and vision is utilised to evaluate individual companies. On the financial front, companies are evaluated on growth measures including EV/Ebitda growth rate, price/earnings growth, forward price/sales, and discounted EPS.
When you buy a company, typically how long do you hold it to realise its potential?
In theory, when you buy a company, the intention is to hold on to it for as long as the underlying thesis plays out, and the company has the potential to keep delivering. So, if a company is doing well and has the potential to grow in future, we hold on. We don't buy a company with the intention of getting out, unless we have made a mistake. In that case we try to get out as soon as possible based on a re-evaluation of the underlying fundamentals. Apart from fundamentals, relative valuations also play a role in portfolio construction. For instance, a company might score well on many parameters, but if other companies with similar potential have attractive valuations, we might look at them.
Keeping all the points that you have said in mind, what really triggers a sell decision?
The decision to sell a stock is triggered broadly by five events – negative surprise, adverse change in fundamental growth drivers, adverse policy changes, or the stock becoming expensive on valuation parameters. Also, relative attractiveness is a factor to be considered. If a stock is overvalued due to price appreciation, in our view, or is expected to record lower than initially expected performance, the stock is sold.