There is a great deal of optimism surrounding the Indian consumer market. With double-digit growth rates, new consumer segments and an ever increasing range of products and services, the sector seems to have it all. Not to miss out on this huge opportunity, there are five fund schemes that are capitalising on this growth driver. A growing middle-class, with high aspiration levels and disposable incomes is driving demand for healthcare, apparel, food, consumer electronics and white goods. The demographics too is on India's side. In 2020, the average age of an Indian will be 29 years, which makes several analysts state that this is just the beginning of India's consumption story.
Funds such as Sundaram Rural India, Birla Sun Life India GenNext, UTI India Lifestyle, Mirae Asset India China Consumption and Canara Robeco FORCE have posted strong returns in the past one year. However, each of these funds has a different approach to ride the consumption boom (See: Riding differently). For instance, Sundaram Rural India rides on the rural consumption and investments. "We invest in stocks that have strong demand from rural India. If you look at the current portfolio, we have agri commodities constituting 25 per cent, with the remaining portfolio in media, banks, autos and consumer discretionary," explains J Venkatesan, fund manager, Sundaram Rural India.
UTI India Lifestyle focuses mostly on lifestyle and is not just focused on consumption. "Consumption is a very broad theme. We don't look at consumption as just retail and FMCG, we look at sectors and stocks which will be driver to the changing demography of India and which is a part of a lifestyle story," explains Lalit Nambiar, Senior VP and fund manager, UTI India Lifestyle. On the other hand, Mirae Asset India-China Consumption focuses on investments in two of the most influential global consumption drivers – India and China. "Around 65-70 per cent investments are in Indian companies with the rest in Chinese stocks. FMCG and discretionary are consumption driven, but we also invest in banking, telecom, financial, domestic pharma," says Neelesh Surana, Co-fund manager, Mirae Asset India China Consumption.
Most of the consumption focused funds were launched during the 2004-08 bull run, when the India growth story rested on the consumption theme. Many found the going tough in the initial years due to various reasons. Explains Venkatesan, "We were little ahead of time with such a fund and it did not pan out well. But since 2010 our fund has done exceeding well." The performance of these funds is commendable despite the slowdown and lacklustre performance of the markets in the past few years. The performance of these funds in 2012 was in the 21-34 per cent range. Of the five funds, three did better than the Sensex.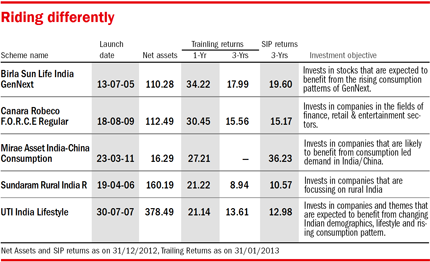 Why consumption scores?
These funds are not restricted to investing in stocks and sectors. Moreover, essential consumption drivers like food and FMCG are not impacted by inflation, slowdown or rising interest rates. Further, on the discretionary expenses, the younger generation is well-known to take advantage of the easy credit availability. The fundamental difference between the old and young in India is the way they earn and spend. Says Sanjay Chawla, fund manager, Birla Sun Life India GenNext, "Our fund invests in strong brands with good public image and in what the GenNext consumes. For example, we have investments in only private sector banks."
All funds are basically trying to capitalise on the philosophy that consumption side of the population will grow over the next 15-20 years. In the rural areas, the success of the Mahatma Gandhi National Rural Employee Guarantee Act (MNREGA) has resulted in higher disposable income in the hands of the population. Even though the clamour for infrastructure is widely heard, none of the funds invests in this sector; however, banking, FMCG and healthcare find takers.
Mobile penetration, media and entertainment and auto are proven past consumption story successes. According to the Tour de India report released by IDFC in mid-2012, the consumption growth despite the slowdown is a strong 7-8 per cent. And, although India's per capita income is Rs 53,000, IDFC estimates that the actual figure could be higher. Strong increase in rural incomes due to rising non-farm employment opportunities is leading to a shift in rural consumption patterns from necessities to discretionary goods.
In the long run, the geographic pattern of India's income and consumption growth will shift and evolve, with basic necessities such as food and clothing declining in relative importance and categories such as education and healthcare growing rapidly. Fund managers are optimistic about this consumption story and feel that in the long run, this is one segment that will do very well. Today, consumption in rural India is growing faster than in urban areas, which gives a big fillip to the segment. The prospect of investing in fund schemes that are betting on the consumption theme is immense.