The long awaited Sebi regulations specifying various requirements for a person or corporate body to act as investment advisor were finally out on January 21, 2013. According to the Gazette of India notification, the Sebi Investment Advisors 2013 guidelines bring into play requirements related to qualification, certification, capital adequacy, period of validity of the certificate and other general obligations. The notification makes it immensely clear on who an advisor is and their obligations in this role.
Who is an advisor?
The regulation defines an advisor as one who offers advice on buying, selling and dealing with securities and investment products for a consideration. The advisor cannot receive any compensation from those who bring out investment products, such as mutual funds, but have to earn their income from investors. They have to be registered with Sebi, have prescribed qualifications and adequate capital, comply with a code of conduct, ensure that they have risk-profiling processes, comply with requirements for ensuring that the recommended product is suitable for the investor, and procure and use investor information with fiduciary responsibility.
By defining advisors, Sebi has clarified that insurance agents, mutual fund distributors and stock brokers, among others, are not advisors. All these individuals represent a product manufacturer and earn commissions (upfront or trailing) and do not charge the investor. However, the guideline has been lenient, by listing out those who do not fall within the purview of these guidelines for the moment (See: Exempt list). Henceforth, from April 2013, only the Sebi registered investment advisors will be allowed to advice investors regarding financial products and financial plans.
Advisor qualification and capital adequacy
Unlike the past when advisors did not need any special qualifications to provide advice, the new guidelines insist on qualifications mandated for advisors. What this means is that an individual registered as an investment advisor, partner or representative of an investment advisor registered under these regulations offering investment advice should at all times possess a professional qualification or post-graduate degree or diploma in finance, accountancy, business management, commerce, economics, capital market, banking, insurance or actuarial science from a foreign or government recognised university or an institution.
Alternatively, a graduate in any discipline with an experience of at least 5 years relating to advice in financial products or securities or fund or asset or portfolio management would also qualify. Further, they need to be certified by the NISM or the FPSB as financial planners or investment advisors. Advisors also need to ensure that their partners and representatives also qualify for the same within a two year time frame.
Advisors will need to meet minimum capital requirements. Individual investment advisors or partnership firms need net tangible assets of a minimum Rs 1 lakh. Those who do not comply to this capital adequacy need to comply within one year. In case of corporates, this minimum capital goes up to at least Rs 25 lakh.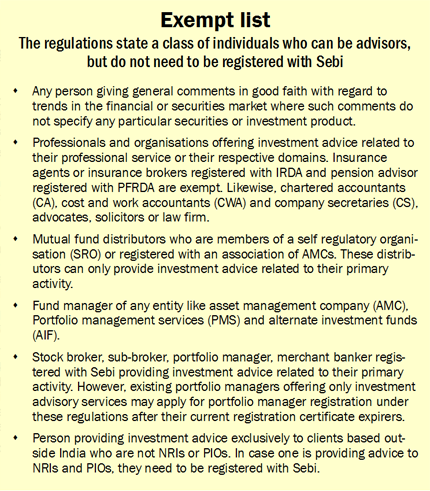 Advisor's role
The role of the advisor in the new scheme of things has undergone several changes. A lot of what the guidelines state would solve problems faced by investors, with mis-selling topping the list.
Investor risk profiling: It will be the advisor's responsibility to do risk profiling of customers and determine suitability. They will ensure to obtain information from clients such as age, investment objectives including time for which they wish to stay invested, investment purpose, income details, existing investments and assets. A list of risk appetite, tolerance, liability and borrowing details also needs to be maintained. Lastly, the client's risk profile needs to be communicated to him after the risk assessment is done.
Product suitability: Product recommendation or advice has to be consistent with the client's experience, knowledge, investment objectives, risk appetite and capacity for absorbing loss.
Disclosure to clients: Advisors need to disclose any consideration by way of remuneration or compensation received for any distribution in respect of the products or securities for which the investment advice is provided to the client. Further, the advisor needs to disclose any consideration by way of remuneration received if the client desires to avail the services of such intermediary. Likewise, any actual or potential conflict of interest arising from any connection to or association with any issuer of products or securities has to be disclosed to the client
. Record maintenance: Advisors will need to maintain a record of client risk profiling and risk assessment, suitability assessment of the advice and copies of agreements with clients. They also need to maintain a signed record of any written or oral investment advice provided, the rationale of arriving at the investment advice, which is duly signed and dated. Further, all records must be preserved for at least 5 years; either in physical or electronic form.
Audit and compliance: The advisor should conduct yearly audit by a member of the Institute of Chartered Accountants of India (ICAI) or Institute of Company Secretaries of India (ICSI). Moreover, advisors who are a corporate body or a partnership firm, need to appoint a compliance officer to monitor compliance.
Grievance redress: Advisors need to address client grievance promptly and must have adequate procedure for its redressal. And, any dispute between the investment advisor and the client may be resolved through arbitration or through ombudsman authorised or appointed for the purpose by any regulatory authority, as applicable.
Investment advisors like banks, NBFCs and corporate bodies providing distribution services to their clients will be required to keep their investment advisory services segregated from such activities. Also, such advisors need to ensure that the client is not under any obligation to avail the distribution or execution services offered by the investment adviser. All fees and charges paid to distribution or execution service providers by the client will be paid directly to the service providers and not through the investment adviser. Interestingly, the regulations also prescribes a separate code of conduct for advisors, which talks of honesty, fairness; besides reasonable charges.