To paraphrase an old idiom, Balkrishna Industries' (BKT) way is the new highway – of success. A Siyaram group company, BKT started off by manufacturing two- and three-wheeler tyres, back in 1988. But it was only in 1995 that the company found its true calling: it shifted to 'off the highway' (OTH) segment and now caters to sectors such as agriculture, mining, construction, among others. Today, more than 91 per cent of its revenue comes from the overseas market, involving 120 countries.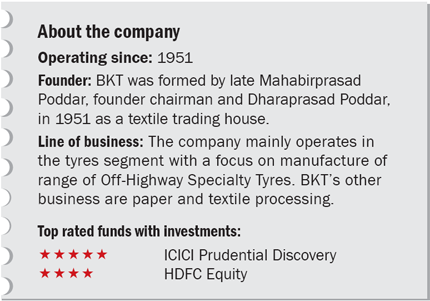 BKT operates mainly in the replacement market which accounts for 80 per cent of the total sales. It is also present in original equipment manufacturer (OEM) segment and has partnerships with companies such as JCB, Escorts, Volvo, John Deere, CNH, Ferrari, Bomag, etc. BKT sells its products under the brand umbrella of 'BKT' and has sub brands such as Agrimax, Agrimax Force, Agrimax Fortis, Earthmax, Multimax and Ridemax. Tyres meant for the agriculture sector account for 65 per cent of the total turnover. The company also has a presence in paper and textile processing industries.
Industry overview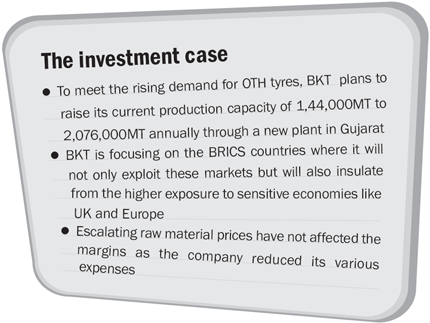 Strengths
The downturn in US and Europe has not impacted the replacement market, though worries persist. BKT has also started looking towards new markets like Russia and Middle East. The India operations too are being looked into to increase the home country's share in the overall revenue.
* By operating mainly in the replacement market, BKT has an edge over OEMs since the margins are higher in replacement market. It already has one of the highest profit margins among the domestic tyre manufacturers: 10.6 per cent, whereas MRF is a distant second with a net margin of 4.4 per cent
* Since tyre manufacturing is highly capital and labour intensive, being based in India gives it a competitive advantage which foreign players do not enjoy
* Escalating raw material prices have not affected the margins as the company reduced its various expenses such as power and fuel consumption, administration and selling and distribution
Growth drivers
Global demand for OTH tyres is rising in the replacement market of developed countries such as the US. BKT plans to raise its current production capacity of 1,44,000MT to 2,076,000MT annually by commissioning a new plant at Bhuj in Gujarat ( capex of Rs 531 crore). It is expected to achieve full utilisation by 2015.
* BKT is also adding new variants and products to its portfolio which now ranges from narrow to the broadest measure of tyres
* The company is also the licensed manufacturer of agricultural tyres for Nokian tyres, a Finland-based winter tyre manufacturer. BKT can leverage upon the planned growth in production and outsourcing by Nokian. It is also focusing on the BRICS countries where it will not only exploit these markets but will also insulate from the higher exposure to sensitive economies like UK and Europe
* A little under-explored area of OEM segment is getting attention now as the company is developing new products for this segment and has successfully associated with JCB, Escorts and Volvo, among others
* Indian agriculture is also experiencing a transformation from the traditional farming ways to more modern mechanised way which includes deploying tractors and sophisticated harvesters, among others. Currently, just 9 per cent of BKT's revenue comes from the Indian market. All this presents a huge opportunity for BKT
Concerns
The company imports most of the rubber it uses whose prices remain volatile. Any sudden hike in rubber price may impact the margins. Though in the last 2 years the rubber prices have fallen by up to 50 per cent from the peak in February 2011, depreciating rupee has put pressure to all hopes of substantial gains.
* BKT competes with companies such as Bridgestone, Goodyear, Michelin and Titan on the global turf. These companies have been spending hefty amount on selling and distributions and capital expenditures. BKT will have to keep pace with it
* Free cash flow has been negative in the past 5 years except FY10. Negative cash flow in FY12 stood at Rs 532 crore and is expected to be at the same level in FY13 due to the high capital expenditure. The situation will improve only when the new plant at Bhuj starts operating near 90 per cent of the capacity
* Huge capital expenditure has resulted in mounting debt of Rs 1,673 crore out of which around $182 million has been raised through ECB (External commercial borrowings) route. Depreciating rupee has further made the condition critical. If the situation persists, it can bring down the profitability
Financials
BKT has given a consistent return on equity which averages 27 per cent in the last 5 years while revenue and profit have grown at an annualised growth rate of 28 per cent and 26.5 per cent respectively, which looks promising. Cash flow from operating activities has remained low on account of low inventory turnover and loose credit sales policy compared to previous years.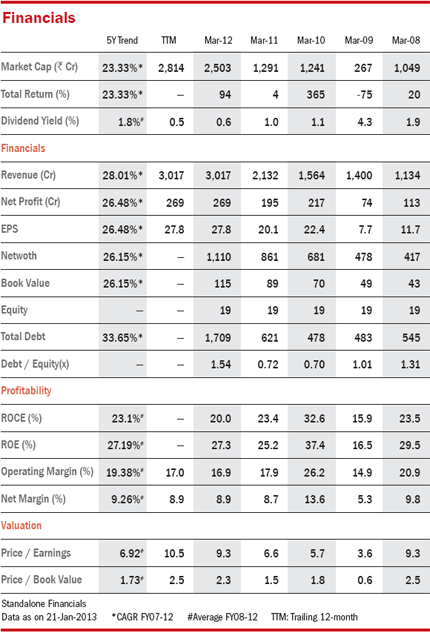 Valuations
At a price of Rs 291, Balkrishna is currently trading 10.3 times its earnings which is 25 per cent premium to its 5-year median of 8.23. But with earning growth of 26.5 per cent PEG stands at 0.31, which makes it attractive. Also, the price to book value is 2.49 against 5-year average of 1.90. The stock is trading at its all-time high so look to have a long-term investment horizon.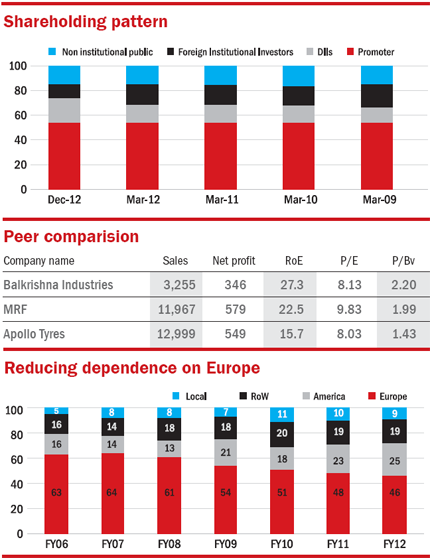 (Disclaimer: The writer owns 10 shares of this company)