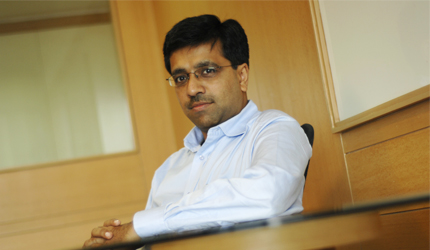 Jayesh Shroff manages both SBI Magnum Taxgain and SBI Magnum Multiplier Plus
What is the investment strategy adopted in managing SBI Magnum Taxgain?
SBI Magnum Taxgain is a scheme for only retail investors with an AUM of about Rs 4,800 crore. Keeping this in mind, the strategy is to have long-term perspective to investment. Magnum Taxgain is run as a diversified equity fund with a skew towards large-cap stocks. We adopt a mix of top-down and bottom-up approach to investment in this scheme. The portfolio is built based on our view on different sectors but within the sectors there may be deviation from the index. We also have constraints on sectoral deviation from the benchmark in order to control risk. As a fund house we have a strong bottom-up stock picking ability which is primarily based on deep value offered by the stock and the 3-year horizon of investment is good enough to realise value in the stocks that we have picked.
How differently do you manage SBI Magnum Taxgain compared to SBI Magnum Multiplier Plus fund?
SBI Magnum Multiplier Plus is a diversified equity fund which invests across large, mid- and small-cap stocks. It is skewed towards stocks and sectors offering high growth opportunity and it is more heavily oriented towards bottom-up stock picks than SBI Magnum Taxgain Fund. Thus the difference between the two funds is that SBI Magnum Multiplier Plus is skewed towards growth strategy while SBI Magnum Taxgain has a skew for value. Considering the size of SBI Magnum Taxgain, we do not have too many small-cap stocks in the portfolio. Apart from that there are no specific inclusions or exclusions for both the funds.
Does the 3-year lock-in and hence lower redemption play a role in building the portfolio in the Tax Saver?
The lock-in period does not have any bearing on the cash allocation and we endeavour not to keep large cash. And yes, the 3-year lock-in does provide a longer horizon as it gives us the flexibility to invest in deep value stocks without worrying about near-term redemption pressures.