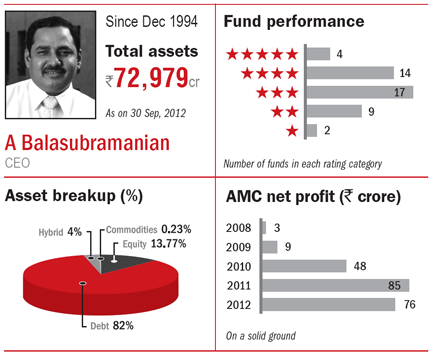 In a fast-changing business environment, Birla Sun Life Mutual Fund is keeping up with the pace and doing well too. Established in 1994, this AMC is an equal joint venture between the Aditya Birla Group and Canada-based Sun Life Financial Inc. In 2004, this AMC acquired Alliance Capital AMC which resulted in the AMC growing bigger in size and also with its offerings. This fund house has the funds, the performance and the necessary reach to offer a complete range of products and services on both the debt and equity front to both institutional and retail customers.
A strong and steady leadership team has helped this AMC to focus on the business of managing assets with overall good fund performance. The fund house has several schemes on offer which are amongst the best performers in their respective categories with some of them standing out. The two international funds – Birla Sun Life Commodity Equities - Global Multi Commodity and Birla Sun Life Commodity Equities - Global Agri — have been unique ideas that have also done well.
However, several equity funds have taken the middle path with performance that has resulted in neither out performance or underperformance. It is in its own interest and that of the investors that this fund house concentrates on the performance of the funds that lie in the middle of the road.