Established in 1985, Amara Raja Batteries (ARB) is one of India's leading industrial and automotive batteries manufacturers. After gaining a strong market position in industrial batteries' segment in the first 15 years of its existence, ARB entered the automotive battery business (four wheelers) in the year 2000 in collaboration with Johnson Controls Inc, USA — a global leader in automotive batteries (with a 26 per cent stake in ARB). In 2008, ARB made entery in the two-wheeler battery segment, mainly targeting the replacement market. From a manufacturing capacity of 1 million batteries in 2001, ARB now produces 12.4 million batteries annually.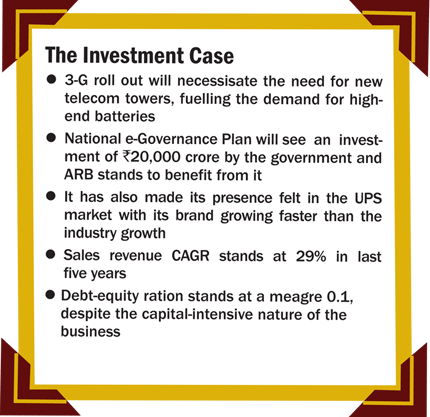 Industry overview
India's battery market is valued at close to Rs 14,000 crore with the automotive segment accounting for a massive 63 per cent share. Dissecting into segments, the major components are four-wheelers, two-wheelers, telecom, commercial UPSs, domestic invertors and industrial equipments. The organised automotive batteries market (58 per cent of the total) is led by Exide Industries with a market share of over 70 per cent in both four-wheeler and two-wheeler batteries. This is followed by ARB with 26 per cent market share in four wheelers, 34 per cent in four-wheeler replacement and 24 per cent in two-wheeler replacement.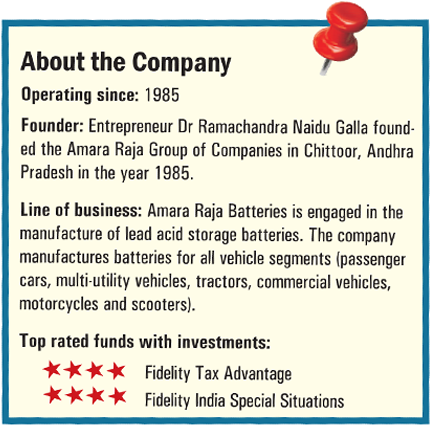 Strengths ARB has transformed the automotive battery space with the introduction of zero-maintenance four-wheeler batteries and VRLA (valve-regulated lead acid) two-wheeler batteries with industry-leading warranties.
• The automotive segment contributes 55 per cent of the company's topline and has grown at a 32 per cent CAGR in the five years leading to FY12
• It recently introduced the DIN series batteries for diesel platform — with increased cranking power for superior performance
• Under the industrial segment, ARB leads the telecom space with 46 per cent market share (42 per cent in FY11). It also exports to Bharti Airtel's operations in Africa
• It commands a market share of 32 per cent in the UPS segment with its brand Quanta, which grew 18 per cent last year; more than the industry's growth
• During FY12, lines operated at full capacity to meet the growing demand for Quanta batteries. It also has presence in inverter segment where it brands home UPSs and tubular inverter batteries. Amaron and PowerZone contributed Rs 88.1 crore to revenues in FY12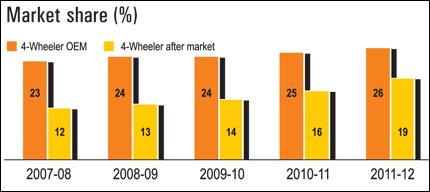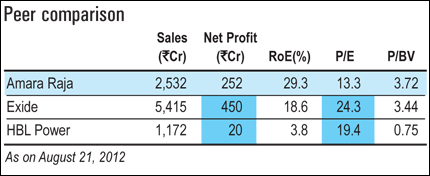 Growth drivers The company expects to increase its medium VRLA battery capacity from 18 lakh units to 30 lakh units per annum in the next 12-16 months with a capital outlay of `190 crore, for which the company is in the process of selecting a second strategic manufacturing location (the first being in Tirupati). The past few years have been extremely benign for four-wheeler sales across categories, i.e., CVs, UVs, passenger cars, farm equipments, among others. Extrapolating the sales of four wheelers (translating into OE demand) and also assuming that the replacement cycle is 36 months, aftermarket demand is expected to be buoyant.
• To provide for growing demand, the company plans to increase its four-wheeler and two-wheeler battery manufacturing capacity to six million units in FY14. It is well on course towards bagging the first few bulk orders from two-wheeler manufacturers
• Assuming an average battery life of four years, replacement demand is expected to be significant in the telecom towers segment; majority of which were erected before 2008. 3G roll-out will further necessitate the need for increased tower density
• Servers are the largest component of Indian IT infrastructure market and this market would reach $3 billion by 2016
• The government has invested about Rs 10,000 crore on e-governance initiatives and plans to invest another Rs 20,000 crore under the National e-Governance Plan
• Further, 87,000 ATMs in India create a huge replacement demand for batteries and their numbers will only go up further in coming years
Concerns The telecom sector is witnessing a significant slowdown in network expansion and up-gradation plans. Lack of growth in 3G business and delay in roll out of Broadband Wireless Access (BWA) networks have also affected the growth in telecom business.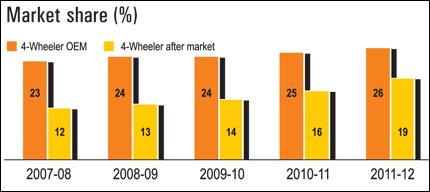 Raw material constitutes 64-66 per cent of the company's costing and pricing of key raw materials such as lead alloys, constitute 80 per cent of total raw material cost and because of the fact that it is mostly imported, can put a strain on growth numbers.
Two components over which the ARB has no control is power and fuel, and polymers. Any disruption in their supply has the potential to alter its operational metrics.
Financials In FY12, ARB registered a topline of Rs 2,605 crore with a net profit of Rs 215 crore on back of 19 per cent volume growth in four-wheeler batteries and 26 per cent volume growth in two-wheeler batteries. During the five-year period ending FY12, sales revenue grew at an impressive CAGR of 29 per cent whereas net profits grew at a CAGR of 36 per cent. Operating profits averaged 14 per cent while net profit margins averaged 7.5 per cent. This translates into a high average return on equity of 29 per cent during the same period. ARB has incurred roughly Rs 400 crore on capacity additions in the previous five years which were mostly met through internal accruals. Despite capital intensive nature of the business, the debt-equity stands at a meager 0.1, leaving enough elbow room for capital gearing. Promoters have pledged 16.3 per cent of their holdings.
Valuations At the current market price of Rs 391, ARB trades at a P/E of 13.3. This is at 28 per cent premium to its five-year median P/E of 10.36. Five-year EPS growth of 36 per cent translates into an attractive PEG of 0.37. It declared a dividend of Rs 3.78 in FY12 which works out to 0.97 per cent dividend yield. Price to book value stands at 3.72. Its brand equity is well established and distributor network has also broadened its reach. Both offer huge operating leverage. Investors with a time horizon of 3-5 years can enter in this scrip at current prices. BUY.