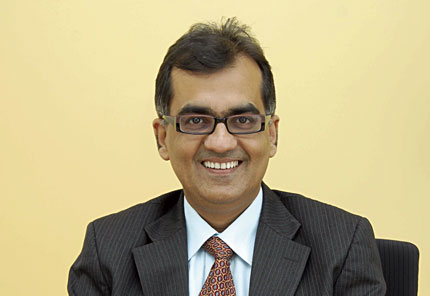 Bharti AXA Mutual Fund recently launched its equity fund — Bharti AXA Equity. It has a regular scheme, an institutional one and an eco-friendly option too, termed Bharti AXA Equity Eco. While the AMC has already come out with debt funds and FMPs, this is its maiden equity offering. We discuss this new fund with Vikaas Sachdeva, Country Head - Business Development, Bharti AXA Investment Managers
Is it not a tough market to launch a fund in?
The stock market has its own way of functioning. What's important is that investor expectations are managed and they stay invested for the long haul. We believe that currently market valuations are attractive when viewed from the perspective of the India story over the medium- to long-term. We believe that investors today are getting smart enough not to let market volatility faze them. Case in point is the steady equity inflows via the SIP route. We are looking at expanding the market by showcasing various investor-friendly initiatives. We hope that is the tipping point which will trigger off a fresh wave of interest in terms of process-driven equity investments.
Is not a daily SIP stretching the concept too far?
Volatility in Indian markets presents an excellent opportunity for rupee cost averaging to show its true mettle. On a daily basis, the markets have enough fluidity for an investor to take advantage through a process driven investment avenue like an SIP. If the investor gets into a monthly SIP, he invests 12 instalments across the year, once each month. If he does invest 12 instalments on a daily basis and then holds on for a year, the return differential is substantial. This and many such points, amplify the utility of this investment avenue. We believe that it's a futuristic product whose time has come.
What was the logic behind the quarterly dividend plan? Are you sure of delivering on a quarterly basis?
Dividends are subject to surpluses being available. The portfolio construct has been evolved through a judicious use of stocks and Nifty Futures, which keeps in mind the requirements of a quarterly dividend option. The idea is to declare a reasonable dividend percentage after the NAV has crossed a certain threshold, or six months, whichever is later. We feel that we have the requisite bandwidth at our end to ensure a reasonably successful execution of the above concept. The logic behind this plan is to ensure that investors can expect consistency in terms of the tax-free dividend income through a process of judicious investment and profit booking. This will help expand the market and find favour with investors who invest in FMPs, tax-free bonds, PPF etc.
Is the eco plan not just a convenient way to lower expense costs by packaging it as an environmental friendly product?
The money saved by sending investor communication online is reflected in the lower annual recurring expense ratio when compared with the Regular Plan. The differential is to the extent of 25 bps and over a period of time, the power of compounding starts working in its favour. No other mutual fund is offering it, as per our knowledge. We hope that this financial advisor will help trigger off investments by net savvy and online banking customers through this avenue.